Two Extra Days in Fort William
We wanted to climb Ben Nevis and had arranged to stay an extra two days in case the weather was not conducive to the climb.
Saturday 14th May
I got up at around 6am made tea and said 'good luck' to a group of young people where were about to embark on the three peaks – Ben Nevis, Scafell Pike and Snowdon all in 24 hours (with car transport).
It was pouring with rain, low cloud and windy, no change there then, so we decided to give the climb up Ben a miss. After a quick shower we went to the Stables again for a cooked breakfast. Kicking our heels we decided we had to do something and tomorrow the weather may be better so we would do the 'climb' then. We caught a bus and went to Oban for some retail therapy and to take a look around.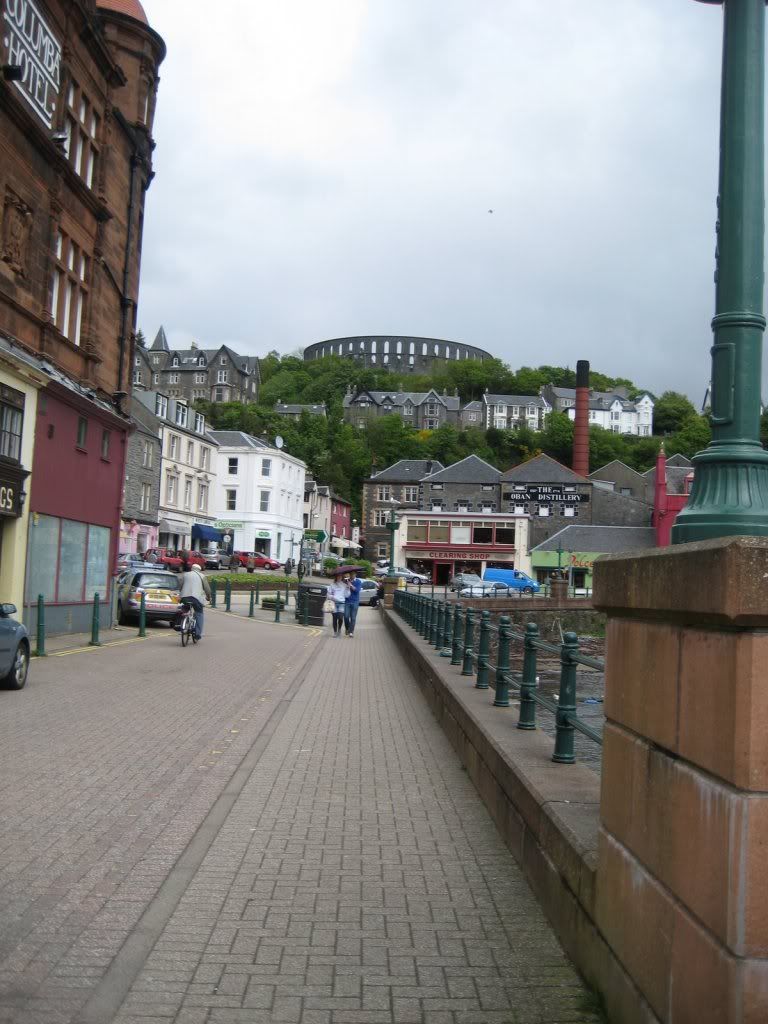 Oban is a pretty little coastal town, we found a place to eat, and lots of shops to see if there was anything that we couldn't live without, there was, but we didn't buy it.
The wind coming off the sea was pretty cold and there was no sun shining while we were there. I should like to visit again but have more time to explore some of the surrounding area.
Sunday 15th May
We woke up with all good intentions of doing the climb, but the weather was socked in again.
We opted for a train ride to Mallaig, which is a pretty little village with not much to do, so being intrepid travellers we took a ferry to Skye.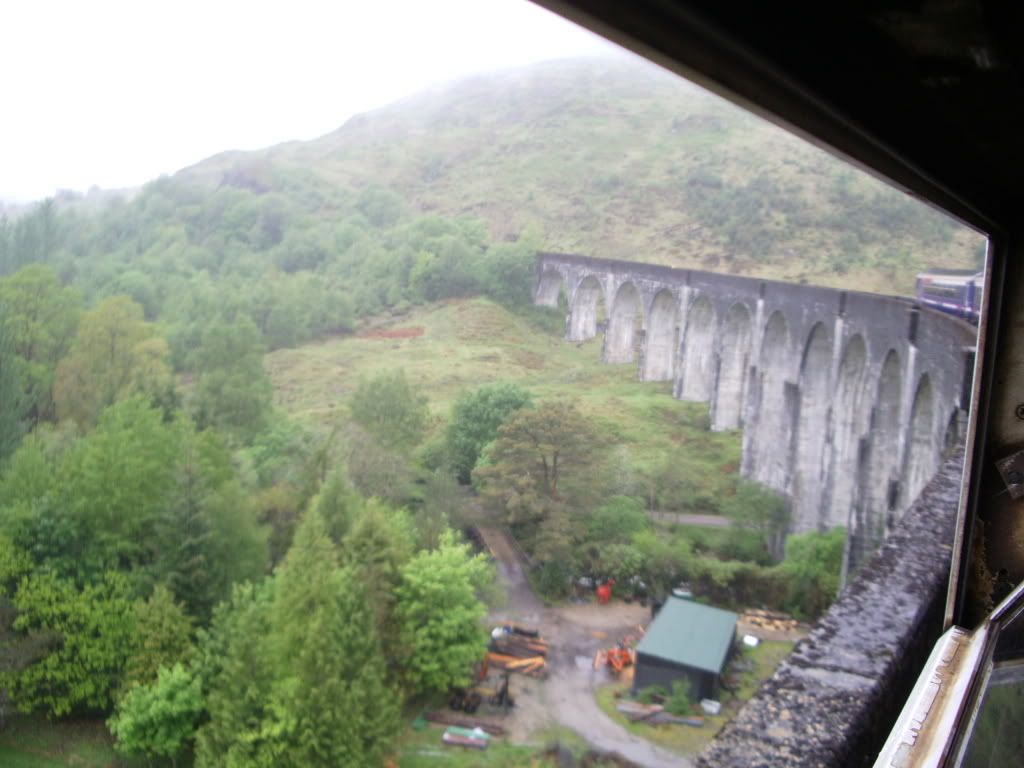 More of the wet stuff fell from the sky all day long.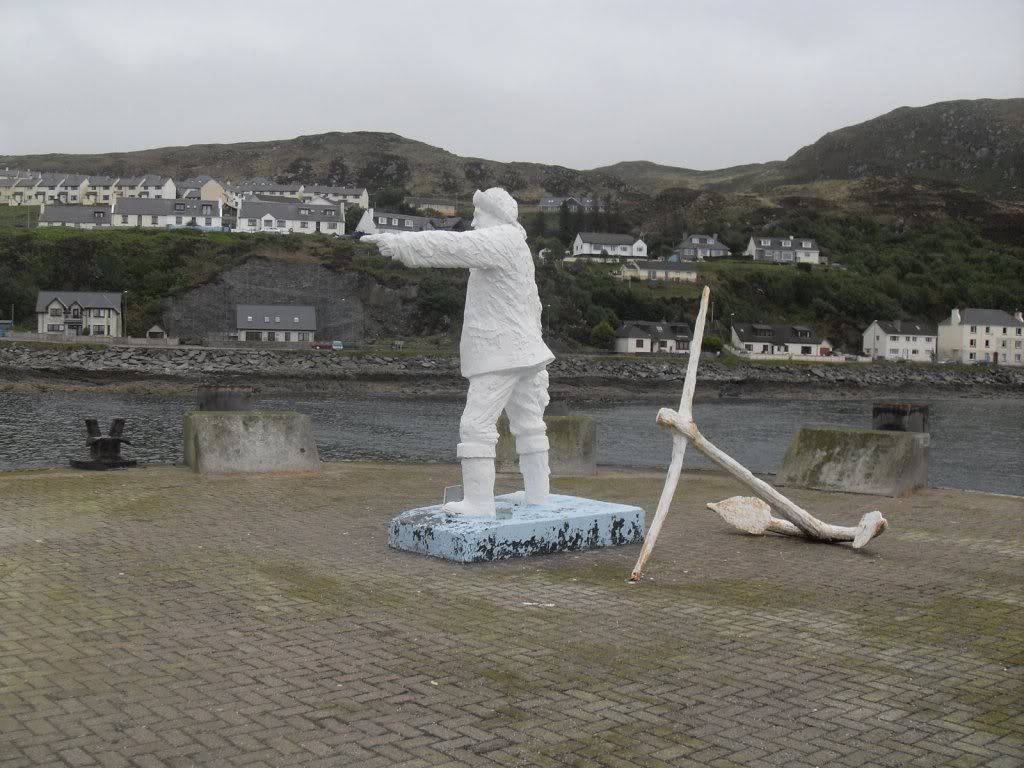 But the journey was relaxing and as we were all in a reflective mood we were unusually quiet; although the cameras came out once we reached Skye; until we got back to Mallaig, and then it was 'oh quick the train's in we will miss it if we don't hurry'. Had we missed it we would have had to stay the night and then miss our train out of Fort William the next day, not a good move.
Back at our accommodation we decided to sort out our bags ready for an early start. You would think that we would have this activity down to a fine art – wrong – bums in the air, with shouts of 'I can't find', and 'where can I put this' resounded around our little room. Dinner was in the Stables again this time we had Chianti to wash down an excellent meal.
Monday 16th May
We left the hotel around 7.10am for the short walk to the station.
We appear to be obsessed with the rain, but when you have it for company day after day and not really getting dried out it focuses the mind. We also have an obsession for tea and cake and of course the inevitable behind a bush stops.
I don't think that I have ever spent so much time walking in rain, or for that matter that I have ever been that cold while walking. However, the views and the hospitality were excellent throughout the walk and more than made up for the weather. I think that we were just unlucky, as prior to the start of our walk the weather had been scorching hot in that area.
This was a lovely break with daft mates that are a joy to be with. Would we do it again? It doesn't have the draw that some other walks have for us, but it was beautiful and should not be missed off your list of walks. It doesn't always rain we were just unlucky.
Accommodation
West View Guest House, Milgavie, Glasgow
Elmbank, Drymen
Youth Hostel, Rowardenan
Rose Cottage, Inveraran
Youth Hostel, Crianlarich
West highland Way Sleeper, Bridge of Orchy
Kings House Hotel, Glen Coe (Kings House)
MacDonald Hotel, Kinlochleven
Bank Street Lodge, Fort William