Day Eight
Friday 13thth May
Kinlochleven to Fort William – 14 miles
During the night both Brenda and I popped out for a wee it was too far to go to the toilet block so we went behind the shed, and it was chucking it down with rain and I got back into bed soaking wet, I had just as well have stayed there. We all snored and I'm surprised that any of us got any sleep.
We all woke up around 5.30, I went over to the stinking boot room to get our boots leaving the two beauties still in warm beds; I was rewarded with this lovely view of Loch Leven.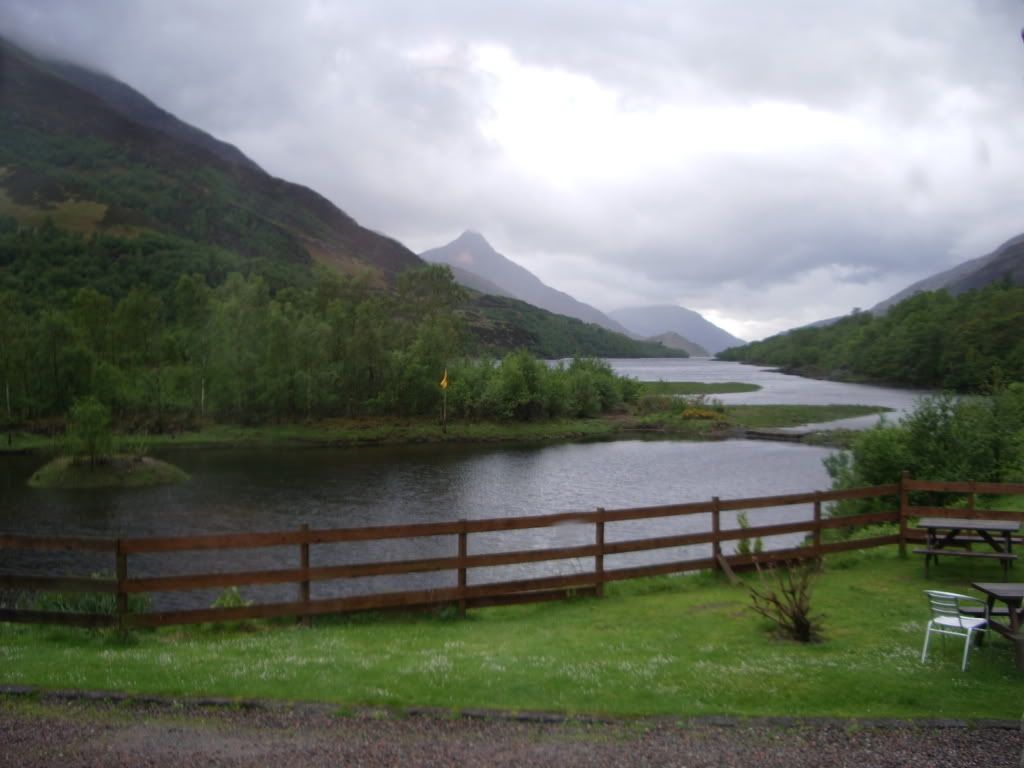 Eventually with everything packed we went over to the hotel to get our packed lunch and bag a cup of tea, we gave breakfast a miss as none of us were hungry.
Bags in the shed for collection, rain falling like there was no tomorrow and off we went at 9am. With just a short walk from the hotel to the beginning of the last leg of the walk we headed off with a crowd of other walkers, having left two young men at the hotel suffering from blisters on the soles of their feet, they really looked as if they were in a lot of pain and were both sad to have to give up on the last day. We could only imagine how they may have felt, they had done so well to get this far as they had been struggling for a couple of days.
It was a steady zig zag climb up the forest hill side with lovely views every now again when there was a clearing in the trees, with lots of opportunities to take photos and to get our breath back.
Note the big black pipes in the centre of the picture, although they are quite ugly close up, from a distance they didn't look as bad.
Having done the Coast to Coast twice, I think there were more walkers on the WHW than on either crossing of the C2C. Either that or they were going past us, doing a quick run down the hill out of our sight and coming back up again. Ok there were more walkers, no one in their right mind would do that in the rain would they? Then again who in their right mind would do this walk in the pouring rain?
The walk along the Lairige Moire was marred only by the torrential rain and water running along the path. It was difficult to keep our feet dry due to the depth of the water in places, so we gave up and squelched our way along the path. Then suddenly the rain stopped, the wind got up and we were dried out in no time.
We found ourselves walking in what was supposed to be a forest however, there had been a great deal of de-forestation going on and this made for an ugly landscape.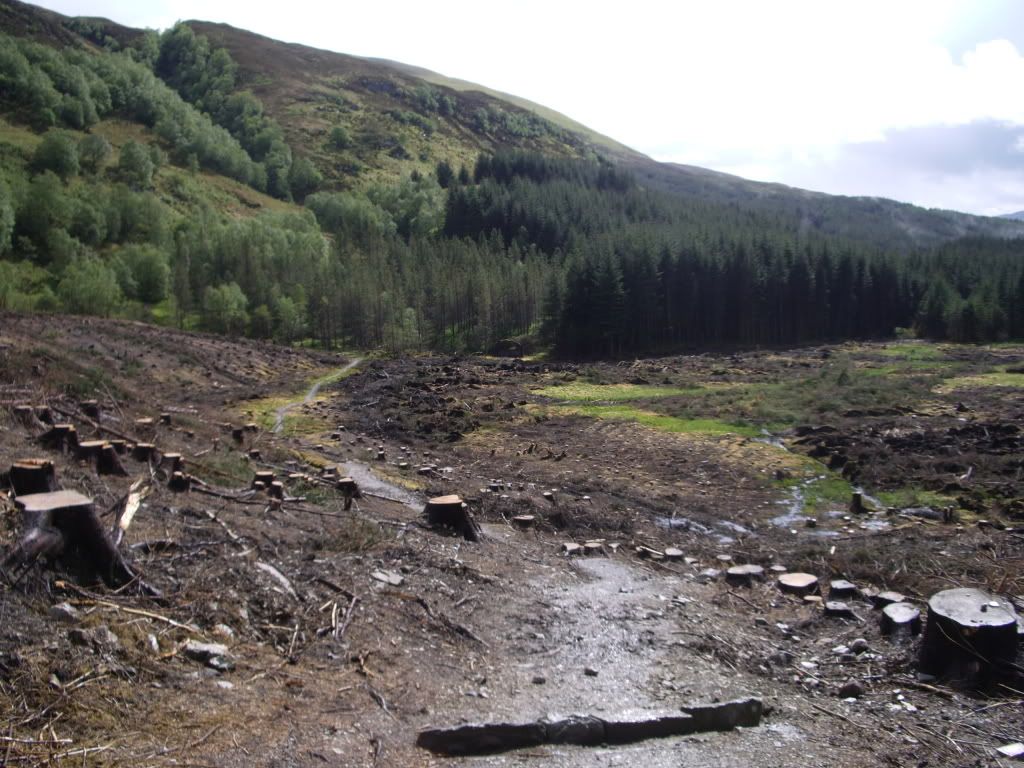 Suddenly to the right of the path there 'HE' sat with HIS head covered in snow, like icing sugar sprinkled on a bun with steam rising.
So this was the invisible Ben Nevis that we had been looking for, you could not mistake it once you saw it. This is such an awesome sight, we just stood there gawping at it and then realised that the weather was closing in once more, so the cameras came out and we all took a shot in case one didn't come out.
The final bit of forest was extremely close and it was dark with only a bit of path visible. We decided that we should take a break and have our last snack of the walk. Locating a couple of large trees for shelter from the now freezing wind and rain, we made a wind break with our ponchos. An apple and hot coffee helped but boy was it cold. I never wear a fleece and a jacket together on a walk, but I had both on plus hat and gloves and was still cold.
Fort William came into view and we realised that there was about another hour and a half's walking still to do. The path seemed to go on forever, finally reaching the road into town we thought yah we are here and the cameras came out… but
We realised that the 'new' end of the WHW is now in the middle of town so we found our accommodation dumped our bags, took off our boots and on with our sandals even if it is raining; and then we plodded on to 'the end of the road'. (Sorry about that but it had to be said)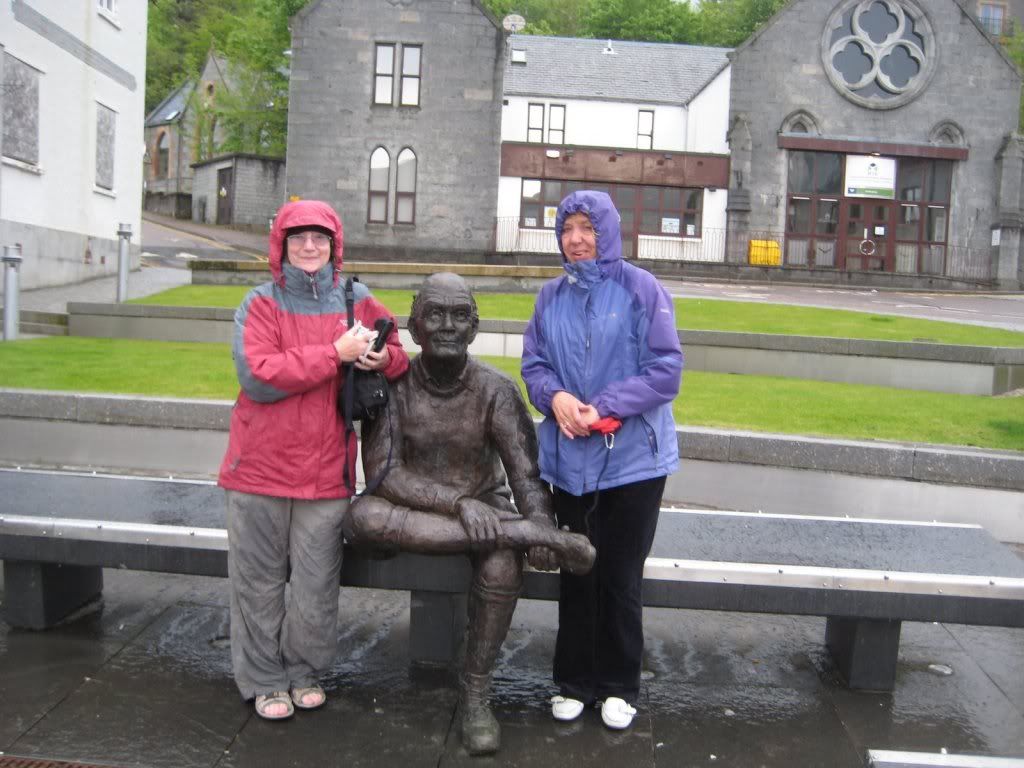 Our room had a single bed and a set of bunks…. I got the top bunk again. The shower and toilet was just opposite, with a common room and kitchen just along the corridor. There were free tea bags and milk available in the kitchen. As you can imagine we made short work of them!
Feet up and then a quick shower all round and off to find food. We didn't have far to go there is a restaurant at the front of the building serving Italian food. (The Stable Restaurant) Pizza and salad for me, lasagne and salad for Posh and her sister, all washed down with a bottle of Jack Rabbit (Californian Red)
Back in our room we wrote journals and eventually went to sleep around 10.30 but not before the fire alarm screeched in my ear! (top bunk, fire alarm about 14 inches from my head). Up we got, I grabbed my bum bag with phone, gps, camera, train tickets and money, Jenny grabbed her coat and shoes, Brenda ran. We got to reception in double quick time and they said that it had been serviced that day and it kept going off!! Just what I wanted to hear…. No not the alarm. It didn't go off again while we were there.