Day Seven
Thursday 12th May
Glencoe to Kinlochleven – 9 miles
Went to the loo four times during the night, couldn't stop coughing, ended up sucking a cough sweet that stuck to the roof of my mouth, that came out and spent the night watching me sleep from the bedside cabinet….. oooh heck did I remove it. All this went on and those two snoring Annie's didn't stir at all. All I can say is that they have blooming big bladders… oh no it was that pint of shandy that did it, nothing to do with bladder control after all. Thank goodness for that.
Up dressed and down to breakfast by 8am, porridge and kipper for me, smoked haddock and poached egg for Posh and her sister.
Bags down, rucksacks and waterproofs on and off we went in a shower…. What am I talking about, it was another blooming downpour.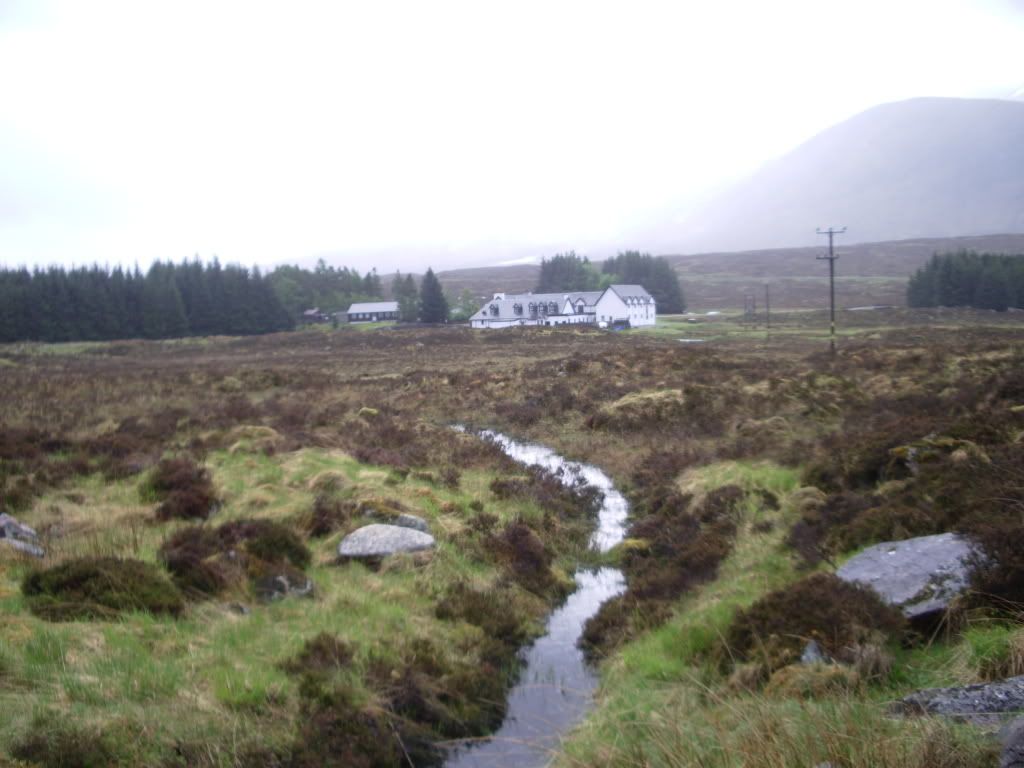 It was reasonable walking including the climb up the devils staircase 1797ft to the top. The views were marred by sleet type rain in sheets and low cloud base, the wind was cold and blowing a gale, so we only stayed long enough to eat something, take a photo and move on down towards Kinlochleven.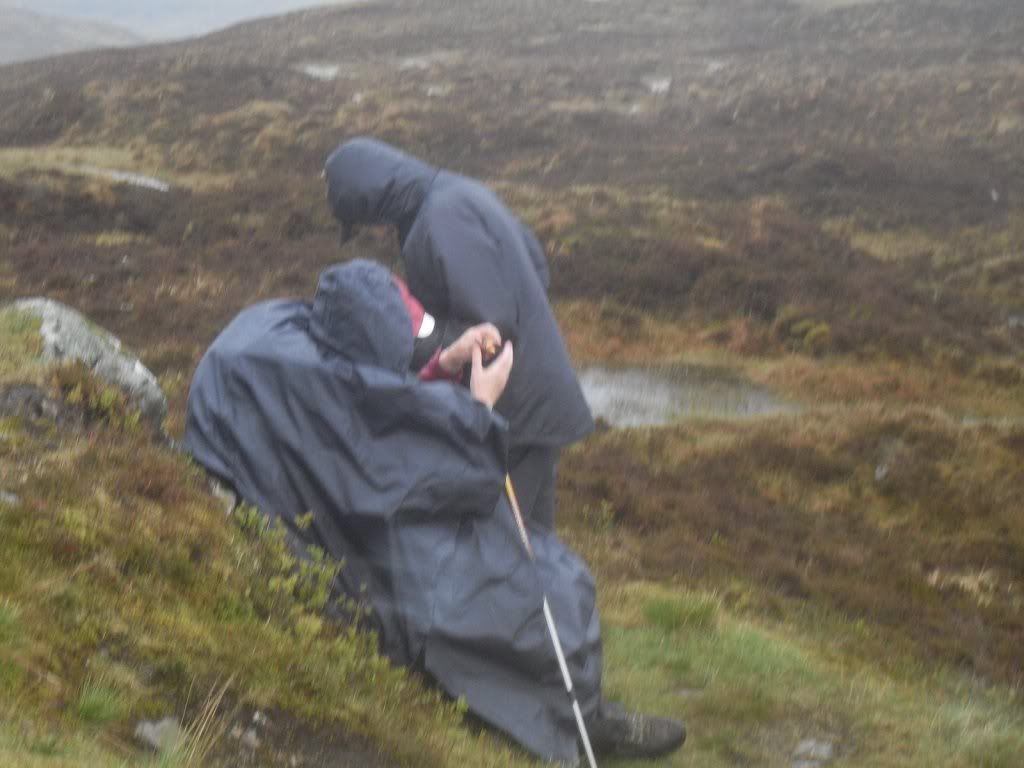 The descent was gentle to begin with and then became a steep and rough rocky path with water flowing along with us. There were a high number of walkers out today all struggling with the weather, the climbs, the water and the rocks. There were a group of men wearing kilts so we just had to get their picture. Those kilts must have weighed a ton as they were soaking wet, but it didn't seem to bother them, well if it did they were not letting on, talk about the stiff upper lip of the Brits, this was a true picture of it in full working order!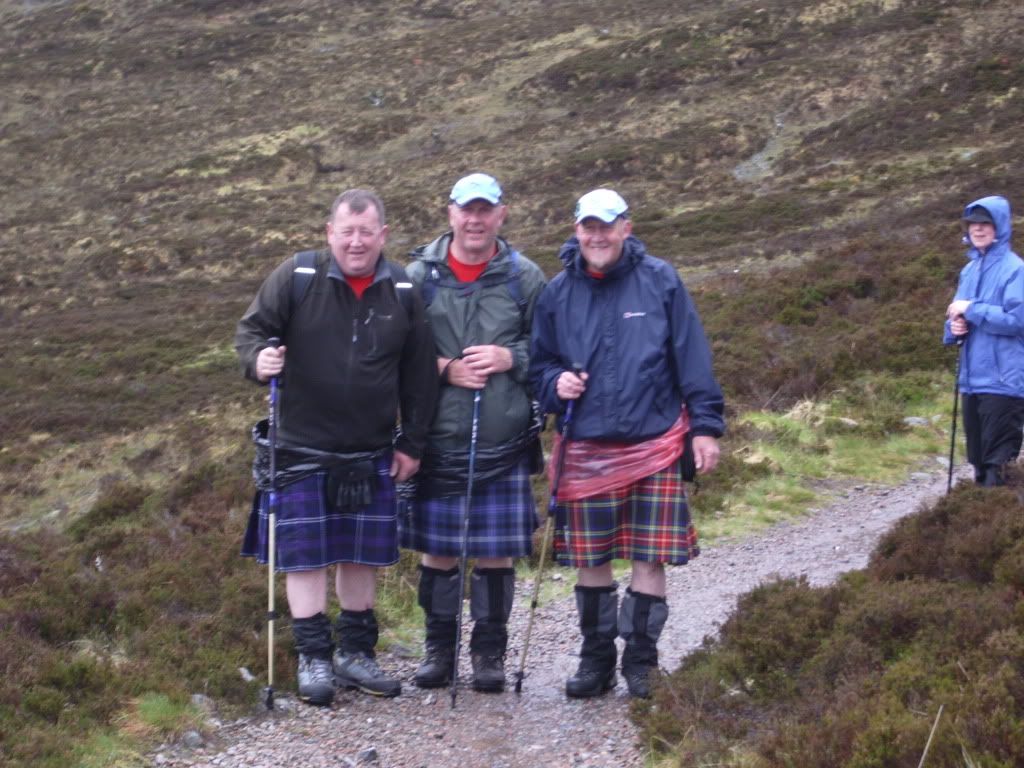 Although Kinlochleven came into view as a jewel gleaming at the bottom of a valley, we knew that we had over an hour and a half to walk. We had the large black water pipes to our right and they continued right down into the village. The good thing about wearing a poncho is that you can wee anywhere, and we did. We found a pub as soon as we reached the village – The Highland Getaway, tea and a big plate of chips, soon we were feeling ready to trek onto our hotel, which is a short way out of the village but still on the WHW route.
We checked in at the Bothy bar, were given keys to our cabin (aka garden shed) with two sets of bunk beds. We hired sleeping bags, liners and pillow cases. It was still chucking it down and we had to go and find the shed (at the front of the main building) to retrieve our bags, the shed was full of bags, and ours were at the bottom of a very big pile (sorry Brenda I didn't mean to mention the 'P' word), dragging them back over loose granite chippings round to the cabins seemed a very long wet walk. We unpacked what we needed, took our wet boots to the drying room (it was about the smelliest boot room on the whole walk). We located the bar again had tea and ordered our evening meal. The men in kilts with their family were there, the whole room was buzzing it was brilliant.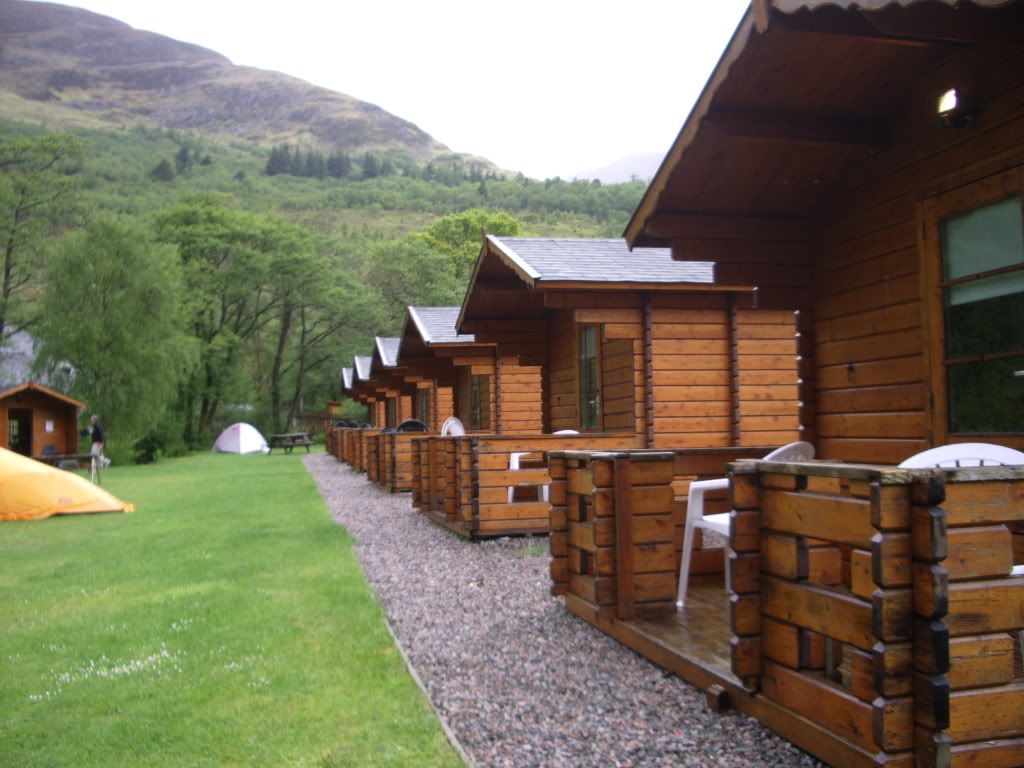 We had dinner veggie burger (me), chicken stuffed with haggis and bacon (Posh and her sister). Chris from our last hotel, joined us to eat his meal, he then ordered coffee for all of us. He was constantly talking and we couldn't get a word in edgeways (that was a first). He has planned to do the coast to coast following exactly our last crossing including our B&B's. It was all a bit disconcerting to say the least. He is a bit serious for us and has taken a shine to Brenda. Brenda thinks that he is a murderer, so we took his picture just in case! Seriously, he was/is a jolly nice fellow and we enjoyed hearing about his plans for the C2C and are pleased that we had inspired him to do it. We met him a couple more times during the last days walk.
We all left the bar in heavy rain, Chris is on his own in number 6 and we are all together in number 9, no not in the altogether. I went off and cleaned my teeth, the other tarts have other plans for the night ie, they were not going out in that rain again to clean teeth or anything else. I checked the boots, run back to our shed and sorted clothes, maps etc. and then finished writing my journal. Those lazy bu**ers haven't done a blooming thing – no change there then! (I love them dearly)
Time for sleep around 9.30pm, it was cold in our little shed, but the sleeping bags were warm and we were tired so zzzzz's all-round within a few minutes.