Day Six
Wednesday 11th May
Bridge of Orchy to Glencoe – 12 miles
We awoke to the sounds John and Ashley getting ready to leave, they had a 21 mile walk to do so they needed to get moving early.
We got up once the floor space was clear, completed our ablutions in the adjoining shower room using wet wipes, it was a bit cold and we were in a rush (any excuse), packed up our bags for collection and made our way to the common room for breakfast. We could have had cooked, but chose instead to have cereal and toast. We made our flasks of coffee.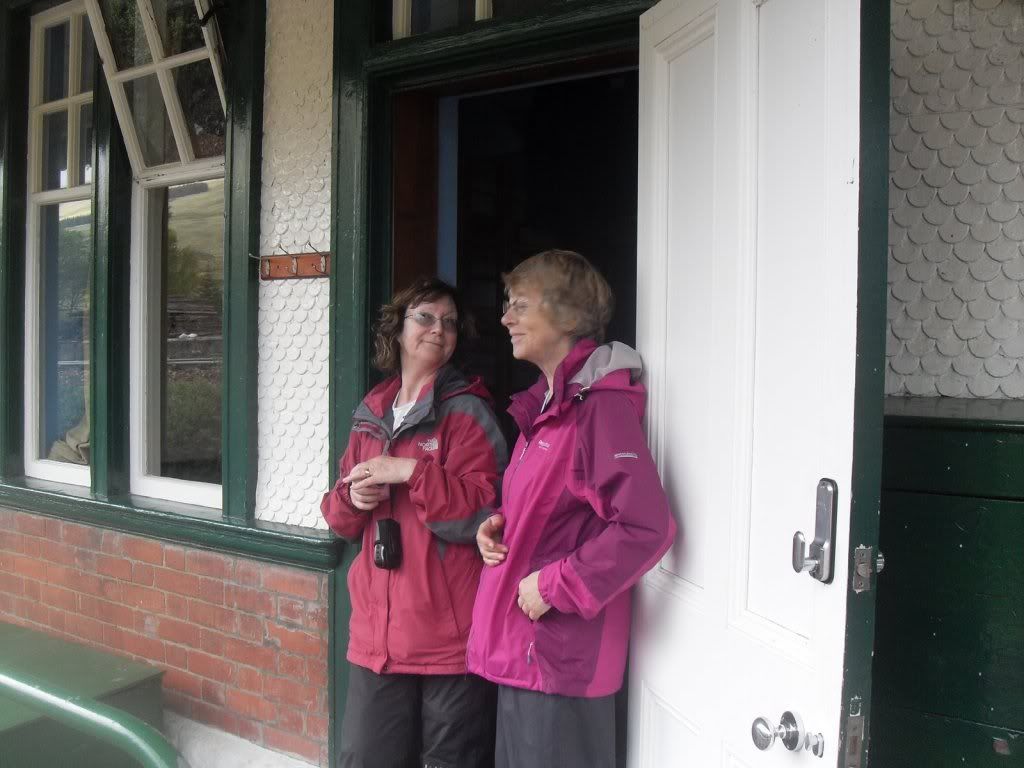 On with our waterproofs, this is becoming second nature now, it was doing it's usual, tipping it down. We put our ponchos over us and our rucksacks. (what a sight)
Steve said that the four blokes did not want to pay for their dinner from the previous evening. He told them that he would charge it to their credit cards if they did not pay. They threw the cash at him. How terrible, this couple were in business, providing an excellent service to walkers, are treated like that. It made us ashamed to be English.
We were soon on our way down to the main road (A82) and on the path to the pine forest, up the hillside, dripping wet and no view mainly because we couldn't see the wood for the trees!
I had the call of nature it is so easy to pee when wearing a poncho. Once up at around 1050ft, we had lovely views over loch Tulla and Rannoch Moor, the sun came out for a short while, but the wind was strong and cold, we didn't hang about gazing at the views, which was sad, but we did have to tackle Rannoch Moor and we knew that the rain was not going to hold back for very long.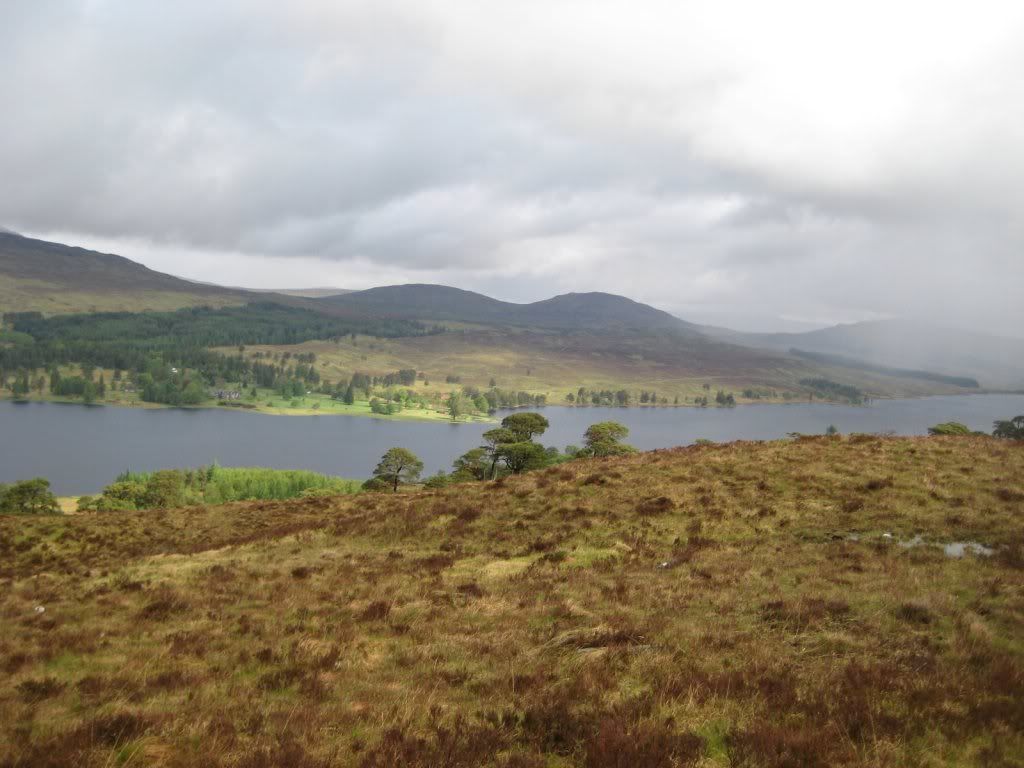 We sighted the Inveroran Hotel in the distance, there was still had a way to go before reaching it as the path zig zags down the mountain, and it was very slippery so we took care not to end up on our backsides.
We were ready for our tea and shortbread when we arrived at the hotel. Just as we were leaving along came the big French lass who we had renamed 'The French Phantom'. Where had she come from? There was no way she was on the trail you can see for miles and she was nowhere to be seen, and she walks extremely slowly. Perhaps she gets a taxi to the general area of where walkers are likely to meet up.
A lovely walk along the road past the forest Lodge and onto the Drove Road to Glen Coe, but boy was it hard on our feet and joints. Up and along the Black Mount we ambled stopping to look back at the views.
We continued climbing/resting/eating and peeing our way across Rannoch Moor with scary biscuit vies of Coire Ba 1108m we were so pleased that we didn't have to climb that one. Out there on the Moor it felt as if we were miles from civilisation – we were. It's a very desolate place to be, apparently it's the largest uninhabited wilderness in Britain 50 miles square and it felt like it. We had just climbed 1460ft no wonder we felt shattered.
A mountain rescue helicopter came up and along the path as if they were looking for someone.
As we went around the corner we could see Kings House Hotel - a small white dot surrounded by conifer trees in the far distance with a grey streak coming from the East past the hotel towards the West – the A82. It looked like a beautiful pearl surrounded by emeralds on a silver bracelet.
We realised we still had at least another hour to walk down a particularly rocky path and our feet were getting sore, we were tired and in need of a shower and hair wash followed by tea/biscuits and then an alcofrolic drink.
We were shown to our room, three single beds and en suite…. We didn't pay for en suite, still we didn't mind. So Brenda and I got showered…. No not together – closely followed by Jen, who had made herself at home in one of the beds, drinking tea and eating biscuits. The room looked as if we had trashed it, there were clothes everywhere and we were just making our second cup of tea, while Jen enjoyed a lovely hot shower with the prospect of using those wonderful soft towels…. Then there came a knock on the door, and this lovely young guy tells us we are in the WRONG ROOM……. Help.
With the kettle boiling, Jen in the shower, Brenda and I started moving bags etc (if that guy had left it a couple of minutes we would have been washing knickers. Anyway we were all sorted in our new room, only we had forgotten to tell Jen. We went back for her and she thought that we were joking.
Our new room was equally as nice but with no bathroom, but as we hadn't paid for one, and had used one (we were not about to have another shower before we left in the morning anyway) we were highly delighted to get a clean and tidy room. Jen was extremely pleased not to be sleeping with those biscuit crumbs.
Anyway the guy said that we could have a free drink for our trouble, it was no trouble but we didn't tell him that. We left wet towels, no tea bags and crumbs in one of the beds and waste bins full of used compeeds and toe tape. Our new room had nice clean dry towels, soap and shampoo for each of us, loads of t-bags and clean cups; we also had a sink in the corner. However, the loo was down the corridor opposite the first room.
Knickers washed and on the mobile heater, boots in the drying room – they didn't dry, fully dressed and almost presentable we wandered down to the bar for our free drink. I had a pint of shandy, Brenda had a red wine and Posh had a dry Martini and tonic.
Enjoying our drink and people watching while our feet came back to life and stopped aching we had relaxed enough to think of food. After our evening meal, I went off to find a computer to put a message on the Walking Places message board. http://www.forum.walkingplaces.co.uk/forum/viewtopic.php?f=8&t=1546
Jen and Brenda came and found me and then suddenly this man came and asked us if we were anything to do with the Coast to Coast and that he recognised Brenda!!! He said that he had read our four walkers micro-site on Walking Places and that we had 'inspired' him to do it. He had used our experience to plan his walk and was staying in the same B&B's as we were over the 17days. He didn't say when he was going to do the C2C.
He told us he came from Sussex and that his name is Chris. He had stayed at the Crianlarich hostel and was sitting on a chair quite near us reading a Catherine Cookson book! We remembered this, but he didn't say anything about it. He is also staying the MacDonal Hotel in Kinlochleven in one of the huts (aka garden shed)! To say that we felt that we had and were being stalked is an understatement.
A short time later we met up with Tilly a black standard poodle who we first encountered at Balmaha in the Oak Tree. She was walking the WHW with her owners and doing very well at it, actually she was doing better than anyone her coat wasn't letting too much rain get to her she just shook it off. What a lovely dog she is.
Jen and Brenda called their sister-in-law to see how their brother was after having a triple heart by-pass, and joy of joys he is doing just fine.
We retreated to our room to write journals and giggle before going to sleep around 10.30.