Day Five
Tuesday 10th May
Crianlarich to Bridge of Orchy – 13 miles
A quick shower all round at 7am, the whole room was awake early. Breakfast (not cooked) was not recommended so we hot footed it over to the station café and enjoyed a fried egg roll and cups of tea.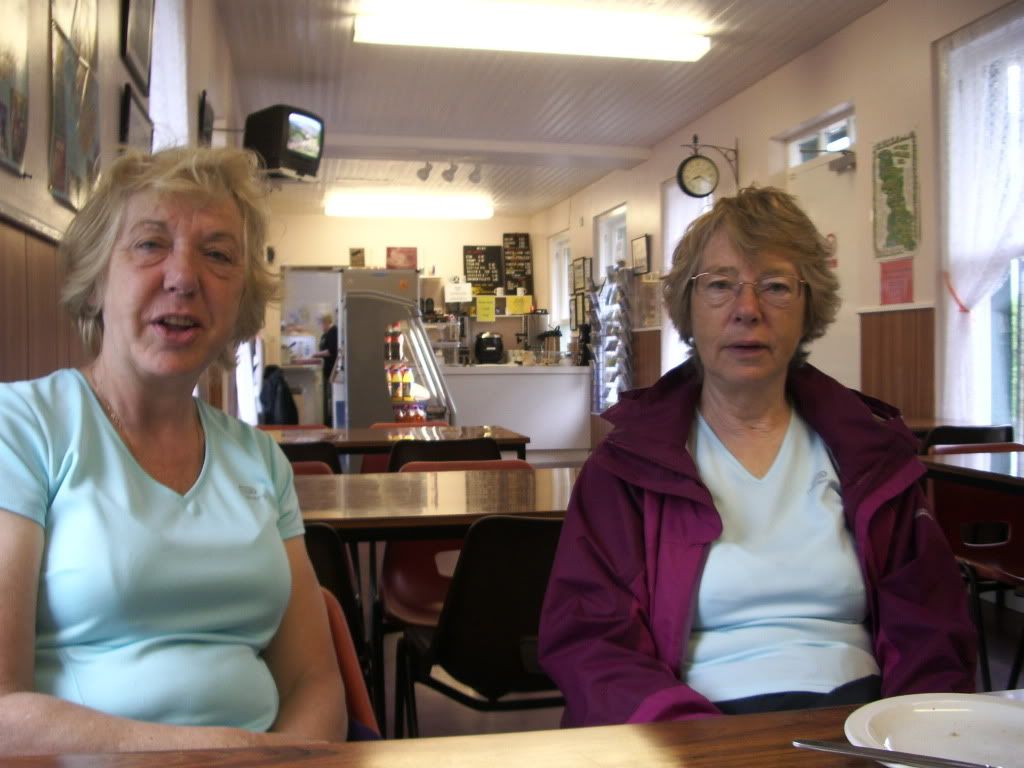 It was raining heavily and we took a democratic vote on a) do we take the train to Tyndrum and walk the rest of the way, b) do we walk to Tyndrum and catch the train to Bridge of Orchy or c) do we take the train all the way to Bridge or Orchy. We decided on a) take the train to Tyndrum, so as we had 2 hours to wait, we kitted ourselves out in our trusted and well used waterproof gear and set off through the pine forest with the rain sheeting down.
It was a beautiful walk despite the rain, and for a short while it stopped and cleared enough for us to see the twin peaks of Ben More and Stob Binnein.
The route took us over a number of small streams without bridges or stepping stones, and there were a couple of times when we almost got a boot full, but dexterity of old bones and bodies kept us upright.
We visited the 8th century graveyard at St. Fallan's priory but with rain lashing down and water soaking through our 'waterproofs' we decided not to hang about. We were eager to get warm and dry with the prospect of finding a warm tea room at Strathfallin wigwam/camping farm. Wrong!
There was a small shop where we were able to get tea and a roll, only we had to eat and drink outside, under a type of open ended tent. The wind was blowing the rain in at both ends, and we were freezing. Eventually a group of women arrived (Dutch/German) who were equally wet and cold, after a short while we moved off if only to try and get warm. By this time it was raining like you would not believe.
On arrival at Tyndrum we stopped for tea & scones at the Real Food Café. Low and behold the large French lady (who was walking alone) arrived, we think that she must have taken the train as we didn't see her anywhere on the walk and left her at the YH in Crianlarich first thing this morning.
Fully fed, watered, warm and dry we toddled off to the 'Green Welly Stop' Brenda bought new socks, all hers were wet, we used their loo and then set off with the rain keeping us company, we would have missed it had it stopped! We took some photos of Beinn Dorain (notice how even the mountains are saying DO RAIN) and reflected that we were glad that we didn't' have to climb it. The rain continued on and off for the rest of the walk alongside Allt Kinglass.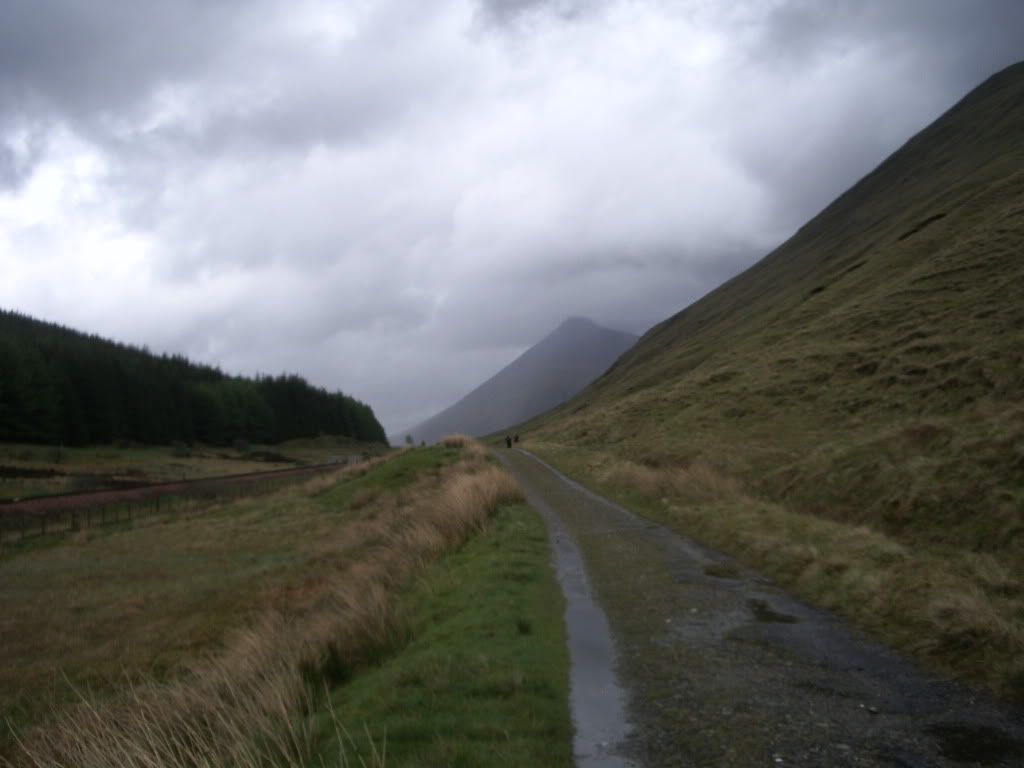 Part way along this very long track with rain coming down the mountainside in rivulets, Brenda said 'my liver is spinning and my kidneys are like Catherine Wheels' she continued with these lovely sayings of hers 'I feel like a salmon trying to go upstream'. Trying to keep upright Jenny and I were in fits of laughter, at least it stopped us thinking about our feet that were now feeling a bit sore after miles of the old Military Road. Then suddenly we saw the Bridge of Orchy in the distance, were we one happy bunch of wet old gals. I telephoned Keith to see if everything back at the homestead was ok, it was, I then telephoned Norma, a fellow (lady) Rotarian and asked her to take 'greetings from Jenny and I at the Bridge of Orchy' to Diss Rotary Club. www.dissrotary.org.uk
Along this walk we came across a number of Highland cattle, they are so beautiful but I shouldn't like to get in their way.
We reached the station where the owner (this is one of two privately owned stations in Scotland), has set the whole station up as a bunk house, with six bunks at a building one end of the platform and eight bunks in a building at the other end with a common room and their own living quarters in between, known as 'The West Highland Way Sleeper'. Trains still stop at the station with the last train going through to London (sleeper) about 9.30pm. We had the room with six bunks and two sets of three high, and yes I ended up in one of the top bunks. We shared the room with a father and his daughter – John and Ashley. There were also three young women and one lad in a party plus four blokes in another group.
We took photos of trains coming through the station.
We ordered our evening meal – garlic mushrooms, pasta/pesto for me, mackerel pate, bacon chop for Jen, garlic mushrooms and coq o van for Brenda. It was by far one of the best meals of the whole trip and all cooked by the landlady. While it was being prepared will filled up on tea/coffee, enjoyed the warmth of the room and chatted to the Landlord. The four blokes had been drinking, were rude to the landlord (Steve) and didn't eat their dinner, saying it was 'sh*t they then went down to the pub (hotel), Steve called the hotel to advise them of their behaviour. Apparently the hotel had already notified the Police that they may be trouble. Steve locked the common room after we went to bed. We wrote up our journals, giggled as I struggled up to my bunk and said good night to our room mates.