Day Four
Monday 9th May
Inverarnan to Crianlarich– 7 miles
We all woke up around 6am, after a very restful night, even Brenda's snoring (she may well not have snored), didn't keep me awake. We were washed, dressed, packed and down for breakfast by 8am now that's quite good going for three old gals. I think that we were looking forward to a lazy day of just 7 miles.
I had porridge with salt, Jen and Brenda added sugar to theirs – Sassenachs! (and I can say that .. well a bit of me can that's cos a bit of me is Scottish….. apparently half of me) Jen and I had eggs on toast and Brenda had poached egg and bacon. There were two ladies plus a Dutch couple having breakfast with us. The Dutch couple complained to the landlady because there was a mouse in their room, we complained because we didn't get one, equal opportunity and all that.
Finalising our ablutions before we left, Brenda reminded us that she was in terrible pain with 'le chandeliers' or 'piles' to those of you who are non-French speaking and was glad that we only had 7 miles to walk. We promised her that if we got there in good time and a train was due we would all go to Boots in Fort William to get something to alleviate the problem. That inspired her to get her boots on and check out the wild life.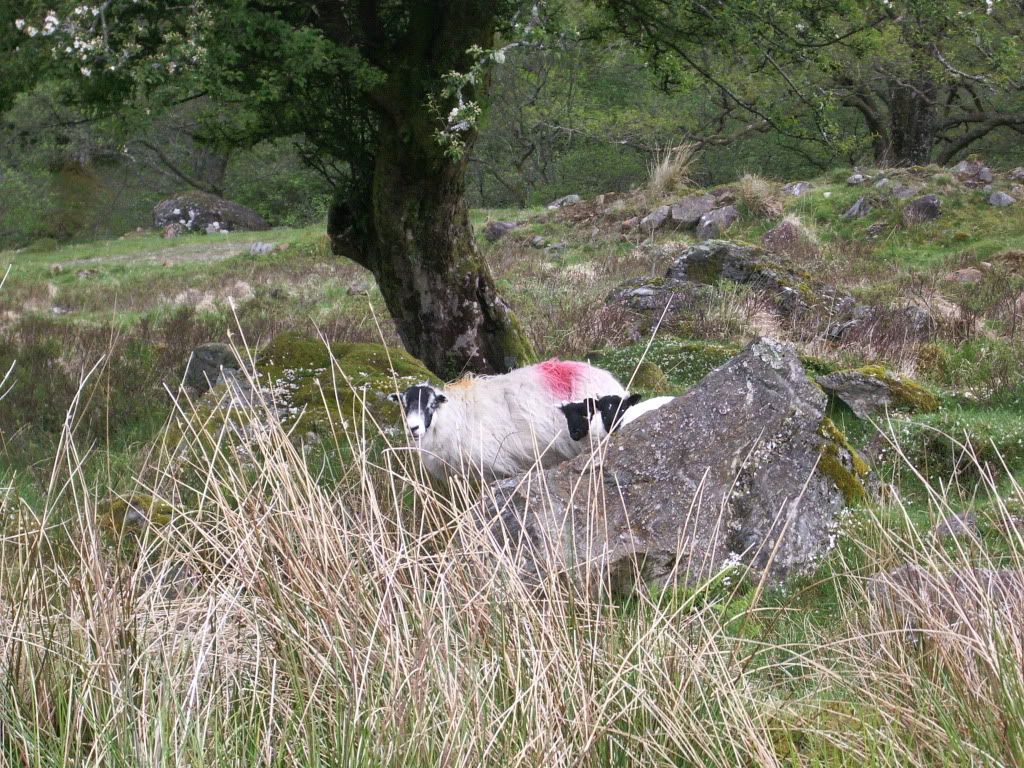 Soon we found ourselves on a wide track following the River Falloch, with water flowing down from the hills alongside the path.
The rain had been intermittent since the start of our walk today, but nothing too heavy, we reached the Sheep Creep in what seemed a very short while.
There were a number of cows with their calves who were not at all bothered by the fact that we were admiring their young. After a bit of a steep climb, the first of the day, we were on the wide 18th Century Military Road (track) where a number of sheep were grazing.
Throughout the morning the traffic noise from the A82 was ever present. At this point Brenda was in severe pain and could hardly walk so we had a few short breaks to help her, and were all pleased that we didn't have too many miles to cover. The path along here is very muddy with farms joining the path, it was difficult not to tread in cow pats…. Still it's one way of re-soling our boots. It was bright for a while and then the rain joined us once again to remind us that we were in the West of Scotland.
All along this path we had lovely views albeit there were pylons to one side of us and the A82 the other.
At the t junction where the path takes you either to Tyndrum or Crianlarich, we took the right hand path through beautiful pine forest to Crianlarich.
On arrival at the train station we only had a few minutes to wait for the train to Fort William, it cost us £15.25 each return (with old people's rail card discount) and took 1 hour 40 minutes. There were a number of American tourists amongst the passengers, who we found amusing as they thought that every mountain with snow on it was Ben Nevis, and proceeded to take a photo of it!
The scenery was beautiful especially going over Rannoch Moor. On reaching Fort William we found Boots the Chemist and found just the right kind of medication for Brenda, I can't believe she shoved them where the sun doesn't shine, I thought she would be able to take a pill (orally) and then she would be fine. I have led a sheltered and pile free life! We found somewhere to have tea and cakes while we had time to kill before the train arrived.
A quiet and enjoyable journey back to Crianlarich and then off to the YH which is right beside the station. We found the boot room easily, we just followed the pong. After we deposited our boots, we checked in only to find that we had to hold our noses again, drag our boots out and hot foot it (should have said wet foot it) down to the shed at the end of the drive to retrieve our bags.
Our dorm had three sets of bunks and we all ended up on top bunks. We should have checked in before heading off to Fort William. A quick meal in the Rod and Reel (no food at the hostel), salads all round – ham for Jen and Brenda, tuna for me. It was good to be amongst people who are not struggling against the elements to hold a conversation. Back to the YH, clothes, maps etc, sorted, a cup of coffee and then write up journals before we eventually fell…. Sorry, I mean climbed into bed around 10.30. I'm not sure what Jen and Brenda wrote in their journals, but they sure finished ages before me!