Day Three
Sunday 8th May
Rowardennan to Inverarnan – 14 miles
What a night?? I woke up properly at 5.30am after an extremely disturbed night, the lady in the bunk below me (Big German lass) snored the whole night, she sounded like a cow bellowing in a faraway field. Brenda, not to be outdone joined in! I got up twice to go to the loo and eventually must have dozed off about 2am.
After climbing down from my bunk on round iron rungs, I crept out of the room to get washed and dressed. When I got back Jen was up and the two young lasses were up and out, leaving the two snorers in bed, we nudged Brenda and got her moving. We made some tea in the self-catering kitchen, packed our bags and were on our way by 8.30.
It was chucking it down, we put our bags in the AMS shed, we could hardly see the YH main building. Jen doing her King Canute thing kept saying no, no, no! It didn't work though it carried on as if it was never going to stop. The walk through the forest with Loch Lomond for company, we took the low route which was a bit of a scramble for the best part and progress was slower than we would have liked.
As soon as we found a place to stop out came the flasks and food, and I'm sure that Jenny and I had put the others' trousers on by the look of this photo.
We forged raging torrents, well ok, waterfalls that were in a hurry; and did a lot of rock climbing, well ok, there were a few rocks to get over; and scaled a few trees, well ok there were a lot of tree roots to scramble over.
When we reached Inversnaid we popped into the hotel for lunch and cups of tea. Our lunch consisted of cheese and veggie burgers with chips and buckets of tea for all of us. During our nosebag stop, the rain wasn't going to give in just because we were hiding it continued to come down in sheets. With all this wet stuff falling from the sky we ordered another pot of tea. This hotel has seen better days and in its heyday would have been the place to be seen in.
Eventually we had to admit defeat and get out there and face it. We took a couple of photos and resumed the path.
We came across a sign directing us to Rob Roy's Cave, so off go Brenda and I, leaving Jen on the path trying to keep dry. We didn't go right up to the entrance of the cave it was too wet to climb rocks.
The terrain was very difficult in places and with the rain coming from nowhere every few minutes we felt a little tired and just wanted this part of the walk over with, which is a shame as I'm sure the views are spectacular, but we just didn't want to stop any longer than we had to. We had a couple of rest stops along the route, with fellow walkers overtaking us and then we would overtake them during their breaks, as is normal on these walks.
We said goodbye to Loch Lomond in bright sunshine and the sun remained out for the rest of the day!
After an extremely tiring and long wet walk we strolled into Inverarnan. Fortunately there were some toilets at Beinglas Farm Campsite, going behind a hedge in pouring rain is no fun so we kept hanging on and were fit to burst when we got there. We only had a short walk from there to Rose Cottage, but it was too far under such circumstances.
Rose Cottage was ok, we had a triple room with lots of space, all three of us had a bath (we shared the water in case there was not enough hot to go round), then off to the Drovers.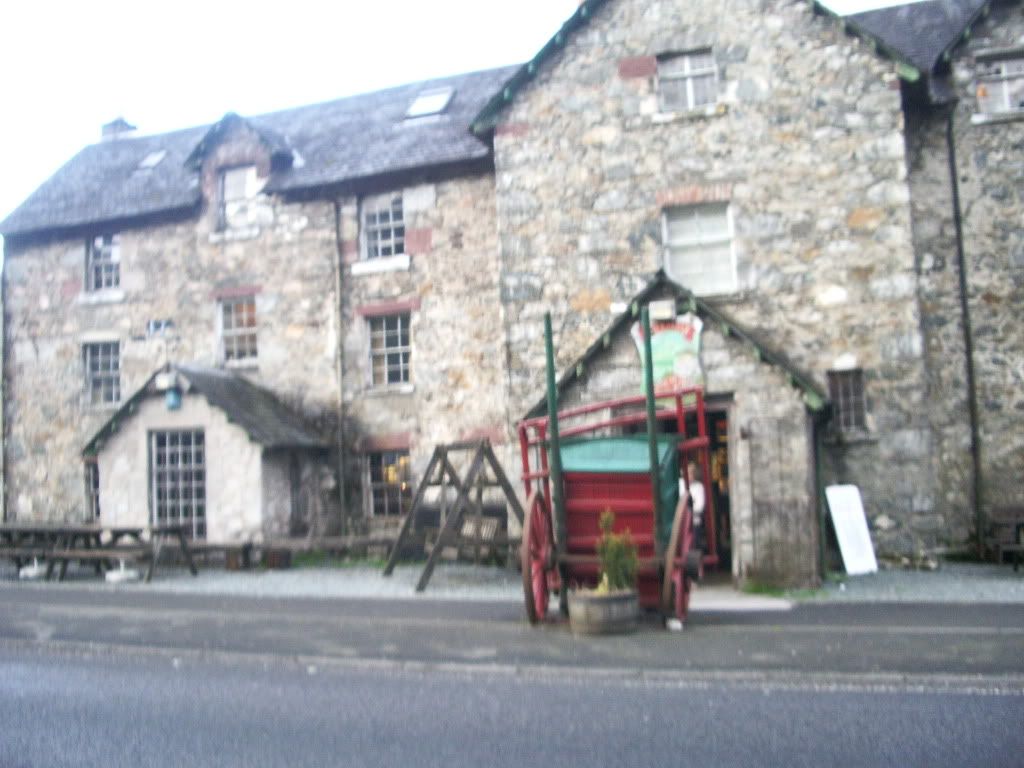 The inside of this place was like a museum. It was packed with locals and some walkers including the 'posh men'.
For those of you who have not had the experience of The Drovers, well it's unique, full of stuffed birds (no not the locals) and animals including a Brown Bear just inside the front door.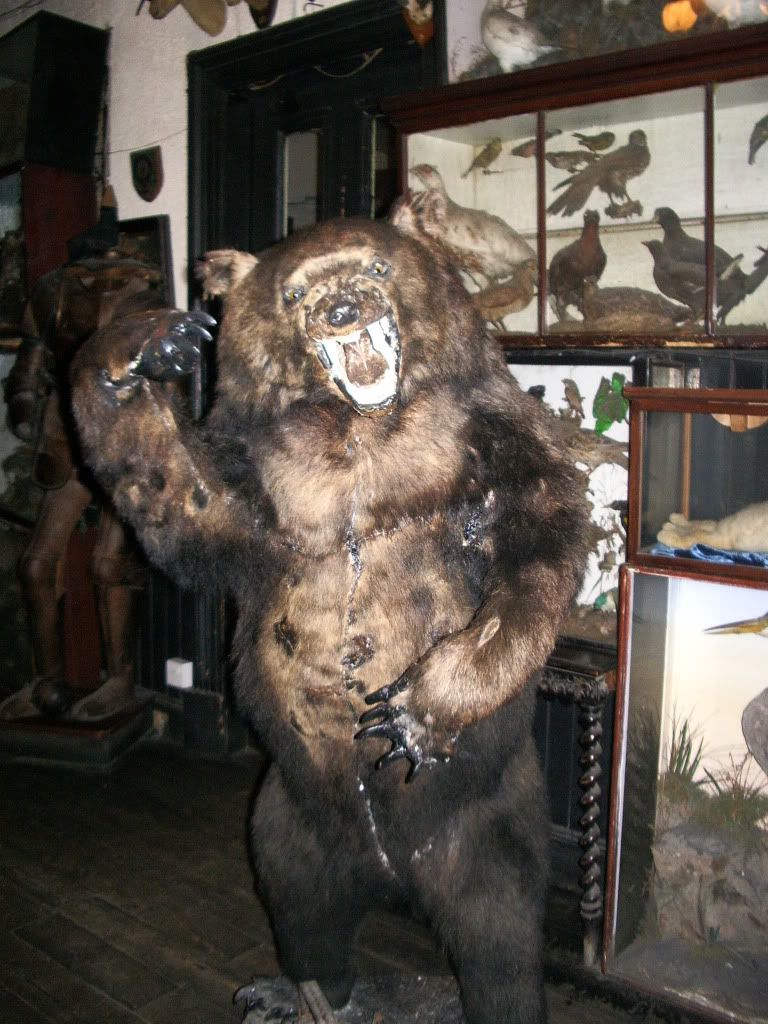 The men (lads) working there were all wearing kilts, so most of the time, we kept dropping things on the floor to check out the rumour of the under garments or lack of…. Didn't have any luck, they moved too fast for us.
Heaven's knows what the kitchens are like and I really don't want to know, but I will say the food was tasty and we didn't suffer the next day. What a great experience and one you should try if you are in the area. I had veggie Haggis, Brenda had carnivore Haggis and Jen had Fish & Chips. (You can take the lady out of England but you can't take England out of the lady). We had a couple of drinks and crept back to Rose Cottage for a coffee and to write up the journals before finally falling into bed at around 10pm.