Day Two
Saturday 7th May
Drymen to Rowardennan – 14 miles
Jen and I got up around 6am. I made the tea to get us started, we all showered, had breakfast, prepared our lunches and packed our bags by 8.30, walked to Elmbank, paid our bill, left our bags and were off before 9am. It was raining – something we came to expect and endure - we have decided to omit the shower in the morning at the B&B's in future!
A fairly long straight, uphill and quiet lane out of the village, stopping every now and then to talk to dogs and their owners; to admire the view; take photographs and generally enjoy this bit of road walking. Soon we were in Garadhban Forrest, there was a diversion in place due to de-forestation in the area. We met up with a couple and walked with them for a while. By the time we had got to the Burn of Achlais it was time for a break, while we looked at Conic Hill in the near distance and our first view of Loch Lomond.
Lots of walkers passed including some Scousers and the 'posh' men (from the B&B) who appeared to be walking in suit trousers!
It was at this point that we could have taken the easier route down to Milton of Buchanan or the high route up Conic Hill, we chose the latter….. we have been told that we are a bit mad and this confirmed it. It was steeeeeep most walkers were taking a breather every few yards. At the highest point (for us), we took in the views snapped away with the camera, met up with a group of men climbing alongside of us and had our photo taken with them.
The views were spectacular the rain had held off long enough for us to take a few snaps.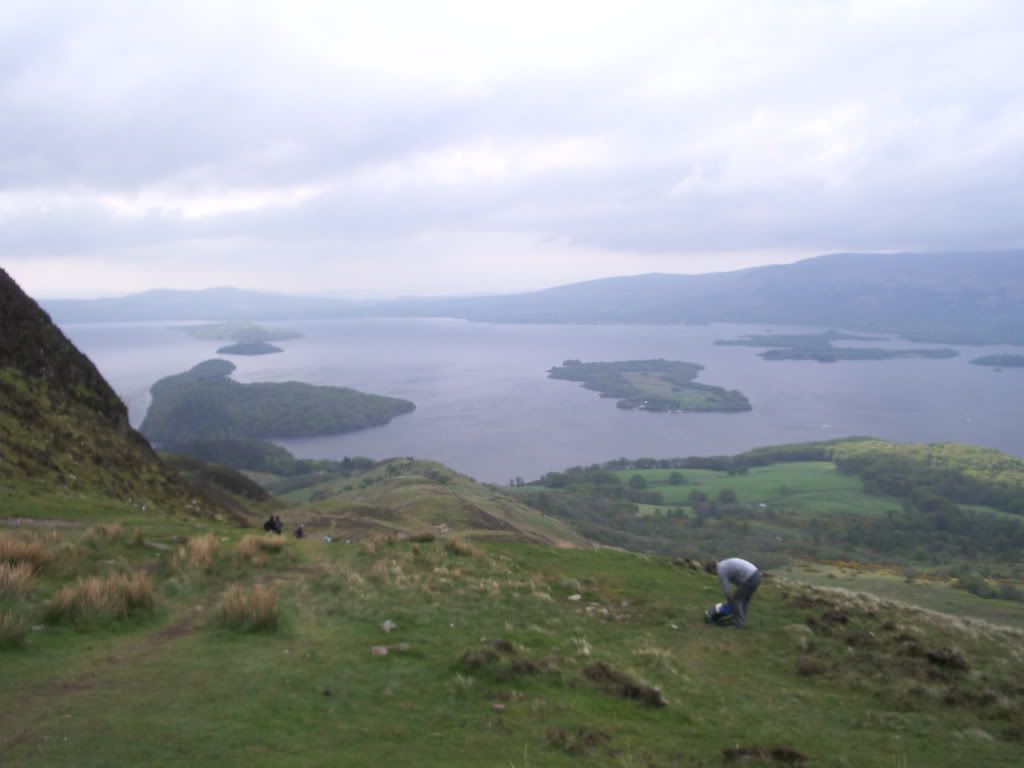 On our way down there were a high number of French students, all wearing either sandals or trainers, it was not an easy path, and one of the students slipped and twisted his ankle and had to be carried down to the village.
On reaching Balmaha, Chris Morrison (the nice young man we met in the forest on the c2c walk last year) was waiting at the Oak Tree Inn for us to join him. There were a number of men in kilts, and sorry Chris but we couldn't take our eyes of them!
After our lunch break it was time to extricate ourselves from the comfort of the garden chairs (and the men in kilts had left). Not 20 yards into the walk and it started to rain again, with thunder and lightning to boot. Out came the waterproofs.
The path along the shoreline was sandy and easy walking to start with.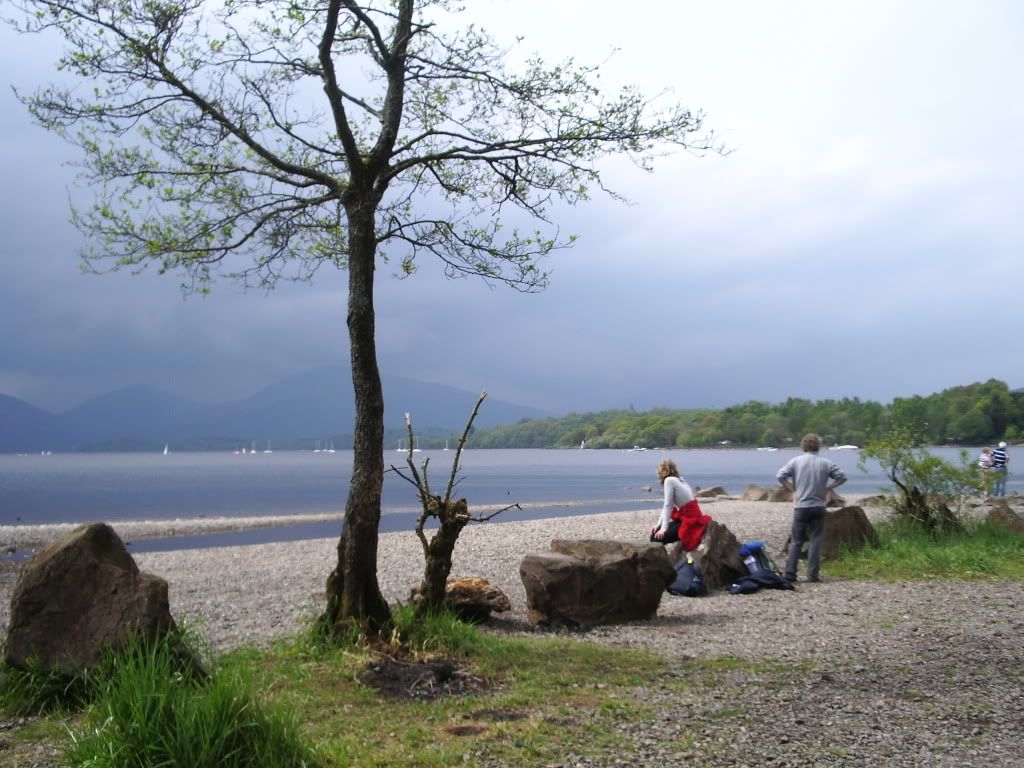 The walk became very undulating with quite steep climbs, however, the beautiful views of Loch Lomond and surrounding hills more than made up for the lack of hill training. This was a busy path with walkers overtaking us before settling themselves down for a break. Every now and then we found ourselves walking along the shoreline again.
Walking on what seemed like a never ending path of ups and downs we came across the Cashel Caravan and camp site, with a snack bar and shop…. We just had to stop and soon realised that they have everything in Scotland including a B&B for bugs, I suppose they need such things with all this rain.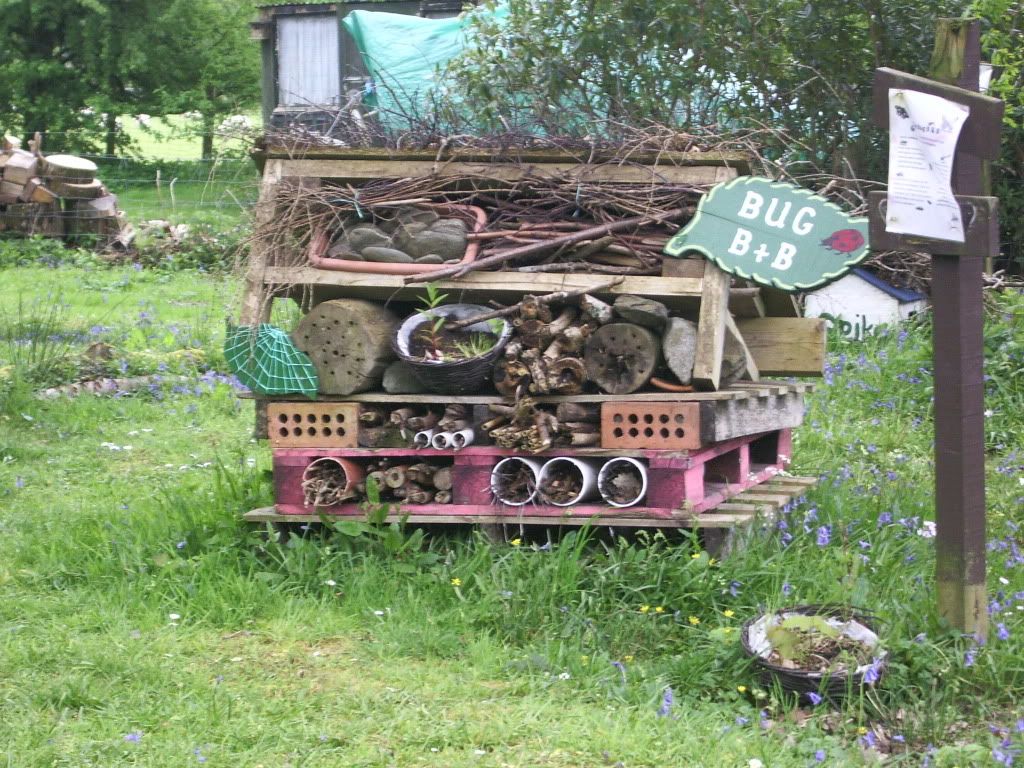 The rain had become heavy and during a stop in proceedings (rain) we had taken off our waterproofs, so soaked to the skin but cool and happy we arrived at Rowardennan. Chris stopped off at the Rowardennan hotel and we plodded onto the YH. Reception was slow…. Almost stopped….. actually the staff were in danger of getting a parking ticket. It was chucking it down outside, and the small reception was full to bursting with wet walkers and lots of wet boots, coats and rucksacks. After what seemed like an hour it was our turn to check in, only the bags that had been delivered were outside across the yard in a shed, but you needed to take the key. Boots back on and Jenny and I made a dash for it. The rain was so heavy that you could only just see the shed.
We decided not to walk back to the village for our evening meal and invited Chris to join us, he had left his car at the pub before walking to Balmaha to meet us, so a quick drive from the village to the YH was easy for him.
Having got our key to the dorm it was extremely cramped, three sets of bunk beds with hardly any floor space for our bags etc. We sorted ourselves as best we could taking turns to use the floor!
Chris arrived for dinner and we sat yakking for ages, mainly about today's walk and what our next plans are.
We retired to bed early to write up journals, sort out maps and giggled as Brenda and I tried to get up onto the top bunks. Lights were out at 10.30 when the last one came in!