Travel to Glasgow
Train from Stowmarket to Peterborough to Edinburgh to Glasgow
Rucksacks, bags and three old bodies were loaded into Keith's car for the short journey from Finningham to Stowmarket station. We arrived with half an hour to spare, we needed a coffee and Jen had done the washing up, and thrown the milk away at her house so we had to rely on the café on the station. Keith helped us with our bags to the platform and then made a hasty retreat back to Diss.
The weather was good for walking dry, overcast and a light wind… only we were not walking, yet! The journey to Peterborough was as one would expect – uneventful. We had a few minutes to wait for the Edinburgh train that would also take us on to Glasgow. Fortunately we had pre-booked the seats, the train was full. We all sat together and there was another woman sharing our table. Out came the sandwiches, crisps, hard boiled eggs, apples, grapes, chocolate, banana's, a pot of pasta and pesto and a few cereal bars. There was enough food to feed the whole carriage, and we were getting sidelong looks from the rest of the passengers, who I'm sure thought that we were greedy by not sharing this feast.
The lass sharing our table was a bit upset and kept crying… it could have had something to do with the fact that she was hungry or it could have been the smell of the boiled eggs, but she was sure upset about something.
Fortunately we had a wonderful diversion to our thoughts of what could be upsetting this lass; A young couple with their little lad of about 2yrs got on at Doncaster, he was a darling…. No not the husband… or perhaps he was come to think of it. Anyway back to the child he kept throwing his toy so that we would pick it up for him, to delightful squeals of laughter that really did upset the rest of the passengers, even more than our feast did.
On arrival at Edinburgh most of the passengers got off leaving us lots of room to spread out and take an afternoon nap (all that food made us a bit tired).
We arrived at Glasgow Central station around 4.20 and caught a bus round to Queen Street station, where we had just missed our connection to Milngavie (Mulguy), so we spent time taking photos of each other, just so that we would know each other if we got separated.
The journey was longer than we expected and the walk from the station to our B&B (Westview) was just as long, well it felt as if it was. The house was perched at the top of a hill with about 50 steps to the back door. We arrived just as a group of 6 men (walkers) pulled up in a taxi.
The landlady was very welcoming and gave us a family room… sounds lovely, it is, except those two sisters hogged the double bed with the telly and I was in wait for it…..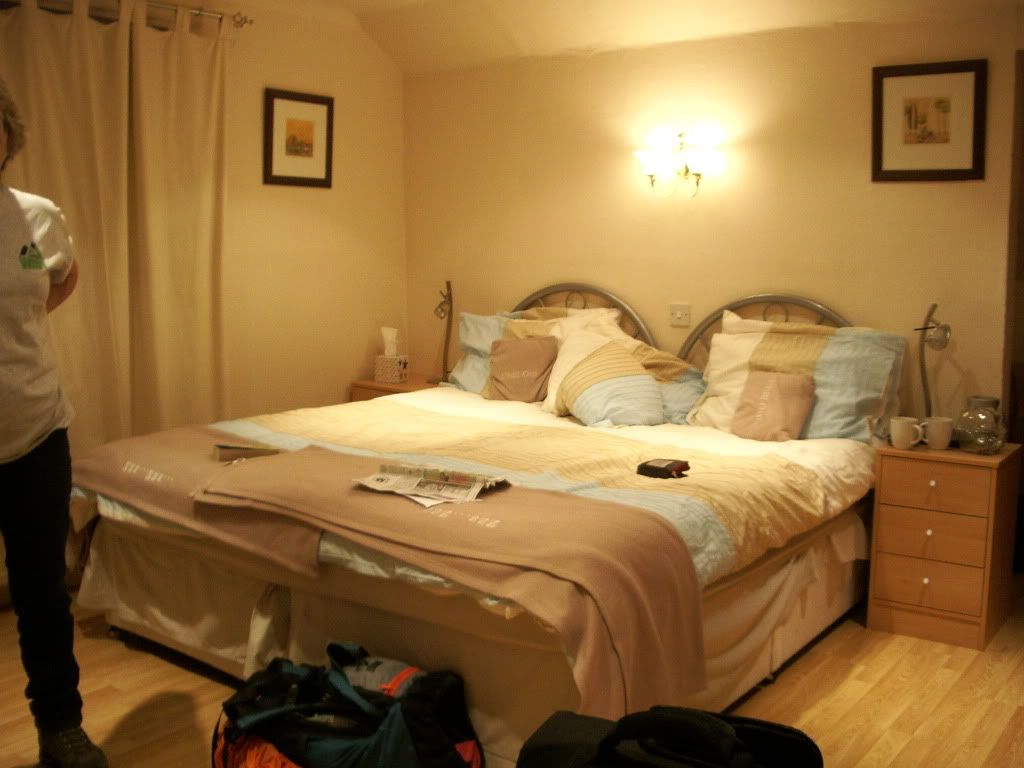 The Magic Kingdom part of the room which is a long narrow passage with no window: A plastic sheet under the bed sheet and toys for company. Seriously it was fine, but those other two laughed until they ached.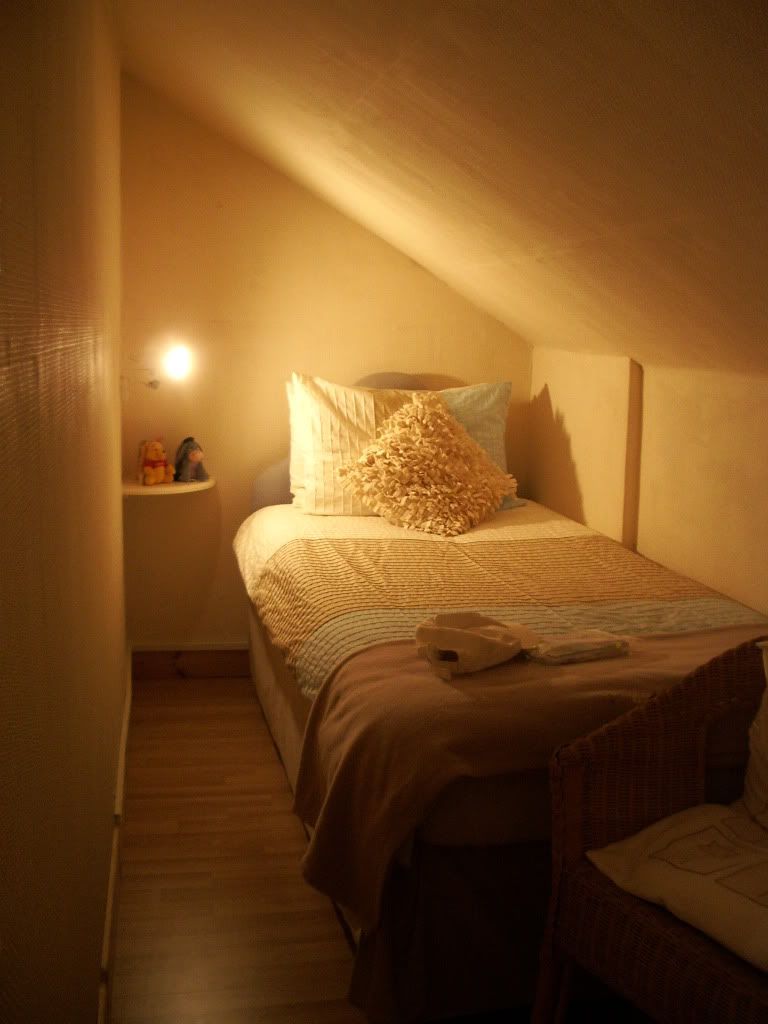 After a cup of tea and all the biscuits from the jar we went back to town to the Cross Keys pub for food. It was full of men, they had a joke with us telling us they were married and it was not a bachelor's night out! We went through to the restaurant and had an excellent meal, scampi for Jen and me and steak & sausage pie for Brenda, plus a bottle of Italian red. About £10 per head. We sat giggling about something and nothing for ages, tears running down our faces, I swear it was the wine we are not used to drinking Italian in a Scottish town.

As we were leaving we noticed the 6 men from our B&B having their meal – mostly they were having haggis. They are looking forward to seeing us at breakfast…. They were in for a shock.

We strolled back to the B&B after Jen topped up her mobile at a garage. Found clothes, maps etc., watched telly (me on the floor with the other two on the nice soft comfy bed), had a cup of tea and settled in bed with my journal and finally switched off the light about 11pm.