Day Seven
Day 7 – Tuesday 12th May
Walton to Carlisle
Good breakfast, lovely hosts and a relaxed atmosphere. None of us had a wash this morning, it was too cold. We loaded the car and were back on the walk by 9.45; the wind was cold, and again we had bright sunshine.
Today our walk was mostly on flat ground; having said this it was no less interesting in terms of beautiful woods, meadows and streams. We passed through Newtown, and found the path onto Oldwall; hedgerows abundant with birds and wild flowers springing up in just about every corner. Along this path we stopped for our mid morning break and enjoyed listening to the silence (except for the birdsong); when you are fortunate enough to be in such a setting it makes you feel good to be alive.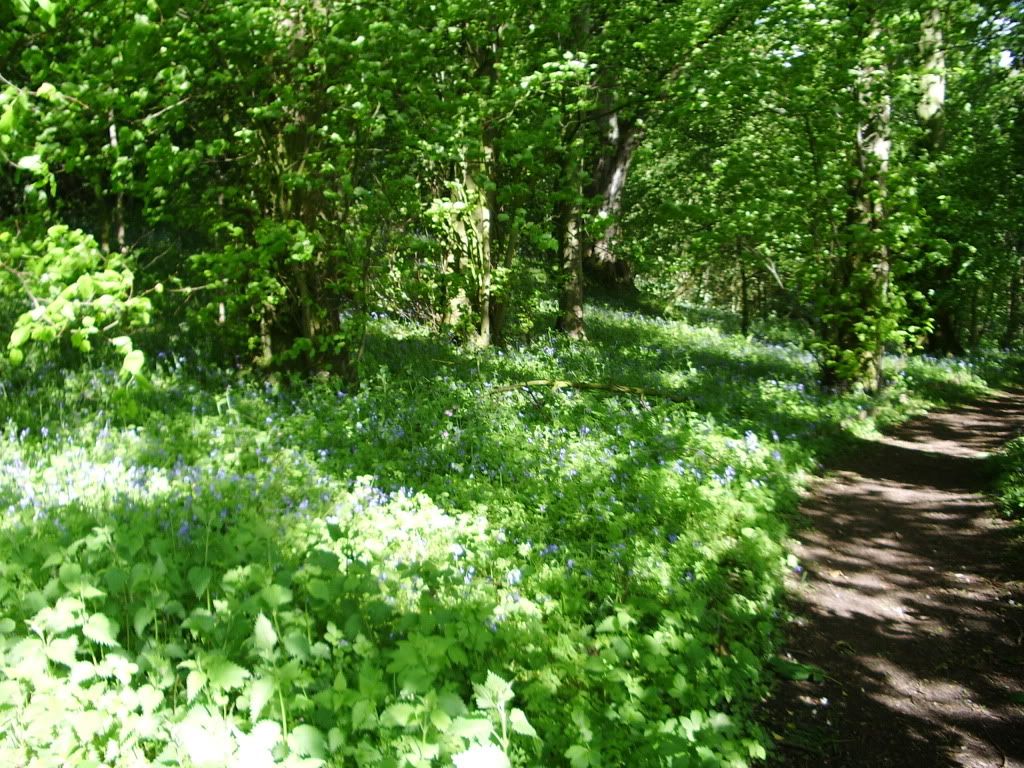 Path towards Oldwall
In the field just before Bleatarn Farm there was a portaloo especially for walkers to use, such luxury we hadn't known, so obviously we took advantage of this. Just west of the farm we were walking on the Wall although it was hidden under the grass path. As we got to the last kissing gate there was a small table with tubs of biscuits & sweets for sale, beneath it a bucket with cold water and bottles of water. All this was for sale with an honesty box. It was called 'The Stall on the Wall'.
Walking through Crosby-on-Eden and avoiding looking at the inviting pub, we found a spot beside the River Eden for lunch. Two women with their black Labrador who we had passed earlier in the day passed us once again. The dog decided to hang around a bit as there was food!!!
Following the river path we enjoyed the cool breeze and the wild flowers in the meadows around us. After a short while we headed right, leaving the river for a while, passing Linstock Castle, which for some reason we didn't see. Crossing over the M6 motorway we followed a lane which became boring after a short while, but we were soon on a cycle path behind a hedge with a sham/folly in a field and lots of wild flowers surrounding it.
We arrived in Rickerby Park with cattle and sheep roaming freely; it's a lovely clean well kept park with a tarmac path directly to the bridge over the River Eden.

Rickerby Park, Carlisle
Just before the golf course, Brenda M came into view, she had parked the car at the Sands sports centre. Soon we were enjoying a cup of tea, had our passports stamped again, rucksacks in the back of the car and we were off again along the side of the river, carrying just our water for the last three miles. It felt strange to be walking without our rucksacks.
This part of the walk was on relatively flat ground walking through meadows with cattle and sheep in almost every field. A number of cattle had escaped and were on the steep embankment of the river. Although we had been walking for a few hours we didn't feel as if we wanted this walk to stop and with the thought of tomorrow being our last day we were all in a reflective mood.
Just before Grinsdale a road is being built with the proposal of a new bridge over the River Eden into the centre of Carlisle. As we came through the gate at the end of the path there on the left was the car with Brenda and her ready smile waiting for us. She had already located our B&B – Knockupworth Hall, a lovely house set back from the road.
We were ushered round the back, with the two Brenda's in a stable type building, with twin beds and a wet room; Jenny and I in an annex in the main house. Jenny had the big double bed in the lavender room, and I had the single bed in the pink and gold room. There was a tv and tea/coffee making facilities in each room, a most comfortable B&B.
After a quick bath (water was not very warm), we all rushed off to find food, not wanting to go into the centre of Carlisle we drove south out of the city for about 12 miles and found what we thought was a pub.... it was an Indian Restaurant. The food and service was excellent, the best Peshwari nan I've ever eaten. £15 each including drinks.
Having pulled a muscle in my back two days ago by incorrectly lifting my rucksack, I was now in a lot of pain, 2 codeine from Brenda with the promise of a good nights sleep I was in bed before any of the others for once.