Day Six
Day 6 – Monday 11th May
Great Chesters to Walton
A good breakfast to set us up for the day, car loaded and we were ready for the day ahead. We somehow missed of the bit from Steel Rigg to Great Chesters yesterday and thereby missing out on the highest point of the path where we may have been able to see Scotland; it could have had something to do with us wanting to see Vindalanda.
Brenda M walked with us for a short way;

Brenda, Brenda & Jenny at Great Chesters
As the terrain became uneven and hilly she decided it was time to about turn. The rest of us walked steadily up past Cockmount Hill and along to Waltown Crags where the views were spectacular and almost 360o; we felt as if we were on top of the world, it was breathtaking.
At Walltown Quarry we used the conveniences and headed off to view Thirlwall Castle.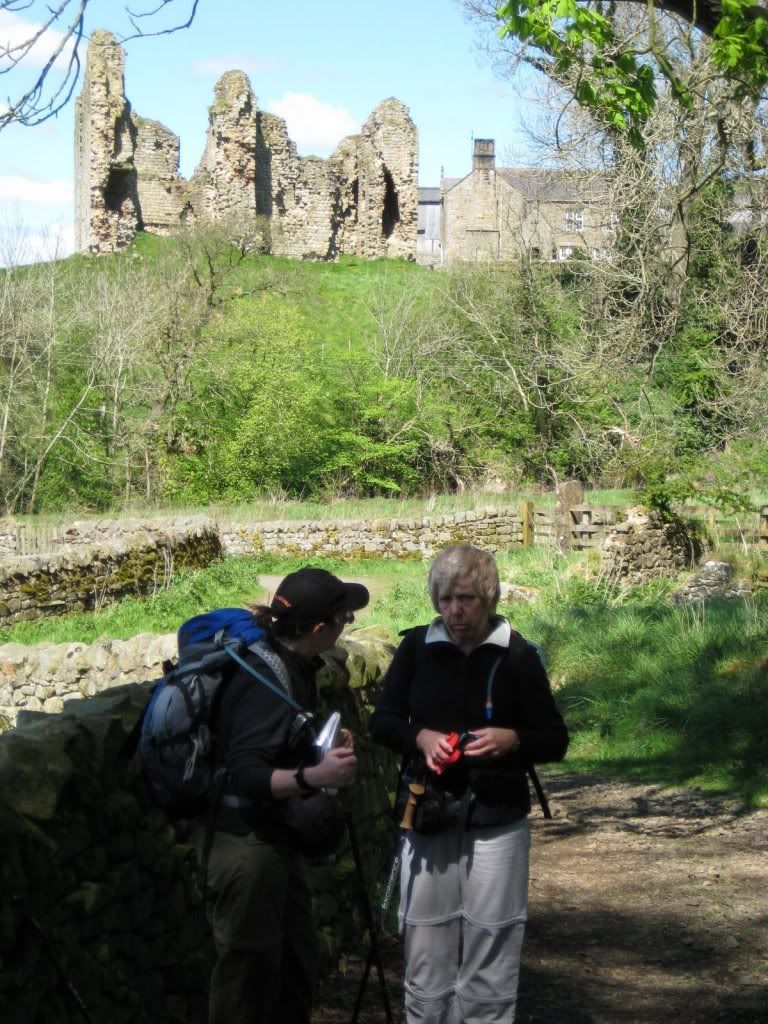 Thirlwall Castle and two old gals yakking
This little hamlet is charming with a tea room; sadly closed for the rest of the day, and some delightful cottages with flowers, chickens and cats all vying for their own patch of sun.
For our lunch break we found a good spot out of most of the chill wind just above Greenhead, alongside the Roman ditch, enjoying the bright sunshine and watching the world go by. Realising that we had a few more miles to go, we packed up and strode off at a good pace towards Gilsland. At the railway line we had to wait for a passing train and got talking to some of the locals who were pleased to tell us about the very large dilapidated house just across the line. It is still lived in, but the roof was in a poor state of disrepair with most of the windows boarded up or just broken and the rooms open to the elements. Apparently a young family live there! Just after this spot we passed some good examples of the Wall and turret 48b. We had a lovely view of Irthing Bridge from the steps alongside the Wall.

Path down to Irthing Bridge
After about 200 yards we found Brenda M waiting for us; she was sitting on a bench in deep discussion with an Australian couple. We all strolled up towards Birdoswald for a welcome cup of tea and another stamp in our passports, but not before another photo shoot of the wall.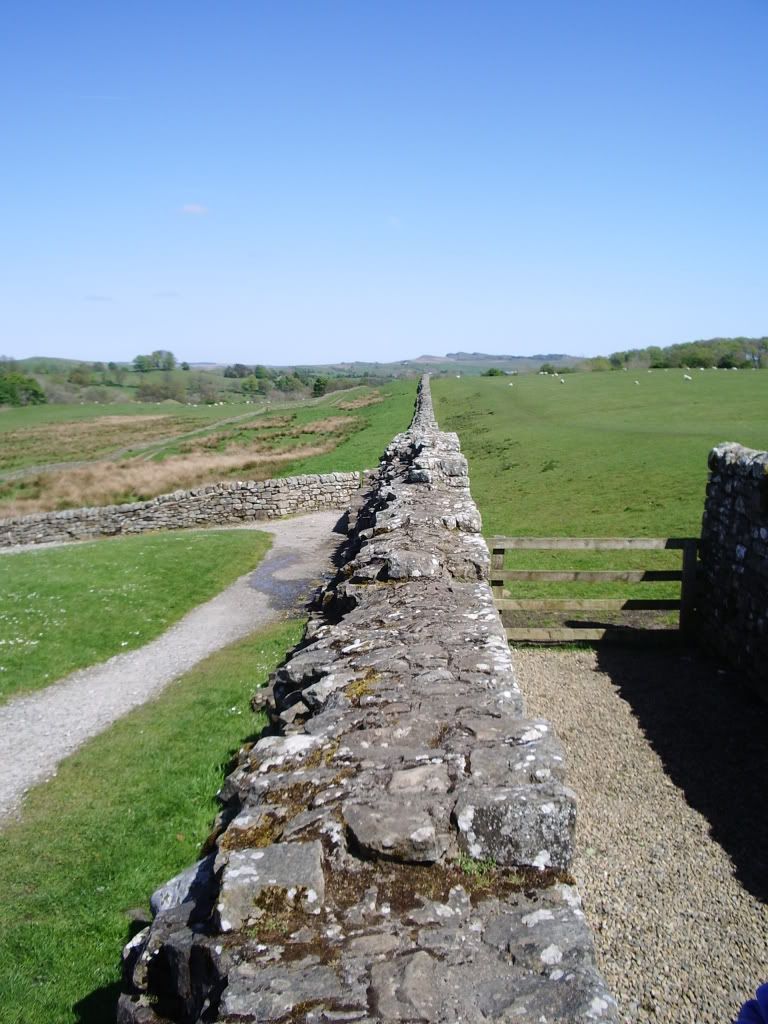 Looking back along the Wall from Birdoswald
We set off again at around 3.15 for a most delightful walk to Banks, passing through meadows with wild flowers, sheep, lambs, cows and horses that were also out enjoying the afternoon sunshine. Although my feet and legs were telling me that they were getting tired, I did not want this walk to end; the views were exceptional and we had a lovely clear blue sky we could see for miles.
Stopping at Banks we found a bench to give our feet a bit of respite and to take a snack. The final leg of the day towards Walton was a little bit of a climb up Hare Hill and down towards the snack hut with an honesty box. We didn't stop! Coming out of the final field for the day we set off down the road to Walton, where in the distance we could see Brenda M ahead of us walking back to the car, what a welcome sight – Brenda and car.
A few moments later and we arrived at Walton High Rigg Farm; a lovely welcome awaited us. Although we hadn't booked a meal we were offered one which we welcomed, none of us wanting to get ourselves ready to go out. High Rigg is a working farm and the lovely old farm house was comfortable and welcoming. We all shared a large bedroom and had time to relax with books, while we took turns in getting bathed before another early night with 13.5 miles ahead of us in the morning.