Day Three
Day 3 – Friday 8th May
Corbridge to Hexham
With a good breakfast inside us, gear and car packed, Brenda M drove us back to Port Gate to continue our walk to Hexham.
The wind was strong and we all put on our waterproofs which keep the wind out a well as the threatened rain and climbed the style behind the Errington Arms.

Climbing the stile at Port Gate
After climbing over dozens of ladder stiles we eventually found ourselves in Stanley Plantation, a great shield from the strong winds. The countryside had so far been very open with lovely views, but we had been having difficulty standing up straight to admire them.
After crossing the B6318 just past mile castle 24 we were able to find a sheltered hollow for a short break and a snack.

Jen and Brenda taking a break
With the cold wind still doing it's best to keep us chilled we were soon up and away, walking beside a Roman ditch. Knowing that we were not too far away from a lunch stop we called up Brenda M to join us at St. Oswald's Tea Rooms. We were all a bit cold and enjoyed the warm welcome of the interior of this gem of a tea room. With a fill of tea, sandwiches and scones we set about choosing postcards and took advantage of the luxury of a table on which to write them.
Leaving Brenda M to enjoy further refreshments we again face and battled with the strong wind. Passing through Heaven Field with a large cross in the corner and again climbing lots of ladder stiles we crossed the road to find a lovely mown path along the Wall by Planetrees. This was the first clear bit of the Wall we had seen so far.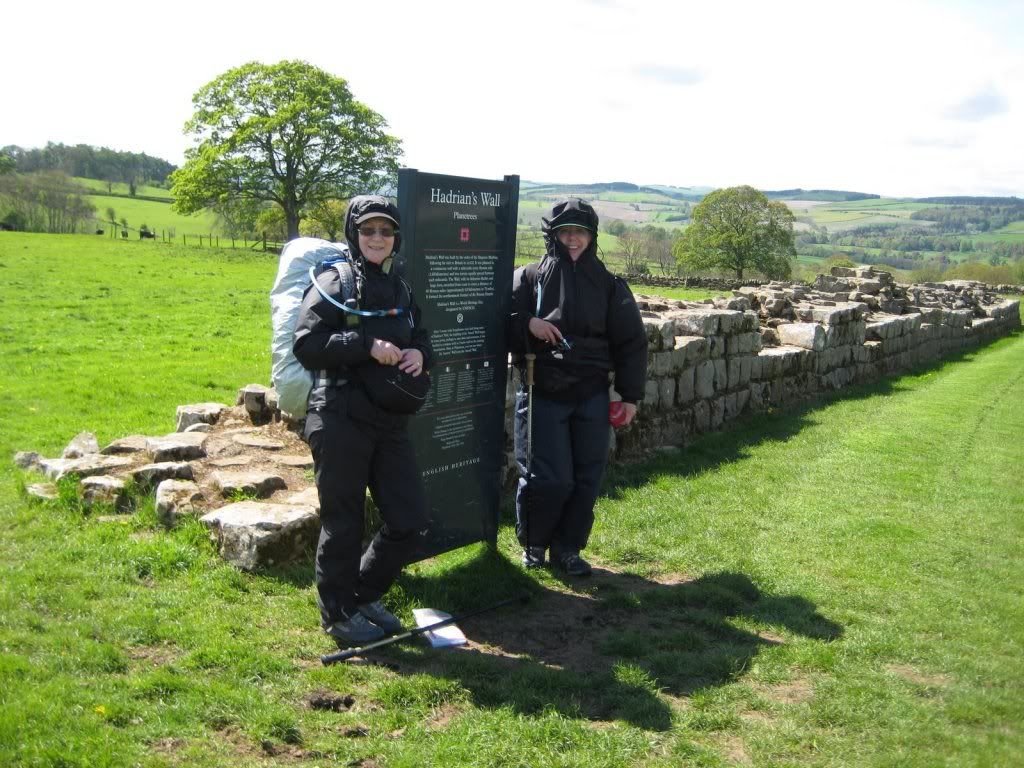 Path along Planetrees
We met up with the two men who keep the path cut through the walking season, Richard and Alan, they cut the path from Heddon on the Wall to Bowness on Solway and are paid by Hadrian's Wall National Trust. They carry their tractor mowers on trailers from and to each location; it must be a bit like the Forth Road Bridge.
Walking down to the village of Wall and along the road to Chollerford we suddenly felt very tired of the road, it's not the best of places to be walking and there is very little evidence of the wall around here. We decided to take the old railway embankment path to the Roman Bridge Abutment where there is a phallic symbol on one of the stones. What is it that makes people curious to see such things, I really don't know, but we were not leaving until we found it!
Brenda B was nursing her feet and drinking coffee, Brenda M was the other side of the river at Chesters waving like mad, and Jenny and I were engrossed in finding the said symbol. We gave up, had a coffee from the flask, Brenda gets up wanders around for very short while and shouts 'here it is' typical! Obviously she had seen one before.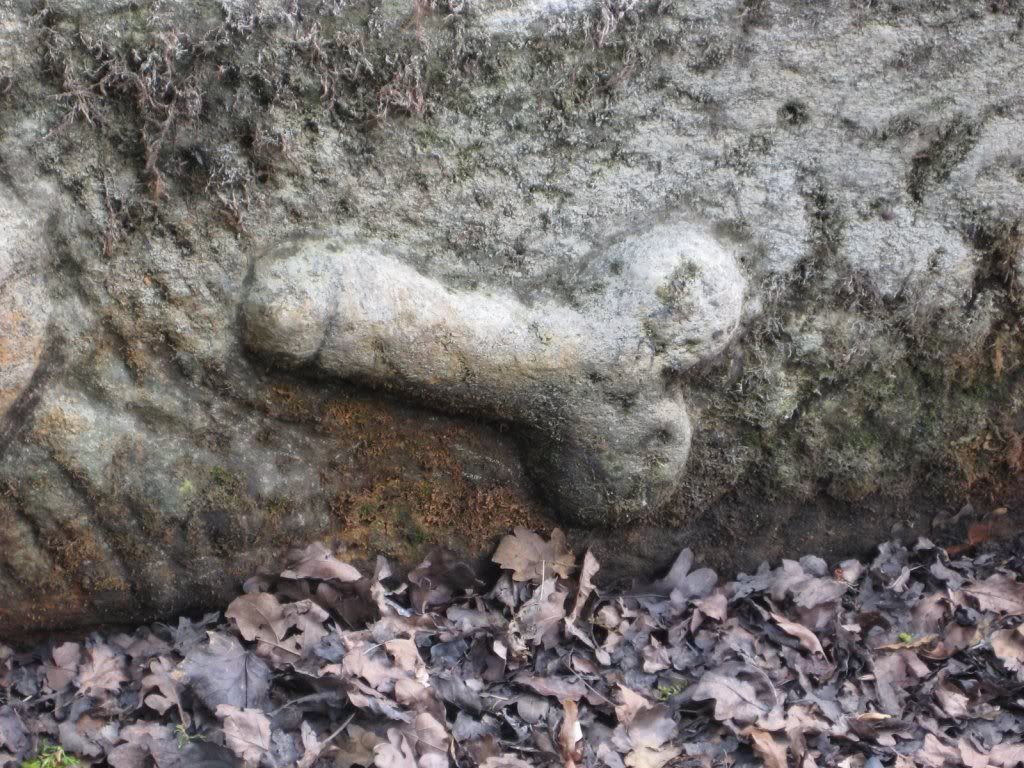 Phallic symbol
We retraced our steps and walked on to Chesters, another passport stamping place. There is so much to see here and not enough time in the day as we still had a way to walk. We shouldn't have spent so long looking for obscene symbols!!!
Back on the road again, passing Stud Farm to Walwick, we met a gentleman out with his border terrier who was pleased to discuss the route we were taking and told us of some of the views to come. He was right, on climbing to the top of a hill in the next field we were treated to the most beautiful views to the East.

Looking East from Walwick

A few more ladder stiles, we came to like them eventually! Suddenly we saw Brenda M in the distance who had walked to find us; we climbed the last incline to the car. (It was a lovely sight to see it some distance away on the roadside).
On reaching the car park of our hotel in Hexham we were sorely disappointed, and felt that if the car park was anything to go by we were not in for luxury. First of all they tried to rip us off by saying that we each had a room costing £59; that sorted, we had one room (and bed) between two. The sheets on our bed were dirty, after complaining they brought us clean sheets, but we had to change them; there was only a thin bedcover, no blanket or duvet. In our room the window was hanging on one hinge, with nothing to hold it closed and a load of blue plastic stuffed in between it and the frame.
A quick shower and off we went in search of food, after walking around a cold and windy Hexham, we plumped for an Italian restaurant service was slow but the food and atmosphere was great.
Back in the room, the day's journal written it was time for sleep, which was a bit of a misnomer under the circumstances!
The wind was howling in through and around the window all night, we ended up with the towels out of the bathroom and our fleeces covering us to keep us warm; the fridge starting up all through the night didn't help; the pillows were so flat even when folded in half they were still flat.
Breakfast was another story, there was no dining room, and they brought up four slices of bread to the room, a pint of milk and a packet of cereal each. Brenda plugged in the kettle to make the morning tea and it blew up! We both had hot baths to warm us, and then took breakfast in Jenny and Brenda's room. They slept ok, at least they didn't have the window problem, but they were also cold.
After a lot of haggling with the reception guy, we agreed that we would pay £50 per room. He wasn't happy, but then neither were we.