Day One
Wednesday 6th May
Newcastle to Heddon-on-the-Wall
Breakfast was a bit of a let down – Continental – it didn't feel as if we were set up for the day. We packed up our lunch it was great to have the 'Esky' to keep things fresh.
Brenda M drove us to the garage to get our passports stamped (Sedgedunum Roman Fort). The man at the petrol station was a little taken aback when I went in and asked if he had 'the hujacapivot thing' to do the passports.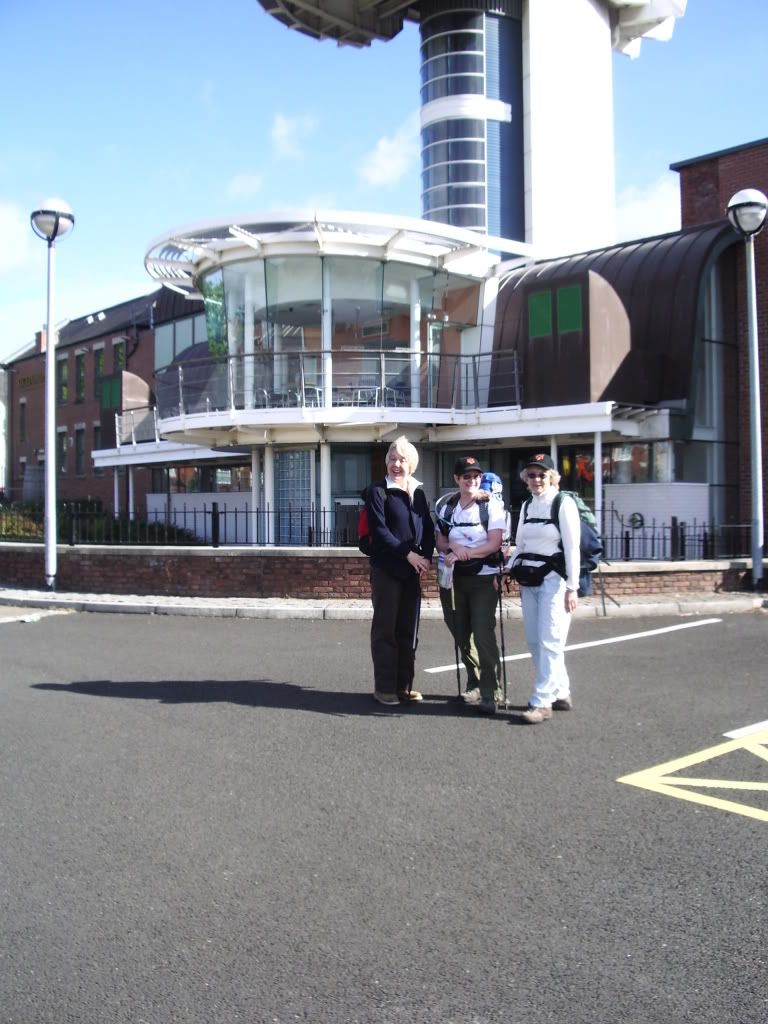 At the beginning - Newcastle
We found the path and started out at a good pace, although it is described as an industrial area and a bit boring; you could put it down to anticipation of what was to come, but we enjoyed this part of the walk, dodging the cyclist who were in more of a hurry than we were, and enjoying having good weather, a bit overcast with a slight breeze.
We stopped for a short break and sat on the grass outside of the exclusive apartments at St. Lawrence and had the most wonderful views of the Millennium Bridge and the Tyne Bridge, where we took the requisite photographs.

The first of the Bridges
After stopping for a closer look at the Millennium Bridge, we carried on and enjoyed walking under the many bridges that cross the Tyne at this point.

Close up of the new bridge
Finding a delightful spot alongside the Bridge Abutments, near Scotswood for our lunch, just as we were unpacking our food, Brenda found that her red Berghaus jacket was missing. It couldn't have fallen out of her rucksack as that we zipped closed, and it was certainly there when we left our last stop, a complete mystery. Fortunately, Jenny had her waterproof cape for her to use as it started to rain just as we were ready to get moving, so Brenda being Brenda, put it on over her rucksack. She looked a pretty sight.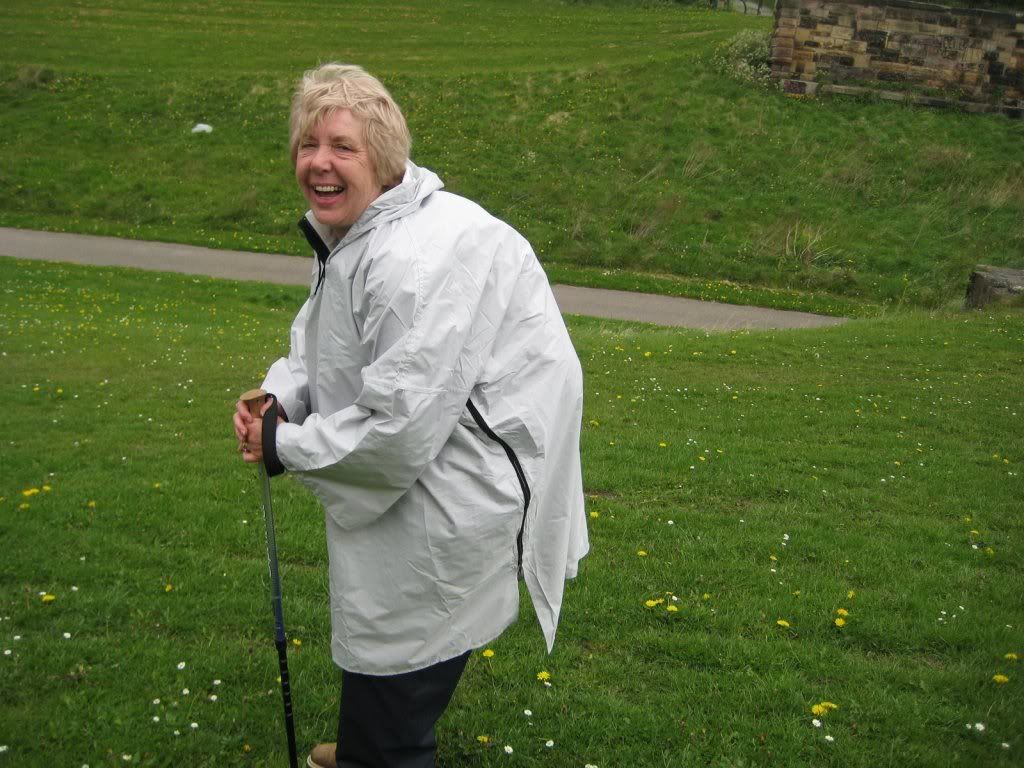 Brenda & rucksack wearing replacement coat
It was as this point that Brenda discovered that she had a blister on each heel, after attention from both of us, she decided to walk the rest of the way without her boots on! Eight miles and not a hole in either sock.... Well done Bridgedale.
After taking a shortcut..... that was not as short as we thought it may be, the area where the path should have been had been cleared and there was heavy machinery all over the place, so we got a little lost. Eventually we arrived at our B&B Iron Sign Farm.
Our Landlord Owen was the perfect host, although we had not planned to have dinner there, Owen thought that we had booked it, he went on to offer a choice of fish, lamb or gammon, and all bar me, they ended up with gammon, although they wanted lamb, something to do with Owens powers of persuasion!
I was a little chilly in the dining room and Owen kept feeling the radiators, exclaiming that he just couldn't get the heating to work.... if he turned it on he may have had better luck. He took all the jokes about being Scottish and deep pockets as if he had heard them all before!
We retired to the lounge for coffee and to generally relax, but it was blooming cold in there, so sufficiently fed and watered we climbed the stairs to our rooms. Me to write up my journal, Jenny to read, and the two Brenda's to yak and giggle.