Preparation
We decided that although we thought that we were experienced in long distance walking, we were a bit short on the fitness front. So we put a plan together and did our best to stick to it, and in fairness on the whole we did.
The training list was a bit scary initially, as the weather during the winter months was proving to be a challenge in itself. We had snow and freezing conditions which scuppered our plans on more than one occasion.

Jenny training in Norway
Add the weather to our own commitments and training was a bit hit and miss in the beginning, but as the start of the walk was looming, we upped our act and did a number of high mileage, consecutive days walking.
Our plan included:
By the end of March we should all be able to manage 14 miles.
By the end of April we should all be able to manage 16 miles
By the end of May we should be able to manage the following:

15 mile walk one day, followed by a 17 mile walk the very next day.
15, 17 and 18 mile walks on three consecutive days.
In our part of the UK we don't have any hills, locals will tell you differently, but they haven't been up north! We therefore have to do our best to find at least a hillock.

Snowdrops in Norfolk
Being the sensible old gals that we are we ensured that we:
Trained in the boots that we were going to wear on the walk
Trained with a full rucksack at all times
Made sure the waterproofs were actually as waterproof as they were likely to be!
Did as much training as possible especially high mileage on consecutive days in all kinds of weather.
Used the gps, maps and compass as much as possible during training by finding new places to walk.
We booked all our B&B's in September 2009.
We printed off maps (memory maps) for each day ensuring that we included a good amount of area in the print off in case we had to go off the path.
Everyone in the group knew how to use a map and compass and how to get a GPS reading.
We carried a fleece, waterproofs, small first aid kit, spare pair of socks, compeed (by the bucket load just in case), at least one and half litres of water each, food for the day plus spare energy bars; sunscreen, a whistle, mobile phone each with a different provider, small torch, camera, maps, compass, GPS and guidebook (Henry Stedman's 4th edition). This all sounds like a lot, but most of it is small and lightweight and we shared out the items so no one person had everything hanging off their back.
We ensured that our backup driver had a copy of the maps for each day so that she knew where we were walking and when to expect us at a pre-arranged place for pick-up.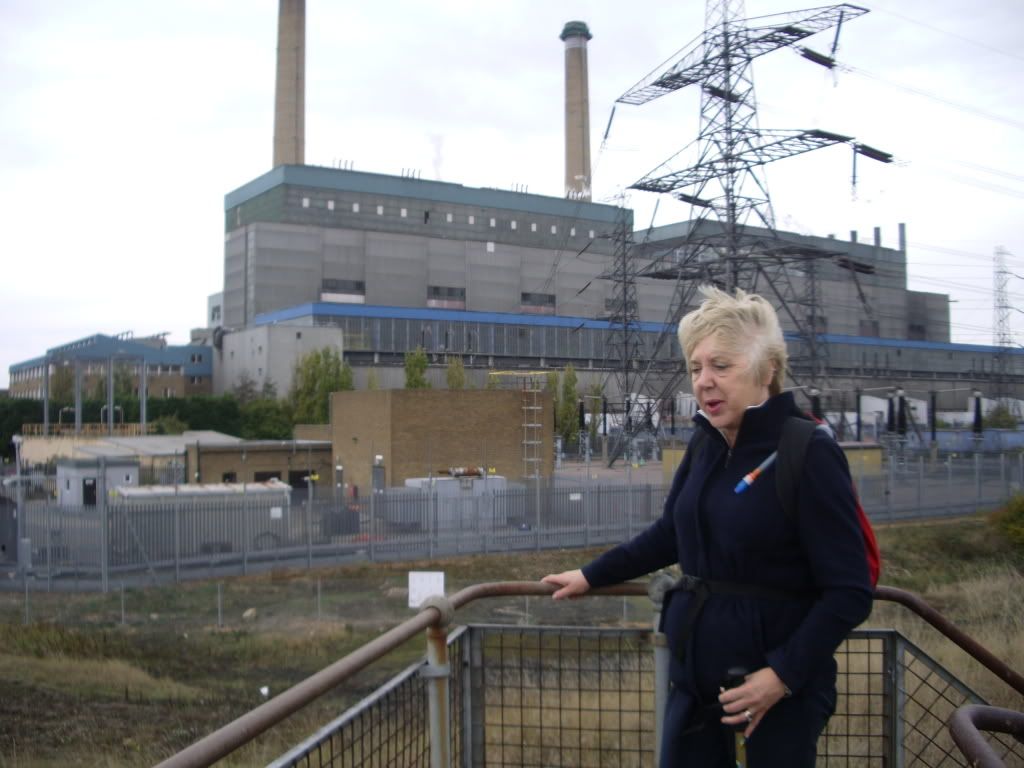 Brenda B training somewhere near Tilbury
Fortunately we did not have to use anything in an emergency, we all stayed safe and we thoroughly enjoyed the walk. Just one person with a blister on the last day or so. The old waterproofs didn't get much use either!
Failing to prepare is preparing to fail.

Heather near Thelveton Church, Norfolk