Day Nine
Wednesday 16th June, 2010
Keld to Reeth via Muker 13 miles
Jenny and I woke up around 7am and we could hear Tracy outside our bedroom window, she had arrived with two mother cats and a bread tray with nine kittens in it. "Boll*cks" was the first word we heard her say. Not sure if she had dropped the tray of kittens or if she was telling someone off!! Love her.
We were showered, dressed and ready for breakfast at around 8am. We were a bit too early and nothing was ready. I offered to help…. foolish move that was. Jenny and I ended up doing last night's dishes. After lots of photos and giggles we managed to get the dishes done and cook the bacon to boot, and I don't eat meat.

No we hadn't run out of money, but we did the dishes anyway
Richie was a darling he made sure our table was laid first, cats were everywhere on tables, worktops and the bar, kittens under everyone's feet, chicks escaping from their box by the fireside, in all chaos reigned. This is one place everyone should to visit if only for the experience.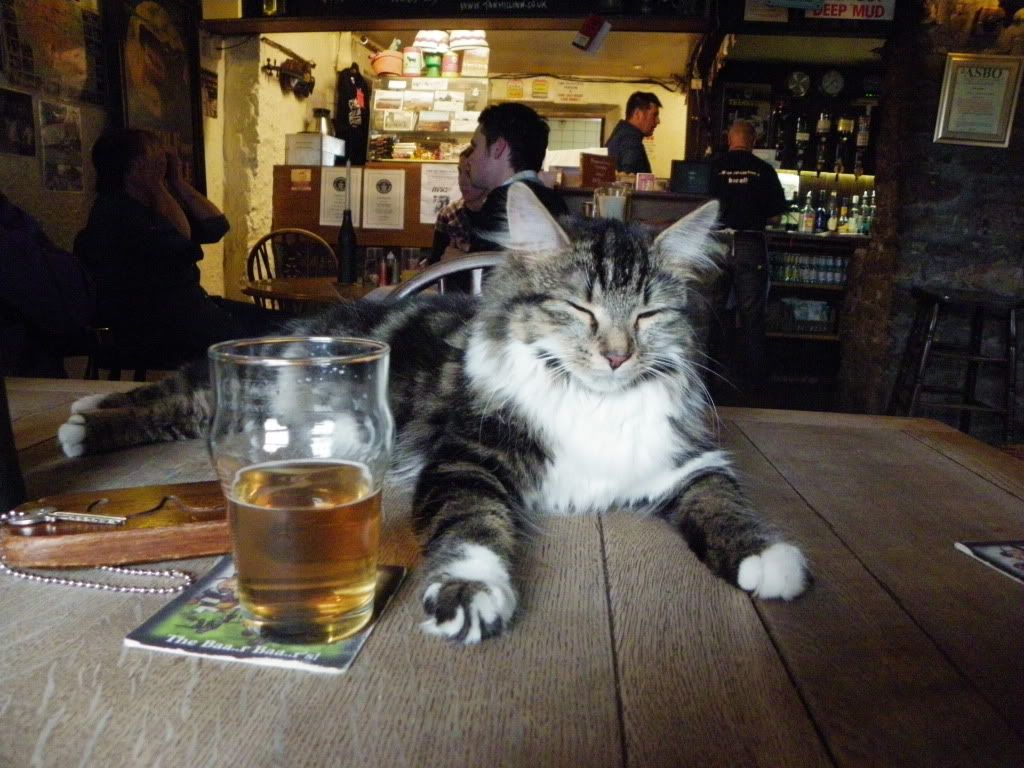 She's obviously a regular
Car packed (we left the dishes to Richie!) and down to Keld for the start of today's walking. We were just getting our gear on when Runner Bean came over and introduced himself with his wife. I had 'met' him on-line on one of the message boards and he said he would have liked to join us for this walk; unfortunately he was not able to. We were all a bit disappointed about this as it's always good to catch up with other walkers and share experiences.

Group pic with Runner Bean and his wife
Hugs and goodbyes and we were off en-route to Reeth, two couples who we have seen walking each day were a bit confused about the route and kept checking with me about the path, he was using strip maps and later into the walk ended up buying an O/S map.
We had already decided to miss out Crackpot Hall and the high route, we were crackers enough without a top-up. The low route is pretty and much easier… well so we are told by those who have experienced both routes. With bright sunshine and a spring in our step we set off.

Brenda near Crackpot or is that Crackpot near Brenda?
We diverted to Muker for a quick meet up with Brenda M. for tea and scones. The path to Muker takes you through beautiful wild flower meadows.

Meadow path to Muker
Jenny bought a pair of slippers in one of the shops there. We left Brenda M. enjoying the delights of Muker and trundled back through the meadows on the path towards Reeth.
This route is through lovely hay meadows along-side the Swale what a beautiful day to be taking this walk.

Hay meadow alongside the Swale
The aforementioned two couples were sitting on the riverside eating lunch and asked us how we had got behind them – Jenny told them that we had been to see my uncle who was doing a barn conversion. They believed her! We walked through more hay meadows to Gunnerside, where Brenda M. was waiting to join us for lunch which consisted in a sandwich and a cuppa.
Climbing up out of Gunnerside was a bit of a struggle after eating too much at the tea rooms. After a while we saw Dave in the distance at Blades. It was great to see him and know that he was ok. We all walked together to just before Healaugh where he decided to have a rest while we carried on through Healaugh and down to the Swale, where we took off our boots for a paddle. It was heaven to get our feet out of their boots and to cool them off; the water was much colder than we expected.

Bliss!!!!
Taking our time we wandered off along the path, squeezing through some of the skinniest stiles ever, to Reeth and Hackney House.

Skinny stile near Reeth
Tea and cake awaited us. The two couples were also staying there and we told them the truth about the 'uncle' story. One of the men was crestfallen.
Paul and Moya were also staying here and it was good to catch up with them. We had seen them on most days and always had a bit of a yarn about the walk, but didn't know their names.
We went up to our room where we shared a large room with one double and two single beds.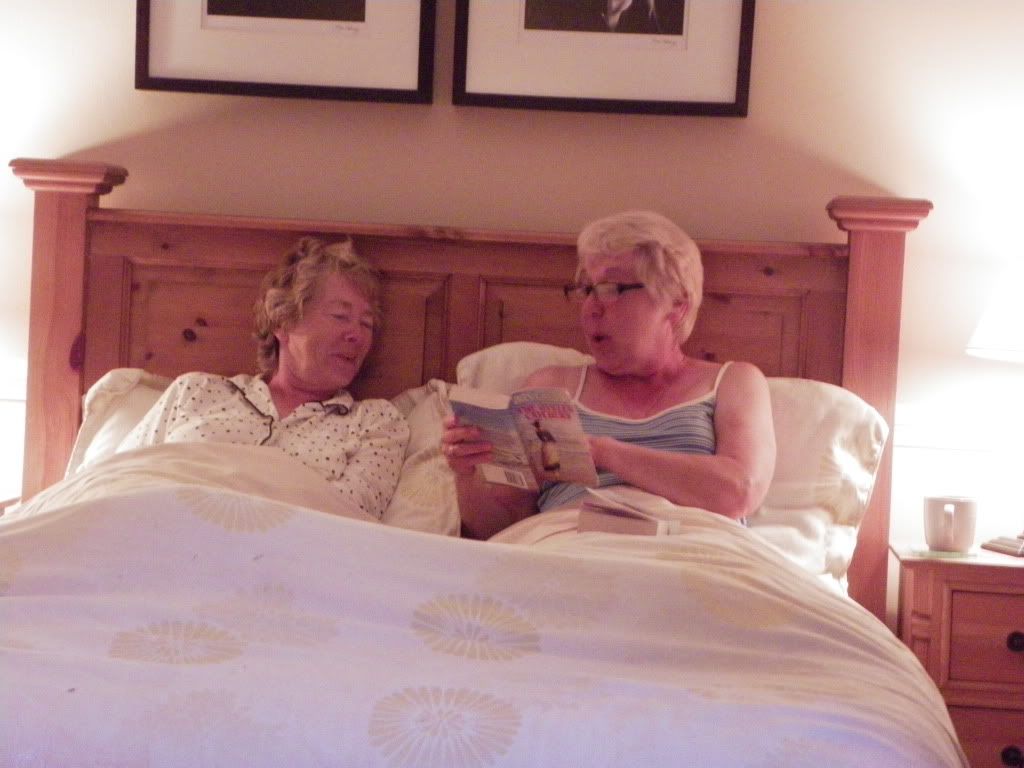 These two get everywhere!
Showers all round and off to the Black Bull for food. It was packed with walkers and holiday makers so we were ushered into a large side room to ourselves, not sure if we looked undesirable or we hadn't showered as well as we thought. Food and service was good. We were back at Hackney House and bed by 10.30.