Day Eight
Tuesday 15th June, 2010
Kirkby Stephen to Keld 14 miles
We were awake at 7am for an early breakfast at 7.30, this was a very sociable affair with Rich, the two American ladies and we four old gals.
We let Rich have our map for his next leg of the walk, were sad to see him and the dogs go, and wished them good luck.
We were soon packed and ready to go, we picked up a filled roll at the bakers and headed for Frank's Bridge and the start of our climb to Nine Standards.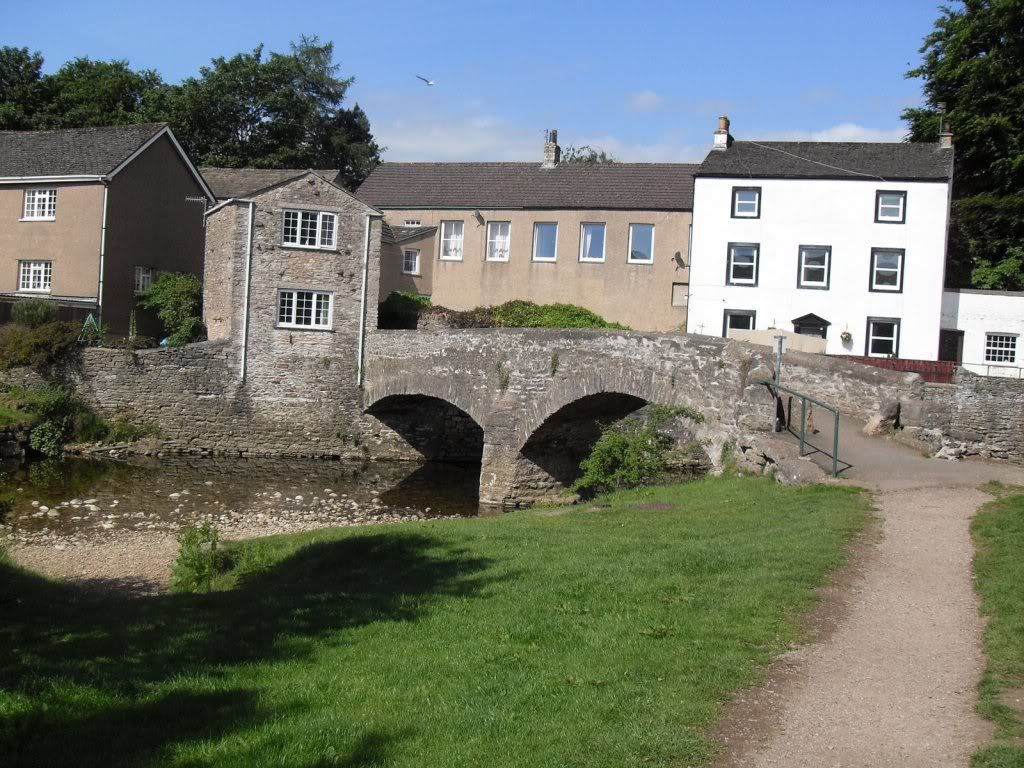 Frank's Bridge
Walking through Hartley a lady knocked on her window and pointed the way for us to go; we must have looked lost…. I'm sure we were just enjoying the scenery.
It was a long steady climb past the quarry and a remote cottage with Lama's in the paddock beside the house.

Lama enjoying the good weather
The sun was bright and hot and we didn't feel much like rushing or singing for that matter, we needed all our strength just to get us up the climbs.
Whether it was because the view was lovely or because we needed and excuse to catch our breath, I'm not sure, but the view back towards Kirkby Stephen was well worth getting the camera out for.

View back towards Kirkby Stephen
The 'rest a while' seat was put to good use by all three of us, and the usual photo shoot took place.

Sisters enjoying a well earned rest
Brenda's B's shoulder had given her a lot of pain over the last few days, so Jenny and I helped out by carrying some of her stuff while she carried the rest in her jacket that was tied around her waist. With bottles and food banging around her legs she looked a pretty sight.
We had decided to take the red route and stopped, where the paths separate, for our lunch. A number of walkers passed us here including David Plant (aka Dave the Taxi). Dave is a lone walker who had left his walking poles (by mistake) in Kirkby Stephen. We eventually reached the top where everyone was taking pictures, passing Dave taking his five minute break.

At the Rigg
After the excitement of see such wonderful far reaching views we took loads of pictures; passed the view point and the trig point and headed for the dreaded bogs.
We stopped again on the way down at the cairn; a number of other walkers had the same idea, so we soon got moving again as there was a queue forming for a place to sit! David passed us and seemed fine. It was hot with very little breeze, we had good clear views all around us and the day continued bright and sunny.
Somehow, not sure how, but we got down without a wet boot amongst us.
Within a few yards of the bottom we found Dave resting, when we asked him if he was ok, he said that he felt woozy, he had taken a number of painkillers for a hip pain and was worried because his fingers has swollen up, he also said that he had indigestion and kept holding his chest. Without him knowing we took a grid reference from the gps and took his name and where he was staying, he didn't want us to stay with him and there were a number of other walkers behind us so we didn't worry too much. We had decided to check his B&B later to see if he had arrived.
We got down to the path that bears left towards Ravenseat Farm. After a while David could be seen heading our way in the distance. We came across a small black hut (shooting lodge) with music being played inside?? We trundled on passed the grouse butts, giggling and speculating about the mysterious music, and noticed that Dave was indeed gaining on us.
Arriving at Ravenseat Farm we couldn't get an answer from the house, but could hear voices and there at the back of the cottage was the family with a film crew doing a test in readiness for a programme called 'The Dales' to be televised in the Autumn. David joined us; he still had indigestion, but was able to down a cup of tea and a scone. It was good to see that he was looking better and appeared more relaxed.

Dave joined us at Ravenseat Farm
The lovely sunshine prevailed and we continued our climb up from Ravenseat, the walk was a joy with hardly anyone on the path now (most passed us while we were taking tea and scones), birds singing – which was much better than our cat chorus. Dave was following close behind and seemed much better for the rest.
Once on the road we wandered down to the Wainwath Falls and the usual photo shoot took place with Brenda B. doing her many catwalk poses.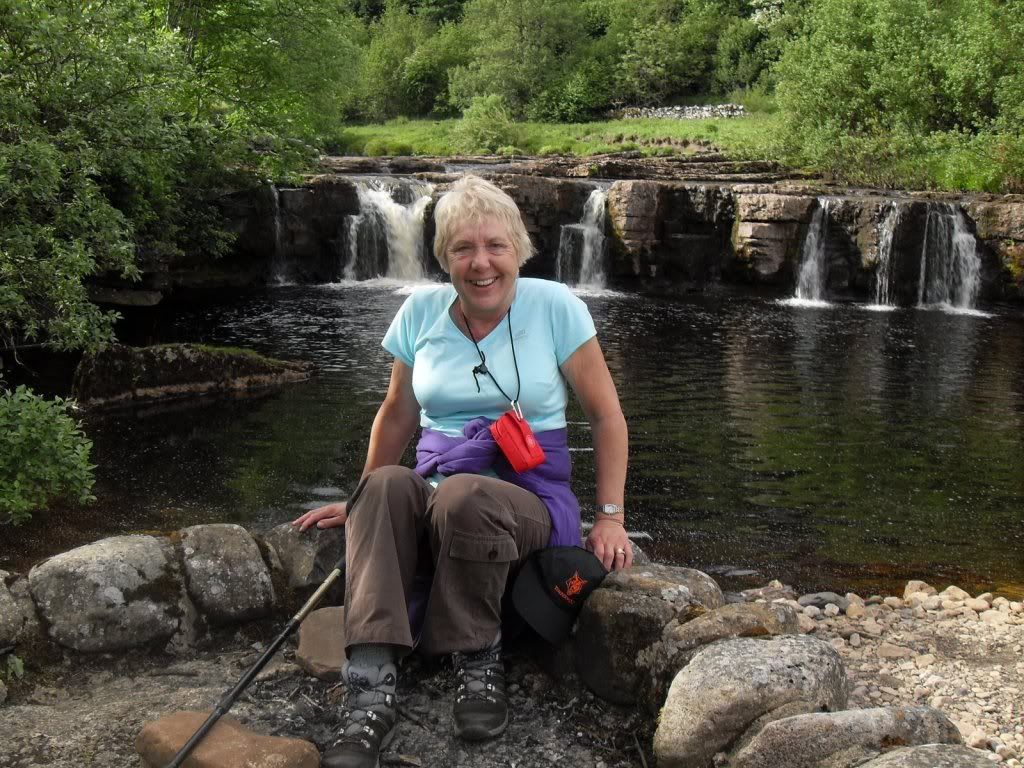 Wainwath Force
Brenda M. was waiting nearby with the car – what a lovely sight this is at the end of the day. Off we went up the steep road to Tan Hill.
Chaos as was in full swing when we arrived at Tan Hill, people, cars, motor bikes etc., all over the place. We were given our room keys and Jenny and I bagged the best room, leaving the two Brenda's to a smaller room. One group of people down the corridor from us were grumpy because the room hadn't been made up, they obviously hadn't stayed here before – they had a bed didn't they?
Downstairs cats, dogs & chicks as well as humans made up the beings in the building;

Inside Tan Hill
Riche the waiter/chef/whatever is a bit of a crazy (in a nice way) guy; Tracy was being interviewed by the ITV people who we saw at Ravenseat. Shy (Tracy) did her best to be a bit 'posh' but that didn't last. I love this place.
We had an excellent meal – Richie made me a nut roast stuffed pepper/ salad and chips, and a couple of other people came and looked at it, I felt like I was the guinea pig for the day.

Soon to be on the menu!
Richie was planning to recite poetry later and asked us to come down and listen; even if we were in our PJ's… needless to say we didn't take him up on his offer. We were all in bed by 10pm. Jenny didn't snore, but apparently I did my best to mumble all through the night…. Sorry Jen.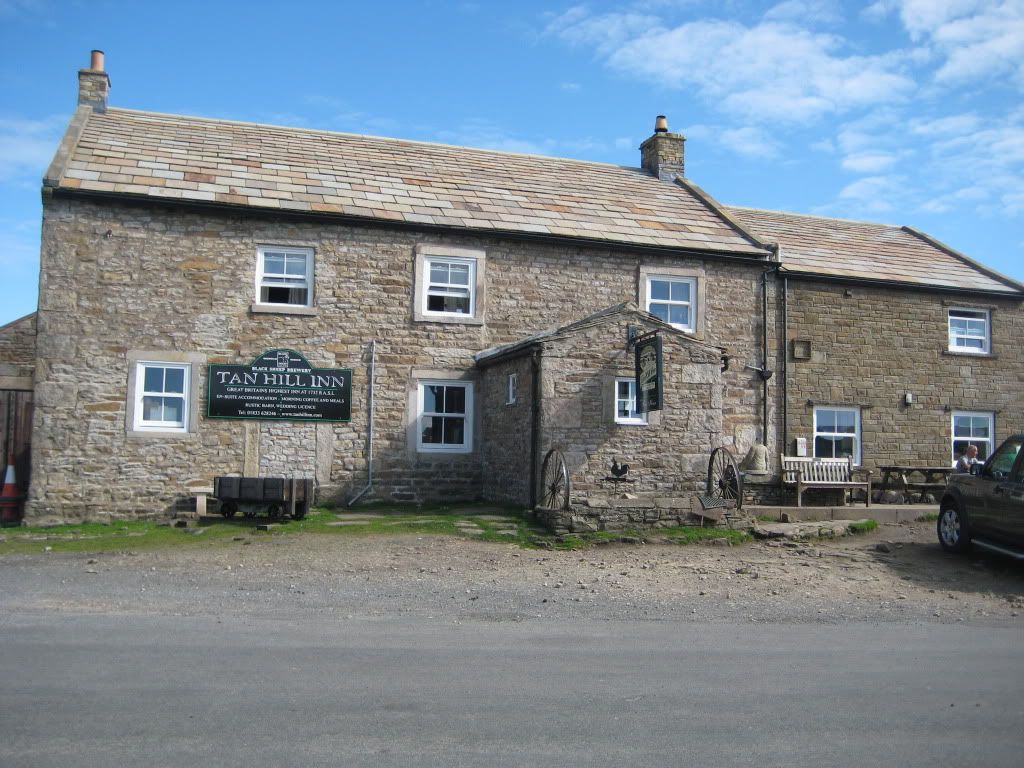 The Tan Hill Inn