Day Seven
Monday 14th June, 2010
Orton to Kirkby Stephen 13 miles
Brenda B. and I woke up around 6.30, tea, shower and dressed and then a quick catch up with Jenny and Brenda M. before heading down for a lovely breakfast. Great service and happy hosts. We packed up our gear and said goodbye to Jill the dog and were on our way just after 9.30.
We were soon walking amongst other walkers just below Orton Scar and south of Sunbiggin Tarn, a delightful walk with a clear path all the way across Ravenstonedale Moor. We were enjoying this walk in lovely weather with a few songs to help us along, then the rain clouds gathered just after Bents Farm: On with the waterproofs and down the steep hill around Severals Village and Smardale Bridge. We had wonderful views and fortunately the rain held off.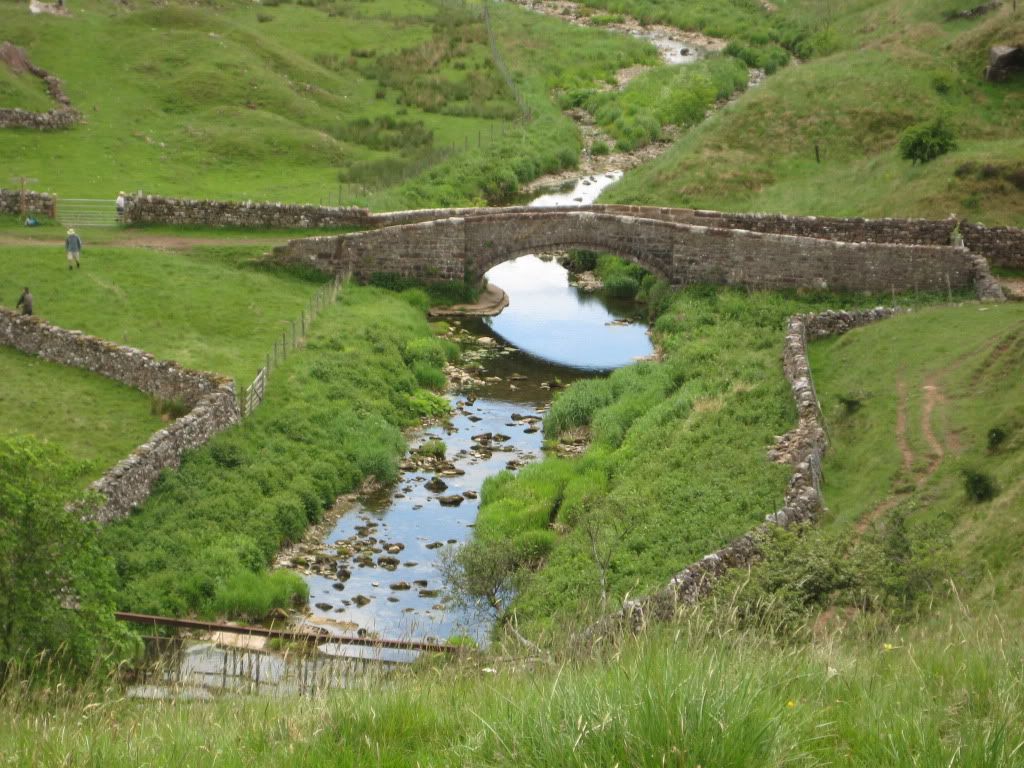 Smardale Bridge
We had to take some pictures of the viaduct, last time we came through here it was chucking it down and the visibility was down to yards rather than miles. What an engineering achievement these structures are. I'm truly amazed when I think of how far we have come with technology and building resources and yet these enormous structures were built without having things like this to hand.

Smardale Gill Viaduct
Just after this we stopped for our lunch break;

A couple of old gals being supported by an old wall
Near the bridge we saw an elderly gentleman with a huge back pack, he could hardly lift it and once he had he could hardly stand. Apparently he was camping and was carrying all his gear plus an accordion!
We followed the grassy path over Smardale Fell to the road we had good views of Nine Stardards to the right of us.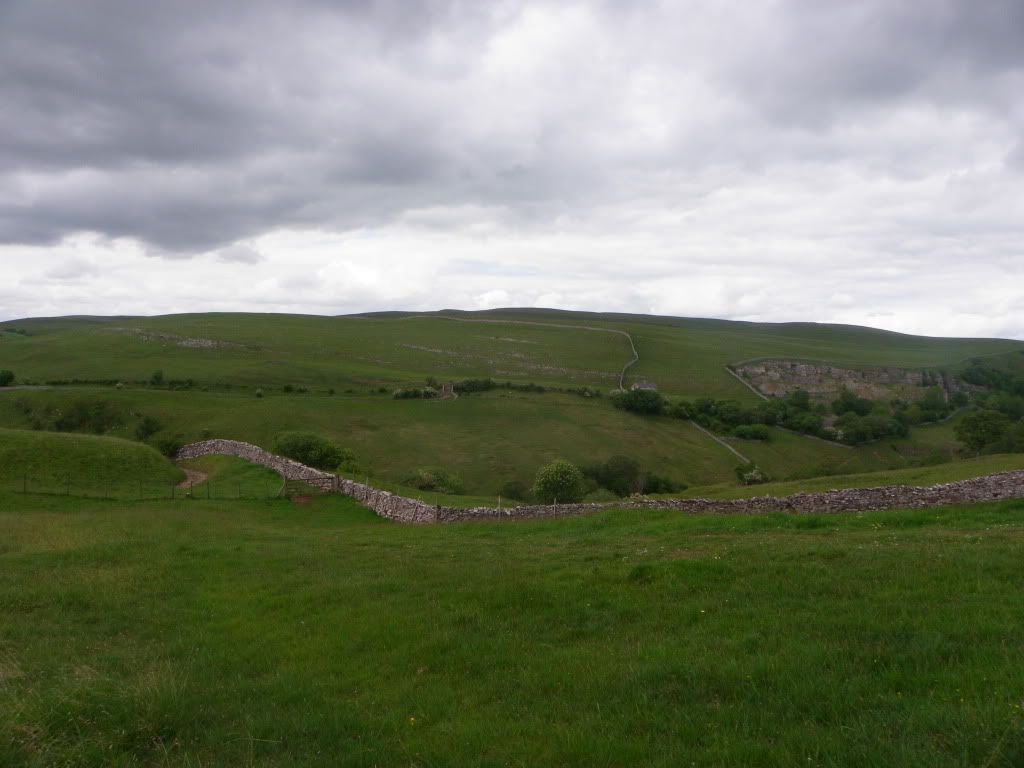 Smardale Fell
After dropping down off the road to pick up the path across the fields we encountered a bull with his herd, under the tunnel and across another field before finally entering yet another field with a bull and his herd; I'm sure it's the same one that was in this filed the last time we did the C2C.
Through the hay meadow and Green Riggs Farm and we were in Kirkby Stephen, arriving at Redmayne House around 3.30 where tea and cake awaited us. The two American ladies were already there.

Arriving at Redmayne House
Brenda B. met up with her friends while the rest of us chilled. Suddenly we had company in the guise of two beautiful (Spaniel /Collie cross) dogs Stan & Ollie and their owner Rich.

Ollie, Brenda, Stan and Rich.... or Stan, Brenda, Ollie and Rich... I have no idea which dog is which
They were doing the C2C East to West. Both dogs were tired out and fell asleep after Rich had fed them, one in Jenny and Brenda's room and one in his room.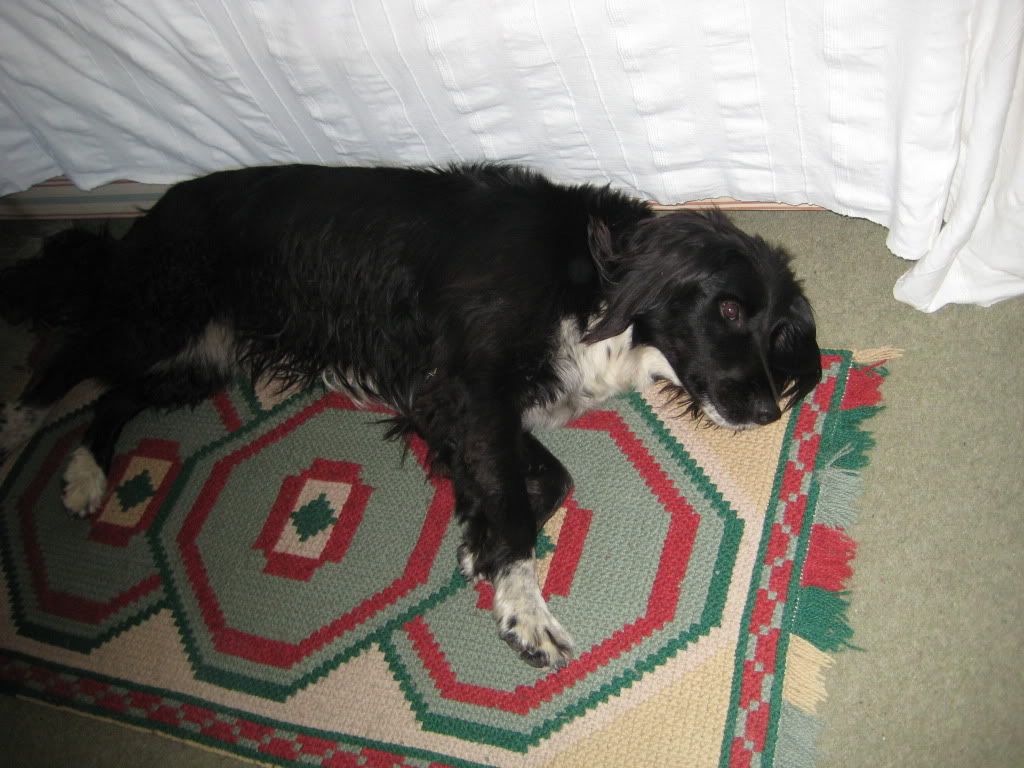 Stan or Ollie asleep in Jenny & Brenda's room
Rich and I spent some time going through maps to help him miss the fields with the cows and bulls. He had a set of the strip maps and I had print outs of O/S from Memory map, and with the help of these we were able to set a route so that he had a safe crossing avoiding the cows etc.
Suitably refreshed we went over to the Kings Arms for food and to meet up with Vic & Judy, and Brenda's friends, plus a whole raft of others who we had met over the last few days. The atmosphere was great; lots of talk of how we were all coping with the C2C, with advice being given freely by all, the contents of the glasses may have had something to do with this.
We were all rather happy by the time we left, with us ladies still giggling as we dealt with the challenge of crossing the road. We were all in bed by 10.30 and the snoring from Brenda B. was about the loudest I have ever heard.