Day Six
Sunday 13th June, 2010
Shap to Orton 8 miles
Both Brenda M. and I were awake at 5, and then went back to sleep until the others woke up around 7. It was raining, not the cats and dogs stuff, just the light drizzle that soaks you right through.
I telephoned my niece (Marina) to wish her a happy 50th birthday and it was lovely to hear her voice. The last time we did the C2C we did it to raise money to buy a wheelchair for each of her twin boys who have cerebral palsy.
We went down to the bar for breakfast; there was no "Good Morning" for us…. Ooops. We ordered a cooked breakfast and when we asked for toast we were given half a slice each. When other walkers came down for breakfast, they were greeted with smiles and good mornings; funny old place, not likely to stay there again.
We soon packed the car and headed out onto the path and out of Shap. We passed a field of cows and one knackered bull (at least he had had a good Saturday night).
Despite the rain it was a very enjoyable walk, as we only had 8 miles to do we didn't stop for a break. Geordie Dave & John, the group of Australians and a host of others passed us.
Once we reached the lonely big old boulder on Crosby Ravensworth Fell we knew that we didn't have far to go.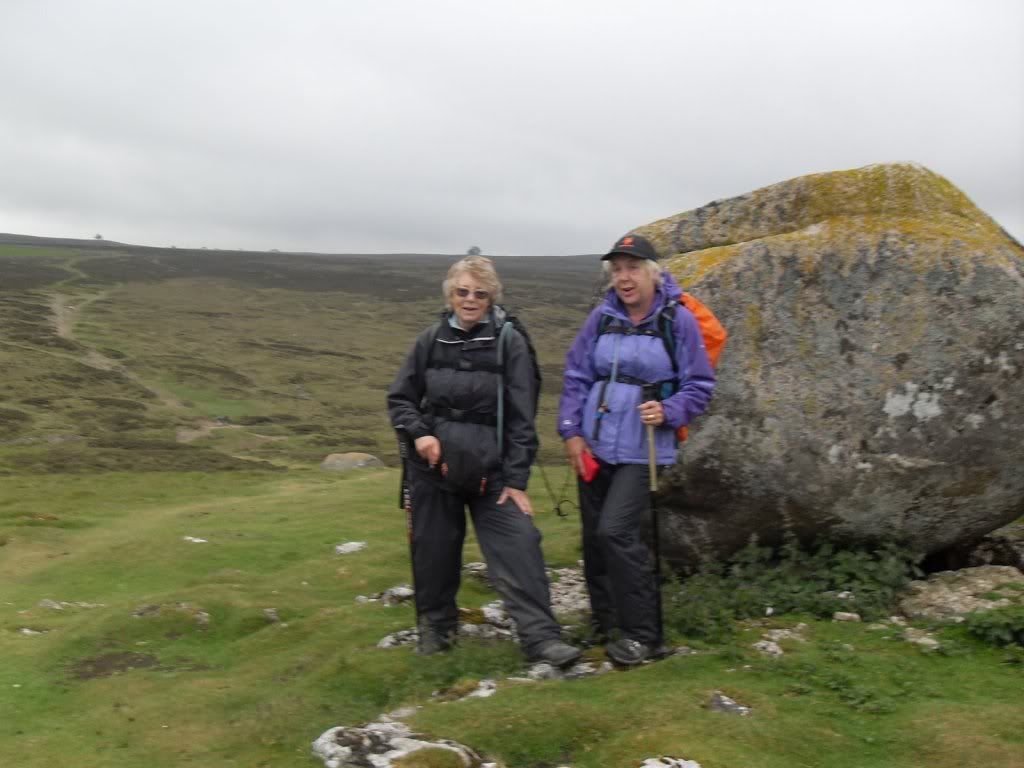 Boulder on Crosby Ravensworth Fell
The rain didn't let up and we were so glad that we had decided to split this day in two; we didn't even pay our respects at the supposed to be Robin Hood's Grave, we just wanted to get out of the rain…. It could have something to do with fact that we were not used to the rain!!
We had a chat with the farmer and his son at Broadfell Farm who were clearing a heap of manure off the path. They were helpful in terms of advising us to look out for the orchids in the field just before we entered Orton.
On reaching the field it was a carpet of pyramid orchids, the most I have ever seen in one place. As it was raining the camera stayed in the dry so unfortunately we didn't get any pictures.
The rain didn't let up and by the time we reached Orton we were all wet through, these waterproofs are not as waterproof as I thought they would be. There at the end of the path was that wonderful sight that we have come to love, Brenda M. and car. Off with the wet gear and a quick drive to Kennedy's chocolate factory and coffee shop for lunch.
Needless to say we all bought chocolate, I bought a large bar of C2C for James. Brenda took us for a drive around the area as it seemed a bit too early to go to our B&B. We eventually arrived at Mostyn House at 2.45 we needn't have worried about being early, what a lovely welcome. There is a large room to dry our gear, lovely large rooms with tea making facilities, biscuits and an individual box of a single chocolate for each guest.
We took our tea in the lounge, and Chris the man of the house lit the wood burner for us, the Grand Prix was on so Jenny and Brenda B. were in their element.

Telly addicts !
Olive the landlady came in to collect her bag of patchwork…. We got talking and I was in my element, I had been admiring a lovely old quilt hanging over the banister and she was pleased to tell me a bit about its history.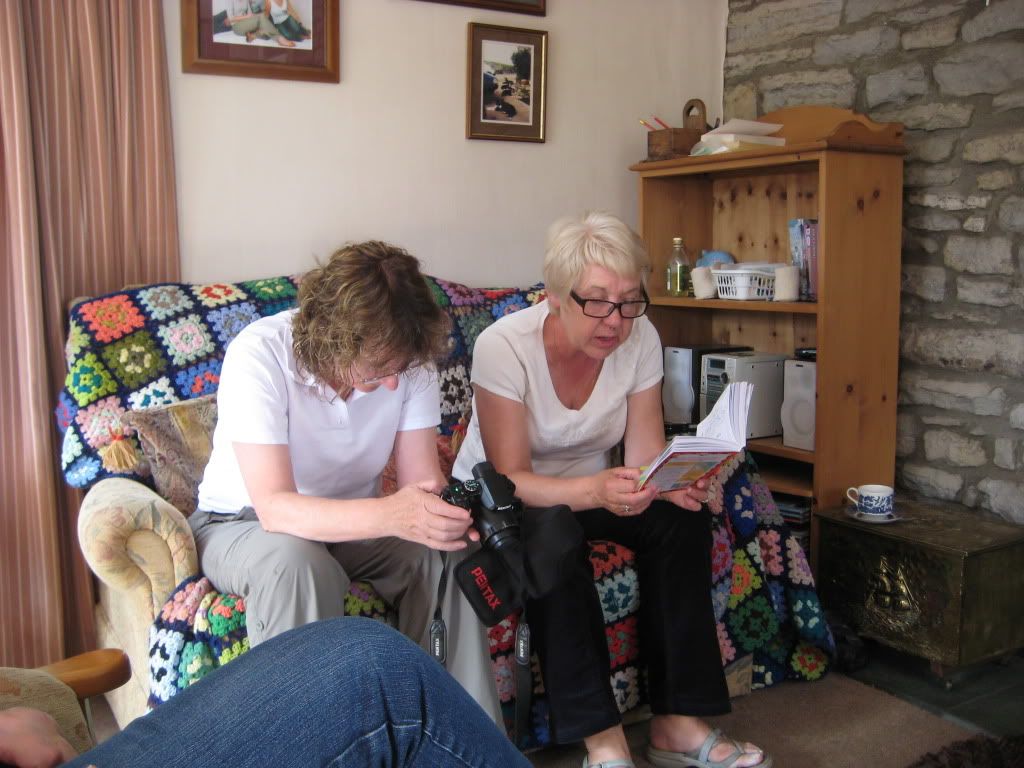 H & Brenda B relaxing
Brenda M and I had our showers, made another cup of the refreshing stuff and here we sat toasting our toes, in front of a roaring wood burner with the Grand Prix on the telly, on a wet Sunday afternoon.

Ours for a cold and wet afternoon - sheer bliss
Around 6.30 all cleaned up with best bib and tucker and strolled down to The George Hotel, meeting up with a number of walkers – the Australian group, a trio, Vic & Judy plus another couple who we don't know.
The service was slow, but the food made up for it. We paid our bill and then Vick & Judy plus a couple of their friends caught up with us and more photos were taken. We arranged to have our meal with them in Kirkby Stephen, together with friends of Brenda B. who live in the area. There should be a party tomorrow.
On the way back to Mostyn House we got a text from Chris who had decided to miss Orton off of his schedule, and was enjoying Kirkby Stephen, he did say that he was missing us old gals. Flattery will get him into trouble with us lot!
After watching telly in the lounge we headed off to bed around 10.30