Day Five
Saturday 12th June, 2010
Patterdale to Shap 16 miles
I slept through to 6.30; went to the self-catering kitchen for my morning tea and to finish off writing up my journal. Jenny came up and made tea for the others who were pretending to be sleeping beauties.
Breakfast at 7.45 and there was more than enough, we packed up our lunch, and made the flasks of coffee, the loading of the car has become an art and we can have it done in double quick time (not sure if we have got it right or if we chuck it in and hope for the best).
As we started walking on the road towards the path, Chris and a number of others were overtaking us within a few yards – these young fit healthy types are best out in front.
Looking back down to Patterdale with bright sunshine and clear blue skies we had the most wonderful views; and realised just how far we had climbed in such a short time.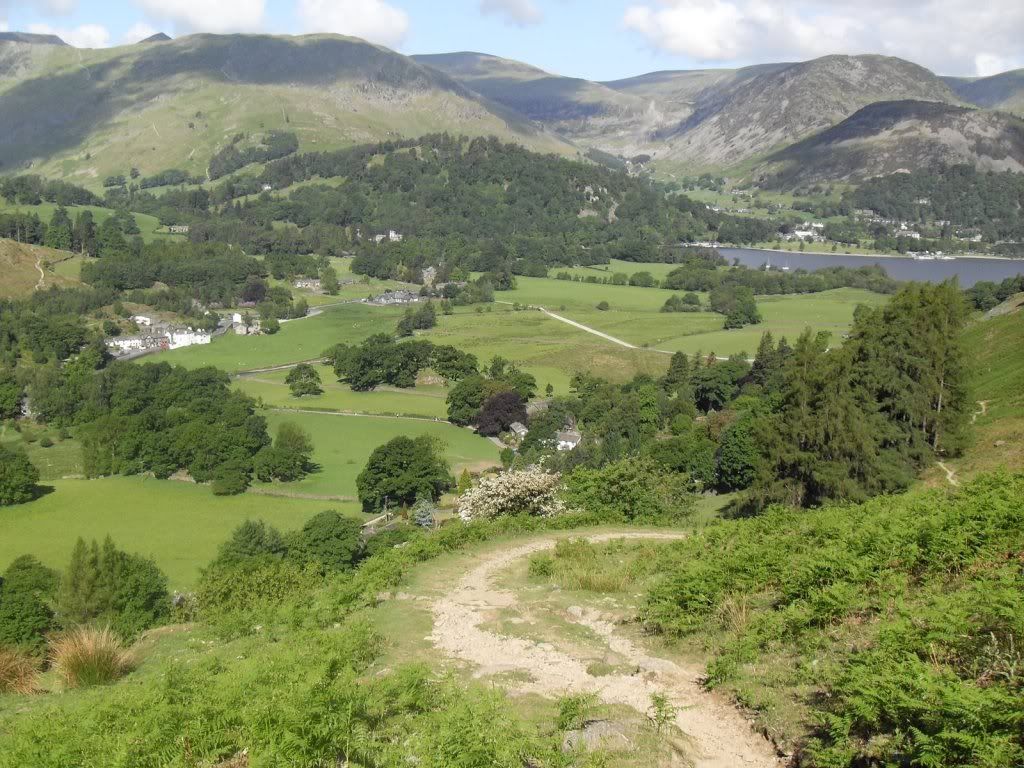 The view back to Patterdale
Prison Crag stood staring at us begging for its picture to be taken, Jenny and I don't remember seeing this on our last crossing; not surprising really the weather had not been conducive to standing and staring at anything.

Prison Crag
We took a slow steady climb to Angletarn Pike and just above Angle Tarn we found a lovely spot to have a break, Geordie Dave and John came by and had a chat, they asked if we were about to leave as it looked a good spot to stop. Being the kind old ladies that we are, we gave up our seat (dug out) to them.

View from our dugout
There were a number of sheep who appeared to have escaped from somewhere and were bawling their heads off. It doesn't help when you walking buddies start bawling back at them because the daft things then begin to follow you.

One of Jenny's followers!
At one point I thought that Jenny was going to climb atop a rock and shout sheep noises with the daft things.
Off we went giggling our way up and along Satura Crag.

Looking back towards Satura Crag and Angletarn Pikes

Just as we started the steep climb to the Knot a number of mountain bikers zoomed past us heading for High Street. Looking back down we noticed that there were more to come; plus a number of walkers who were taking their time to enjoy this fabulous walk/climb.
As we neared the junction with High St. and Kidsty Pike they made off up Kidsty.

Kidsty Pike near the junction with High Street
What a lovely experience it was this time, we had clear blue skies and such far reaching views it was breath taking; so different to our crossing two years ago.
A kind man took our photo.
The two American ladies, who had been whizzing past us every day, came into view and then true to form charged off down towards Haweswater. The mountain bikers took the path to High Rise and beyond.
We trundled off giggling and trying to sing, well Jenny was whistling a tune and Brenda B. and I were trying to sing to her tune. The descent was as expected, a bit on the steep side; we had already put on our knee supports and sheep wool in the toe of our boots for protection.
We stopped for lunch just above Kidsty Howes, when I got up my trousers were soaking wet from sitting on the boggy ground. We had good views of Haweswater, it is extremely low this year with the lack of rain, both islands are clearly visible and the southern end.
The long drag along the reservoir in baking hot sunshine didn't help us cope with the continuous climbs and descents on this path. We met up with a couple, who had come along the path from the other direction planning to meet Vic and Judy. We all sat on the path and enjoyed a break in the lovely June sunshine. Soon there were a number of walkers coming into view so we took off down the path towards Burnbanks, which is much further than we remembered.
On this part of the walk there are a number of small waterfalls, most of them were almost dry with just a few drips coming down the hillside, but we did find one in full flow.

Waterfall along the Haweswater path

As we arrived in the village there was Brenda M. with her bright smile waiting to cheer us on for the last leg of our walk to Shap. Seeing the car and the fact that we were hot and tired, well what would you do? We loaded ourselves and rucksacks into the car and off to our B&B in Shap.
Our B&B was The Kings Arms, England was playing USA and the score was 1 all when we arrived. I filled in the forms at the bar, albeit not quite as they should have been filled in, but the lass behind the bar said "that's fine". We trudged up to the second floor, made our usual afternoon refreshment, and suddenly there was a hammering on the door of our room.
Brenda B. answered and the landlord said "what's wrong with my forms"? We said "nothing". He then said "well my daughter said that you couldn't be arsed to fill them in". He then stormed off. We were going to have our meal there, but decided that we would take our custom elsewhere (The Crown), and a great meal it was too, they couldn't do enough for us.
We giggled our way back to the B&B for showers and then an early night. I had a shower, Brenda B. had a bath, Benda M. went to have a shower and couldn't get it to work at all. I tried without success, Brenda B. used brute force and a trickle of water came out. Poor Brenda took a shower under a trickle of water and crouched down (Short ar*e here had lowered the shower head). Brenda gave up.
We had a lovely room with four single beds and two shared bathrooms. We were all wondering what breakfast would be like and hoped that the landlord would not be cooking it!
Lights out by 10pm and we were soon all snoring…. Well Brenda B. was.

Kings Arms Shap