Day Four
Friday 11th June, 2010
Grasmere to Patterdale 8 miles
At 4.15 am I gave up trying to sleep and went down to the lounge where I met Imogen who had flown in from the States to join her mum and other family members to do part of the C2C. She is a very interesting person to talk with and had lots of tales to tell about her life and travels. We chatted for ages and it felt as if I had known her for years, what a delightful, sociable and happy young woman.
Brenda M. joined us about 6am and we were able to get some tea bags from the chef and made tea in the self-catering kitchen. We were joined by a host of others who couldn't sleep. Somehow meeting up with people first thing in the morning over a cup of tea is one of those nice events that start the day off right.
We woke Jenny and Brenda B. up at 7am, got packed and ready for breakfast. Everyone in the room was awake with two lying in bed waiting for floor space. One of the young lasses who was already up and dressed asked me to close the curtains as others were still asleep. I ignored her, because if I closed the curtains I would have needed to put the light on.
Breakfast was ok, as you would expect it was full of young Germans who don't like queuing. The young lass who had asked me to close the curtains in our room, came over and asked me to 'come outside' ….yeah right. So I responded in the negative, and she went on about being quiet and being considerate to others, I just agreed with her, (I didn't tell her to get a life, because a young lass of her age shouldn't need to be in bed by 6.15 in the evening). Eventually she went away, I'm sure she was thinking that I was a dippy old biddy, (she may well be right). You can get away with a lot if you act a bit daft, and I can do that quite easily.
Lunch packed, car ready for the off and soon we were on the long climb up to Grisedale Tarn, there were a number of stops on the way to admire the view, well that's our excuse.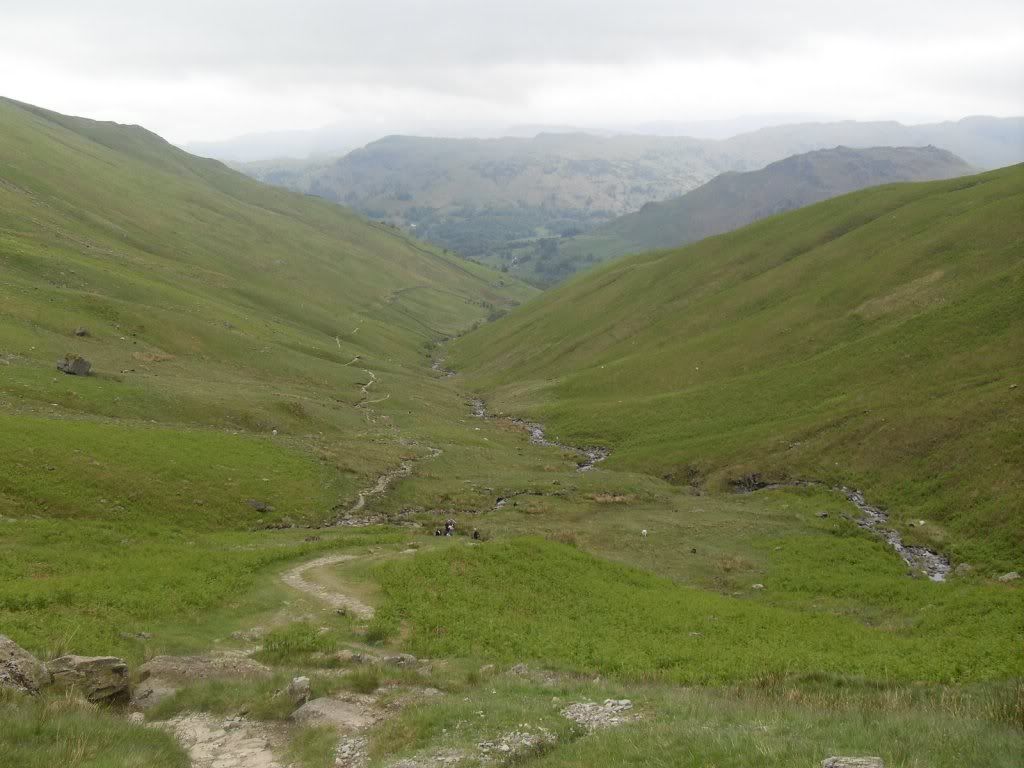 Tongue Gill
Although we did stop frequently to let those who walk faster than us pass. John & Steve were at the start of this walk, but were soon off out of sight. We took the Tongue Gill path which is supposed to be the easiest, all I can say to that is 'I'm glad we didn't take the difficult path'.
At the top of Grisedale , we all stood still and stopped giggling and singing (we kept trying to sing, but kept forgetting the words) and soaked up the view, it was a lovely clear day with blue skies and the hint of sun at this point.

Do they know where they're going?
We picked our way down to the far end of the Tarn for our lunch at 12 noon, taking our time and enjoying the peace and quiet.

Don't try to kid me that it's water, it's oxygen
Just as we had settled in for the day a whole load of walkers descended on us, some had dogs, and as nice as it was to see the dogs frolicking about in the Tarn, the spell had been broken.
Off we ambled; giggling down the path passing some who were taking their lunch break and then being overtaken by them. Soon we were at Ruthwaite Lodge where we decided that there was enough cover for a wee break…. We did go quite a distance from the lodge.
For those who have either not done this part of the walk or have done it on a misty day, I'm witness to it being a beautiful valley with Helvellyn glaring down at you on one side and St. Sunday Crag staring at Helvellyn.
Just before Patterdale the route takes you right and up again, where you think you are going back on yourself, then you go through a kissing gate, turning left following a path for quite a way, down to oak trees, where you turn right following a track with spectacular views of Ullswater.

View of Ullswater from the path into Patterdale
The track took us right into the village, tea bags, coffee and milk from the shop and off to the YH. Brenda M. picked us up on the corner just before we got there. She had already got our room sorted and bagged the bottom bunks. (she needn't have bothered, we were the only people in the room).

Patterdale YH
We all enjoyed a cup of tea and a catch up with Brenda M. before we headed off to the pub for a drink.
On the way back to the YH we bumped into (not literally) Steve, for some reason this is when our Jenny became a bit of a flirt…. And she blushed.
We unloaded the car, and these blooming bags are getting heavier. The shower block was freezing cold so it was wet wipes all round. The evening meal was good, and we were all in bed by 9pm, our room was almost as cold as the shower block so we borrowed the blankets from the spare bunks.