Day Three
Thursday 10th June, 2010
Rothswaite to Grasmere 9 miles
I woke up at 5.30 after a night of comings and goings in our room, plus the snoring; I wouldn't say I was refreshed, but raring to go anyway.
Brenda M woke up as I was about to go and get a cup of tea, we made our way downstairs and found two ladies (one was 71 and the other was 80), they were walking with a group from Derbyshire. It was nice to find out about other walkers who are not doing the C2C, but doing other walks from the YH. They were most interesting to talk with.
Around 7am we went back up to the room to wake the others; the room was still in darkness but we soon roused them. The younger women were not too pleased that we were moving about in the room, using hushed voices, but eventually they got up anyway. We didn't mean to wake the whole room!
Breakfast was ok, self-service, and by 8am the year 5 children were lined up outside waiting to eat so we got out of there sharpish.
Car loaded, food/flasks sorted and we were off up to Greenup Edge en-route for Grasmere.
We met up with loads of people today – John & Steve, Chris, Geordie Dave & John, Vic & Judy who had read about the Famous Five Grannies, and just had to have their photo taken with us. Judy was so excited at having met someone she had previously read about, and it was nice for us knowing that we had inspired her to do the walk with Vic.
There was also a kind gentleman (sorry, didn't get his name), who headed off the walkers following us while I went behind a rock (no bushes).
Eventually we reached Lining Crag, took photos and greeted other walkers as they came up the rocks.

Lining Crag
The views back down the valley were spectacular on this bright morning, we couldn't have wished for better weather.

Looking back towards Borrowdale
One lady said she was so pleased to have made it she wanted to kiss the ground. An elderly lady and her husband also managed the climb she has asthma and had done really well to get up there. Her husband told her to stand behind him for their photo he was standing right on the edge of the crag. It was taken in good fun, but I think she may have been tempted to give him a nudge!!
Going over the Edge was ok, boggy and misty, usual stuff. Chris had already made it and was enjoying his lunch break as we passed, we wanted to get out of the mist and find a dry(ish) place to eat.
We carried on down and eventually stopped for lunch at the top of Far Easdale just after the path splits. Jenny needed a rock and there wasn't one so she just bopped where she was and said "the rest of the walkers will come over the hill like Apaches now". Sure enough there they were all lined up along the top of the hill.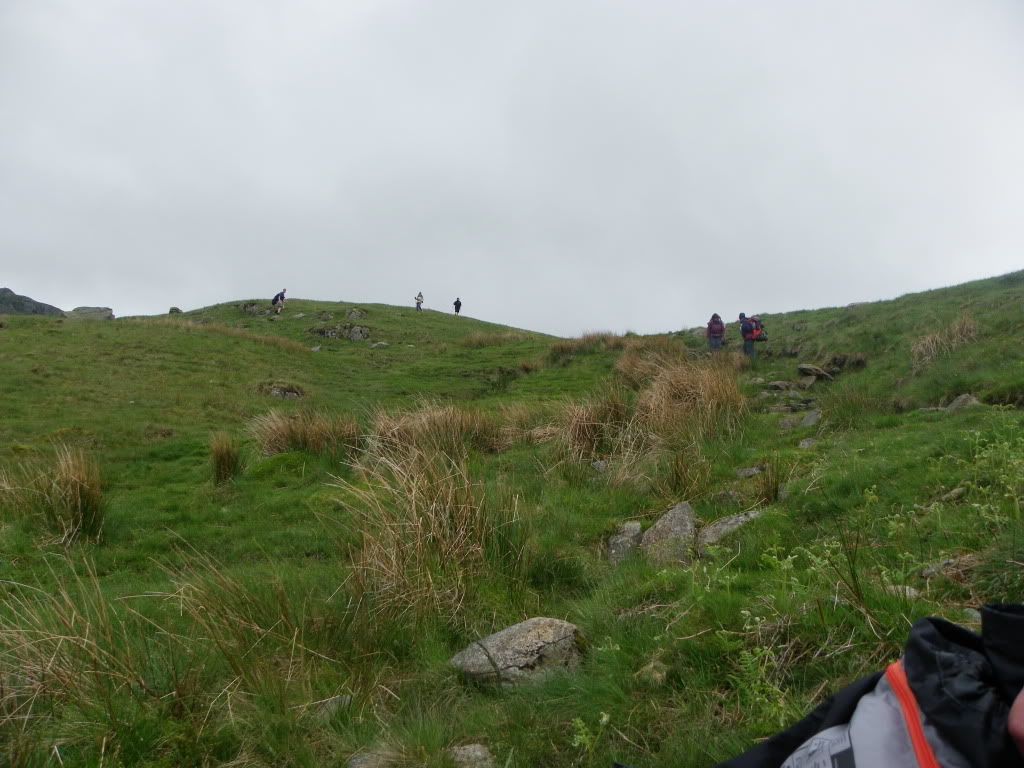 Apaches!!
She just got herself decent when Chris arrived. He has named us 'The female version of Last of the Summer Wine'. Another walker arrived and took a group photo.

Chris lending a helping hand
We exchanged mobile numbers with Chris, it was a bit of a waste of time as my phone was on 'Emergency Calls Only' for some daft reason, plenty of signal and I'm on contract. We agreed to meet Chris in Ash Tree House for dinner and to repay the drink that we owed him.
Going down Far Easedale was a bit of a challenge in terms of negotiating rocks and streams, but beautiful views more than made up for the odd boulder and wet foot.

Easedale Beck
The YH is a lovely old house with large rooms and high ceilings.

Butterlip Howe YH
It's a great place to stay. The self-service kitchen is outside round the house down a load of steps, only when we went to use it there was a group of young German students dossing around. The two young lasses who were sharing our room were already in bed before we went out at 6.15.
We had a nice meal with Chris who is a chocoholic; we shared the bill and still didn't buy him the drink…. Oops.
Back at the YH for showers and foot rubs, lots of giggling, it was only 8pm so we found the main kitchen and begged the lad in there (he was clearing up), to make us a pot of tea. We were all in our PJ's and dossed around in the lounge, with the young German students, they got fed up with four old ladies cramping their style and made a hasty retreat…… sounds a bit familiar, we appear to have that effect on some folk.
Back in our room where all four of us had got bottom bunks. A rather large American gal got the bunk above me, and spent hours tossing and turning so much that I thought the bunks would topple over. Around midnight she dropped her ipod and it came crashing down beside me. At around 1am I gave up, grabbed my duvet and pillow and slept on the floor. The room was full on people who just want to go to the loo in the middle of the night, someone walked all over me and I don't think that they noticed.