Day Two
Wednesday 9th June, 2010
Ennerdale Bridge to Rothswaite 12.5 miles
Well last night was not a peaceful one to say the least, after we had stopped the campers using our room as a thoroughfare Brenda B, John and Steve were all in competition to see who could snore the most, it made for a very tuneful night.
An early start for us, so it was a cat's lick and a promise as far as getting washed was concerned; and into breakfast by 7.30.
Over breakfast the man of the house spent a while chatting to us although one set of his teeth were in a glass somewhere and his accent made it difficult to understand him, however, he is a great character and we enjoyed his tales. A true farmer and a true farming family, they made us all feel extremely welcome.
Once we had everything packed we headed off to Ennerdale Water; lots of others were also just starting out it was 9.30.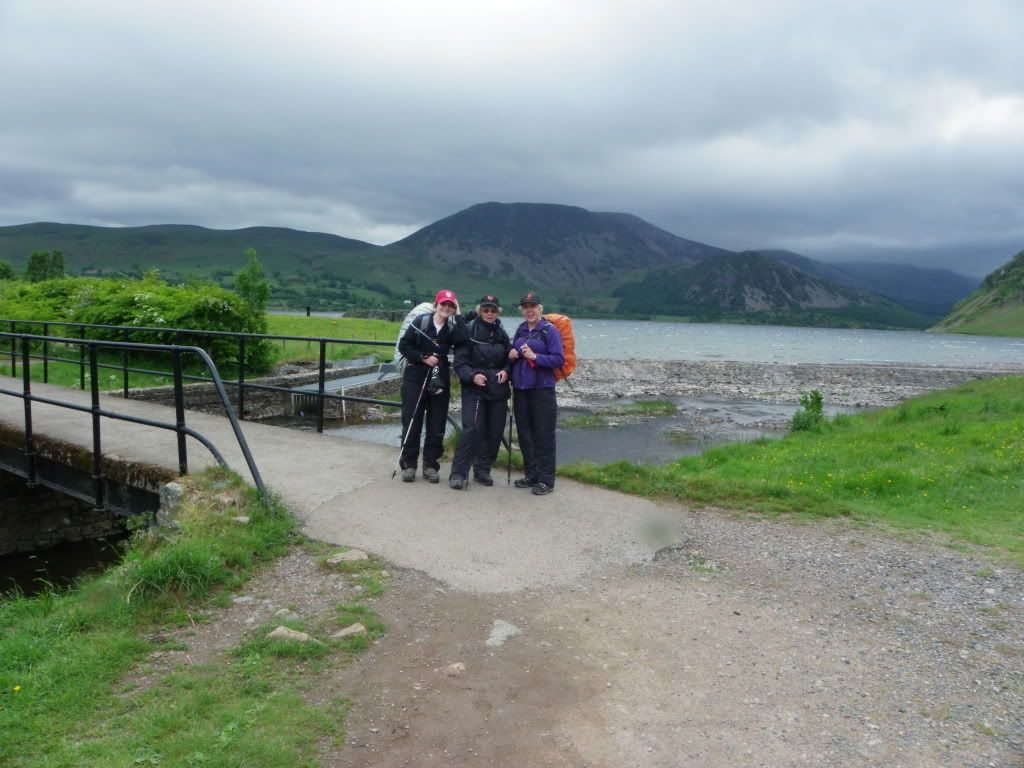 Three old beauties and Ennerdale Water

The walk along Ennerdale was uneventful, the Australians, the large family group with their dog, John & Steve, Chris and a host of others who we hadn't seen before, passed us. After about 2 hours we crossed over to the north side of the lake and stopped for a snack, in readiness for the long boring plod along the track to Black Sail Hut.
Although this path is easy to walk on it becomes boring after a while so we decided that the first one to see Black Sail Hut has good eyesight.
It's along here somewhere
Brenda B didn't believe it existed as this track is so far from everywhere and is going nowhere!
Arrival at Black Sail was great there were a number of walkers both inside and out, enjoying the opportunity to visit this lovely lonely hostel. We found a seat inside and were able to find more food in the dark depths of our rucksacks, you know the sort of thing a squashed banana a bag of crumbs (aka crisps). A rather large group were there and had taken over most of the small room, they were all a bit loud and when they left I thought that I had gone deaf.
Fully refreshed, waterproofs and rucksacks on we soon got moving, Jenny and I remember only too well what Loft Beck is like, and the weather was changing to low cloud and the possibility of rain. Low visibility up there is not pleasant.
It wasn't nearly as bad as we had remembered, although the wind was cold and strong, like a cup of tea that your mother-in-law is apt to give you.
Did I really climb all this way?
We soon located the stile in the Brandreth Fence and tackled the long rocky path down to Seatoller Slat Mine. On the way down in the distance we could see the car with Brenda waiting for us. We all tumbled into the café and enjoyed a well-earned cuppa. As the car was there it would have been a shame not to use it!!

Heading towards Honister Slate Mine Centre

On arrival at Longthwaite Hostel we came face to face with 50+ year 5 children who were also staying there. They had been there since Monday, staying until Friday and were well settled in. Excited or what! They were really loud and were obviously having great fun. They were still having a last minute bash at around 9.30pm. It was lovely to hear children laughing and thoroughly enjoying themselves.
Longthwaite YH
We wandered off to the village for a meal around 7pm in the Scafell Hotel….. Chris was already there enjoying his first drink, we called him over to join us at our table…. Just what he wanted dinner with four old ladies. A good meal and a couple of drinks later… we owe Chris one; and it was time for us to get back to the YH, we were all tired and just wanted to get some kip.
Clothes, maps etc., sorted for the morning and into bed. Its full house in our room tonight, all eight bunks occupied. Jenny, Brenda B, me and a young lass in the top bunks, Brenda M and three young lasses in the bottom bunks. Brenda B reading the Daily Mail and pretending to be posh; Jenny doing Sudoku pretending she is clever; Brenda M reading a murder story….. I don't like the sound of that. Me I'm just trying to catch up with this journal.
And so to sleep for me at 9.45pm, however, with a chorus of snoring and someone who was interested in murder stories sharing the room I didn't get much sleep.