Day Seventeen
Thursday 24th June, 2010
Littlebeck to Robin Hood's Bay 12 miles
We had a great night's sleep despite the snoring and talking (that's me, apparently I mumble in my sleep and keep most folk awake… oops).
We had a light breakfast and wished Judy a happy birthday, loaded the car and were soon on our way. We had agreed to meet Vic & Judy at Falling Foss for a cuppa. That didn't happen, the café was closed and Vic had taken the wrong path anyway… Men.
The walk to Falling Foss was just superb, lovely meadows, woodland paths with some welcome shade and a light breeze, perfect for walking. Realising that a cuppa was not on the cards, we carried on down through the woods and were soon on the tarmac road heading for Sneaton Low Moor, and dreading the boggy bits where we all got wet feet last time.

Falling Foss
It was easy walking a good path and hardly any boggy bits due to the lack of rain. As we approached the B1416 we caught up with Vic & Judy who had for some reason missed the path to Falling Foss and had made such good time, that they had been well ahead of us for some time. Within a short time we were climbing the stile leading onto Greystone Hills, and there on the stile was a lovely poster for Vic & Judy from their grandchildren 'keep going granny and granddad' signed by Molly Freyer and Bryce. What a nice thing to do and a lovely birthday present for Judy.
We had just got onto the path on the moor when it started to rain, on with the waterproofs – not sure why we bothered, it stopped almost as quickly as it had started. Not about to disrobe again we sweated our way across the moor until we came to the bog, there was no way we could get over it, so we walked along the edge until we found a place to cross, clambering over rocks and getting a bit muddy we were at last over it and on dry solid ground once more.

Brenda, Vic, Jenny & Judy
We found the perfect place to stop for a break while Vic & Judy rushed on ahead, they hadn't seen their grandchildren for over two years, and we all understood their desire to press on.
We enjoyed resting on the soft grass, listening to the birds and our thoughts turned to the end of the trek which was just a short walk away; in a reflective mood we gathered our gear for the last time on this walk and strolled along the path and road to Low Hawsker.
We thought that we had had all the stops we were going to make on this walk… wrong! There alongside the road was a sign enticing us to take a cuppa; the York Caravan Park have a tea room and, well, how can you pass such a place, this was our attempt to prolong the walk, and if you believe that you will believe anything.
As we entered the caravan park a couple sitting on the roadside asked us if we were part of the 'famous five grannies' we realised that they must have seen Vic and Judy.
Walking through High Hawsker we spotted some pony foals in a field beside the road, and of course the cameras had to come out, although they were a little camera shy we did manage to get some shots of them.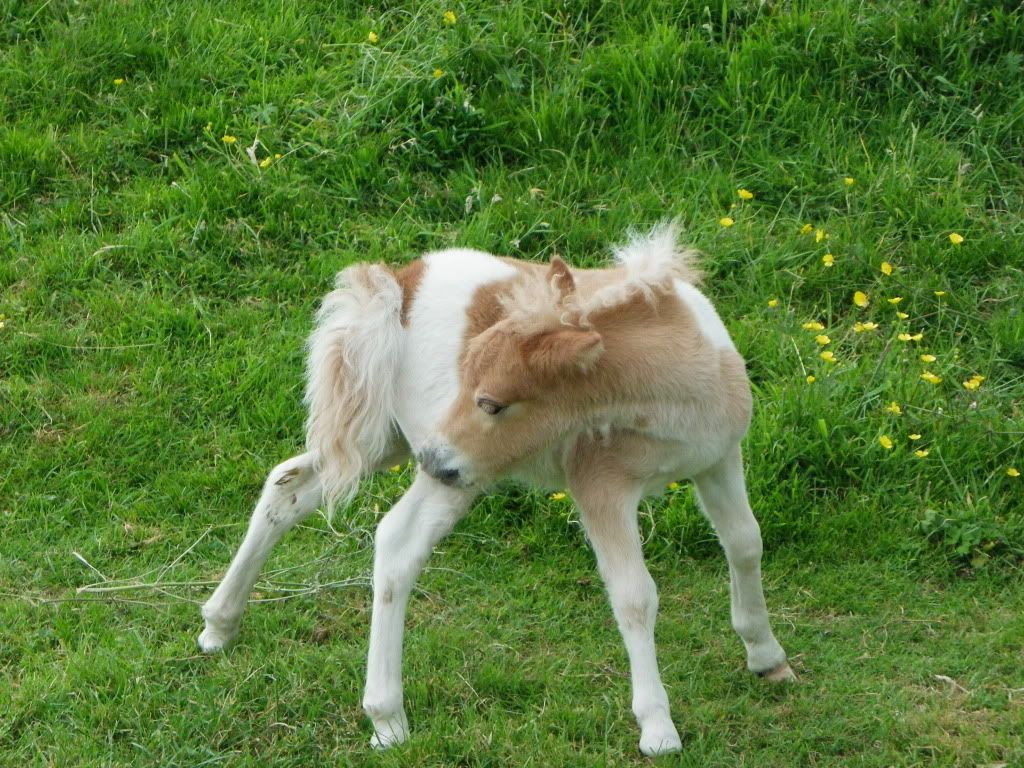 Foal at High Hawsker
After following the path through the caravan parks we were soon on the headland overlooking the North Sea walking towards the final destination. This is a lovely path with wildflowers, birdsong and cattle to keep you company and helping you reflect on your achievement. Once you get on this path you feel that you are nearly there, but in reality this is quite a long and undulating walk along the coast. We had lovely bright sunshine and blue sky with a slight offshore breeze.

Aaah the North Sea
With the end in sight there on the path coming towards us was Brenda M. She had found a car park at the top of the town and soon got on her way along the path. It was good to catch up with her and hear about her day. There are many things/places of interest in this part of the UK and Brenda always seemed to find them.

There it is
We dropped our rucksacks off at the car and strolled down to the slipway; shouts and cheers rang out from Vic, Judy, their family plus lots of other C2Cers. Boots dipped, stones thrown in, feet and trousers soaking wet, book signed and certificates bought and a drink from Vic, here were four very elated women who had once again achieved what they set out to do.

Boots, socks and trousers wet but we did it
Out came the mobiles and calls home were made for me it was one to my husband Keith and one to my dear son Colin. Talking to them both made me realise that I had missed my family, albeit that I was enjoying myself at the same time, somehow they don't really leave my thoughts.
After the celebrations at the Bay Hotel we wandered back up the hill to find our B&B – The Villa – what a lovely welcome. Our two rooms were way up at the top of the house and we had lovely views over roof tops what with this and our elations at having done the walk, we really did feel on top of the world.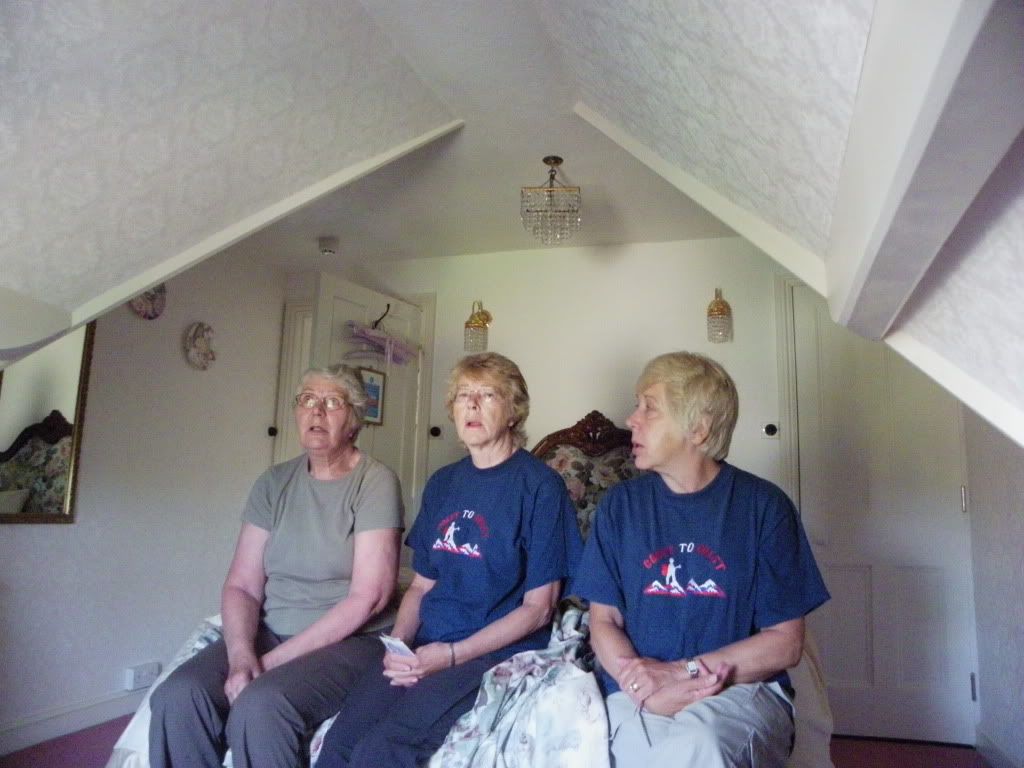 They're either praying, about to sneeze or watching telly sitting on my bed!
We put our bottle of champagne in the landlady's fridge and headed off to Whitby for fish and chips in the Magpie, these really are the best in town…. Well as I had not had any others I'm not really the right person to judge, but every establishment said the same about their fish and chips in Whitby.
Our landlady kindly provided the glasses and we sat in the front garden, I opened the champagne something I'm not used to (opening it I mean), well the cork flew off and hit the wall of the house across the road and then ricochet back.
Suitably refreshed we took showers and settled down with books and journal for a good night's sleep….. Jenny and Brenda M shared a room, because they couldn't stand another night with snoring Brenda B and rambling Heather.
Brenda B and I didn't get a full night's sleep because the door of our room kept opening, even when it was closed tightly…… Three times I got up and closed it, in the end we gave up closing it and eventually dozed off. What with Brenda snoring and me talking in my sleep neither of us got much rest, thank goodness we are not driving back tomorrow.

The End!