Day Fifteen
Tuesday 22nd June, 2010
Blakey Ridge to Glaisdale 10 miles
I know that I'm going to sound boring here, but we awoke to bright sunshine again, we just cannot believe our luck. I really feel for those reading this that had bad weather for their crossing, I do know what it feels like, it's unusual for us to get such continuous good weather.
The stunning views from the breakfast room were beautiful, they could have served us anything for breakfast and we wouldn't have known. Two young women were also sharing our table this morning; they had walked 21 miles yesterday and were just about done in when they arrived here. We gave them some of our sunscreen as they had both got a bit of sunburn and didn't want it to get any worse.
After breakfast, paying our bill and packing our bags we were ready for the off, with a number of other walkers Eric, the odd guy and the nice woman (we found out their names James and Wendy); Paul and Moya plus others who we had not encountered so far. Soon we all arrived at 'Fat Betty' numerous photos later, we all took photos on each other's' camera.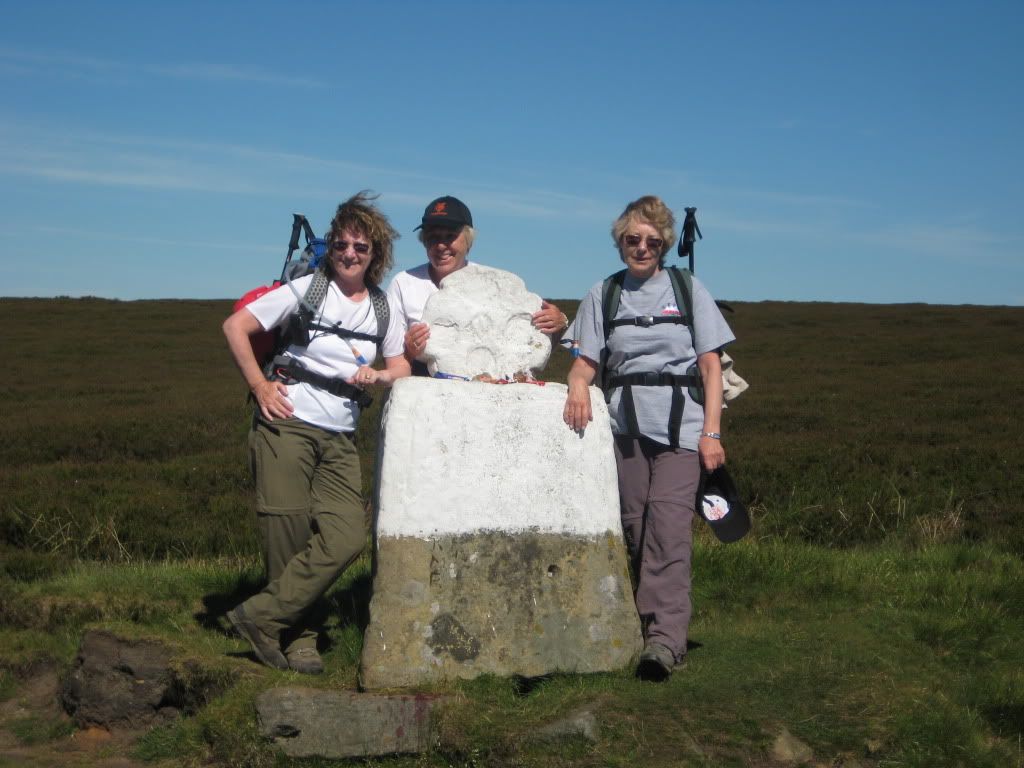 Fat Betty with three of her sisters
As is the custom, we left offerings, but did not take anything, the ants had started on the food offerings and we didn't need the money, but someone else may.

Moya & Paul
We continued along the tarmac road and eventually turned left into Great Fry Up Lane, and then right down the track to Trough house, where I took the opportunity for a wee break, and then along came others with the same thought in mind. Vic & Judy were also arriving at this time, so we had a break… not that we needed it, but because we could.
Vic decided that he would get a good photo of us (with him and Judy) on his camera, and set about organising the best place for the photo, using his timer.

Not sure what Vic was doing here!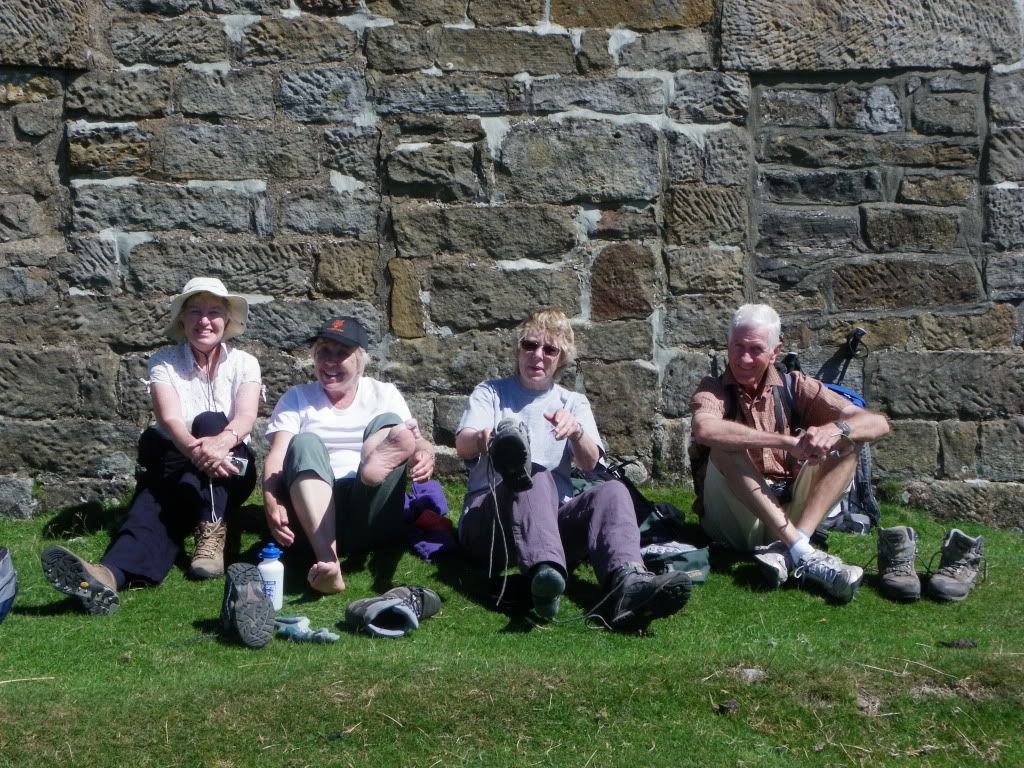 Judy, Brend, Jenny & Vic relaxing at Trough House
Photo shoot over and we were off again walking together as a group for a while and then we took off again leaving Vic & Judy to enjoy a slower pace. The views down Great Fry Up Dale were beautiful: Glaisdale High Moor is fairly rugged with the heather just coming into flower and grouse running around in all directions, we really were being quiet for their sake, but I suppose they could feel our footfalls in the soil. We had our first clear views of the North Sea here.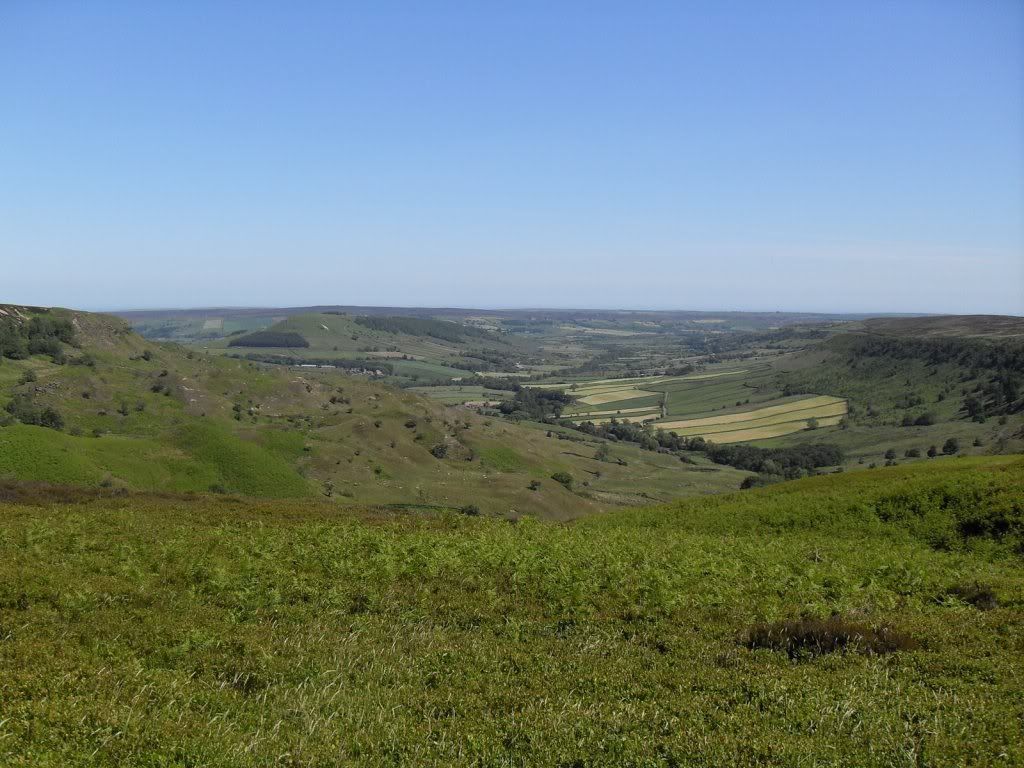 Great Fry Up Dale
Very soon we were on the tarmac road again and found a lovely spot to relax, off with our boots and socks, and a soft place to lie down and enjoy doing nothing. It was scorching hot and we were by this time extremely tired… due to the heat and not the amount of walking we had done.
Realising that we didn't have very far to go, we took our time getting back on the road again, in a short while we were on the track high up on the Glaisedale Moor meeting up again with Vic & Judy plus two friends of theirs who had met them on the walk. This is a long track but the walking is easy, and if you are fortunate enough to have good weather and are not in a rush then chill-lax and take in the beauty of it all.
As the village of Glaisdale came into view we felt a little sad for it to end so early in the day – it was around 12.30. However, it didn't stop us taking the shortcut through the village to the Arcliffe Arms, and there sitting outside the pub at a table with a drink and book was Brenda M. It was really good to see her, although she was not expecting us so soon. It was a shandy all round and then Paul & Moya arrived hotly followed by Vic & Judy with their two friends plus George and Glen. So it was photos all round again… we are all so blooming vain.
After pleads from the group that I do a recital, I read out the story about Beggars Bridge from the Henry Stedman book, and was surprised that none of the others had heard about it.

Partying at the Arncliffe Arms, Glaisdale
Brenda B suggested that we went for a drive as it was so early in the day and it was off to Goathland (the village where Heartbeat is filmed). We couldn't let the day go by without scones and tea in the coffee shop. Out came the cameras again where we took photos of some of the buildings and cars that are in the series, there is also a car that is supposed to have been in one of the Harry Potter films.

Goathland (aka Aidensfield)
Back in Glaisdale arriving at The Beggars Bridge B&B – A lovely welcome awaited us, toasted teacakes, tea and biscuits under the apple tree in the garden, it was just perfect.

Beggar's Bridge B&B
We had two double rooms the two Brenda's in one and Jenny and I shared a king size bed; both rooms were en-suite. Showers all round and off to the pub for dinner. It was great to meet up with the other walkers including the man who we had met a few days previously with the huge rucksack that contain an accordion amongst other things. Most people in the bar tried to lift the rucksack, some could, but only just, the rest of us realised that we wouldn't even budge it.
Fully refreshed and ready for our beds we left those who needed a little more light refreshments to enjoy themselves and headed back to our B&B.
Maps, gps and journal sorted it was time for sleep, the only trouble was that Jenny and I yacked for ages!