Day Thirteen
Sunday 20th June, 2010
Osmotherley to Clay Bank Top 12 miles
What a great start to the day, we were up early, had a good breakfast and everything packed in the car by 9am.
The walk started with a climb out of the YH and then on up a long road to Scarth Wood Moor. Walking over the Moor was easy but going down to the road reminded us that our knees were not as young as they used to be.
We weren't singing I can tell you, but Jenny did try whistling, but she soon realised that she needed her breath.
While we were taking a short break at Huthwaite Green, joy o joys a very healthy looking Dave appeared on the path. It was good to catch up with him, he was walking to Blakey Ridge a walk of almost 21 miles at least the weather was cool.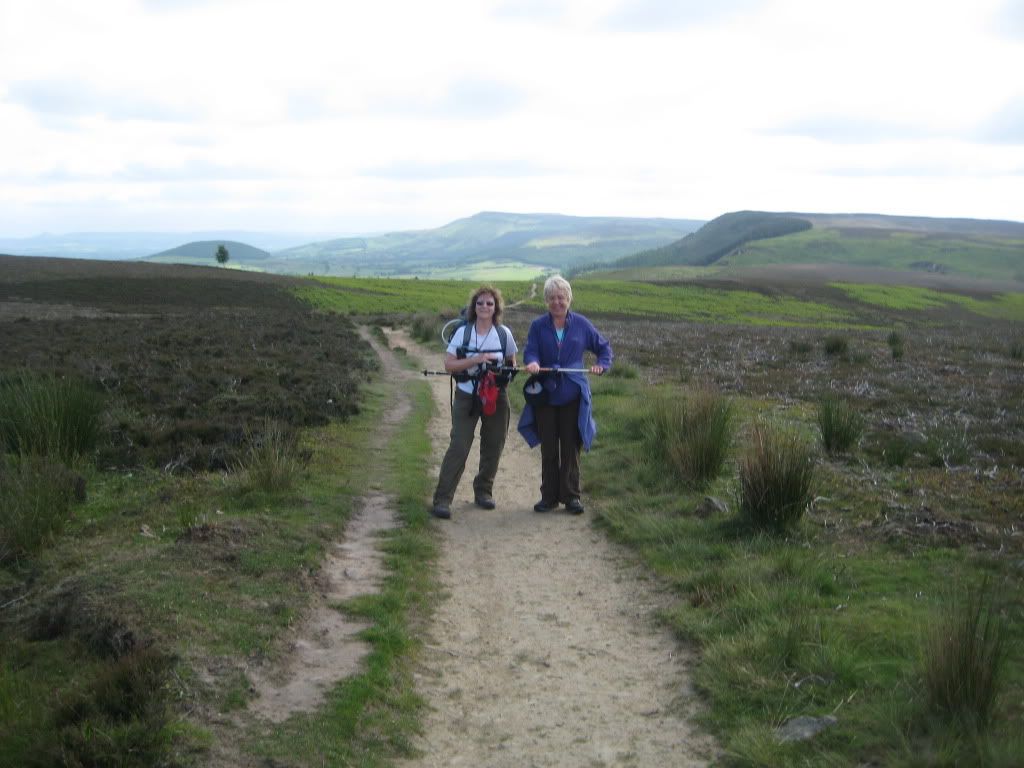 How did these two get in the picture?
We left Dave to enjoy the peace and quiet and carried on up through the forest and a very steep climb up to Live Moor, and eventually down Carlton Bank to Lord Stones Café where we had planned to meet Brenda M. There she was waiting in the car park with that big grin of hers ready to catch up with our morning escapades.

Coming down towards Lord Stones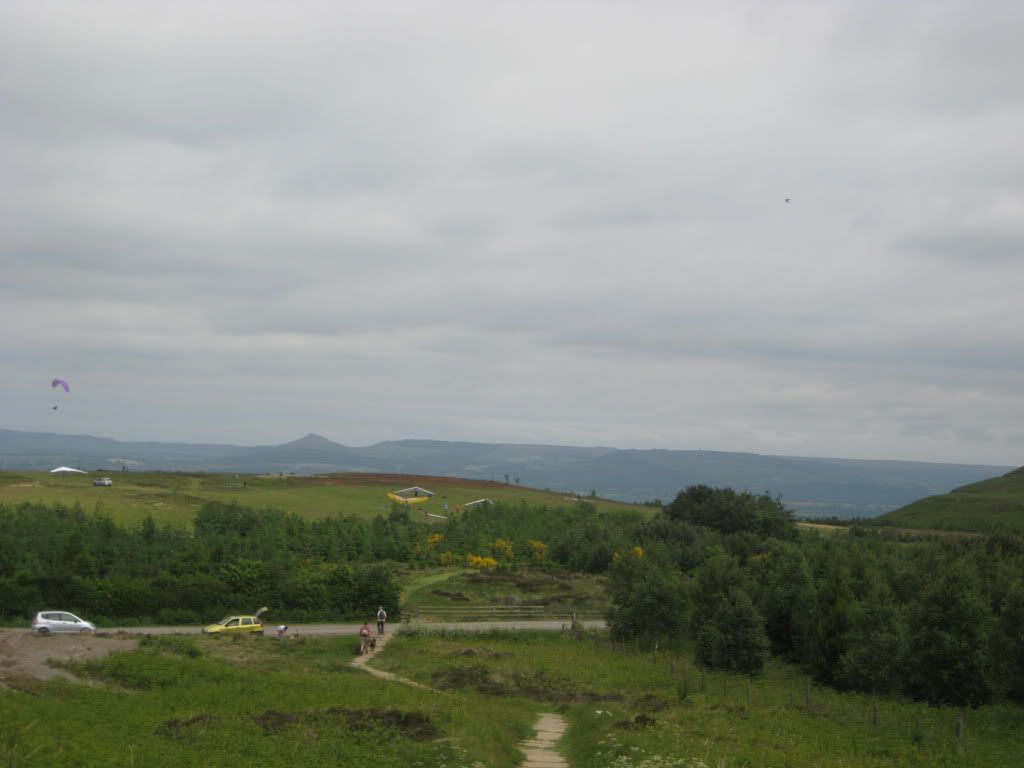 Hidden in the trees is Lord Stones
Tea and scones all round, fully refreshed and getting ready to leave and in strolls Dave, he was making good time, whilst not rushing at least we have longer daylight days at this time of the year. Outside again and looking at the climb up to the Alec Falconer Memorial Seat on Cringle Moor, we took a deep breath and off we went. Once up and sitting on the seat we had the most spectacular views, with a bright clear blue sky.

View from the Alec Falconer Memorial seat
Just along from the seat we watched in wonder at the hang gliders all over the place, it is obviously the place to hang out! On looking back to Lord Stones they were all over the place, it was just beautiful to see all the colours just floating around in the thermals.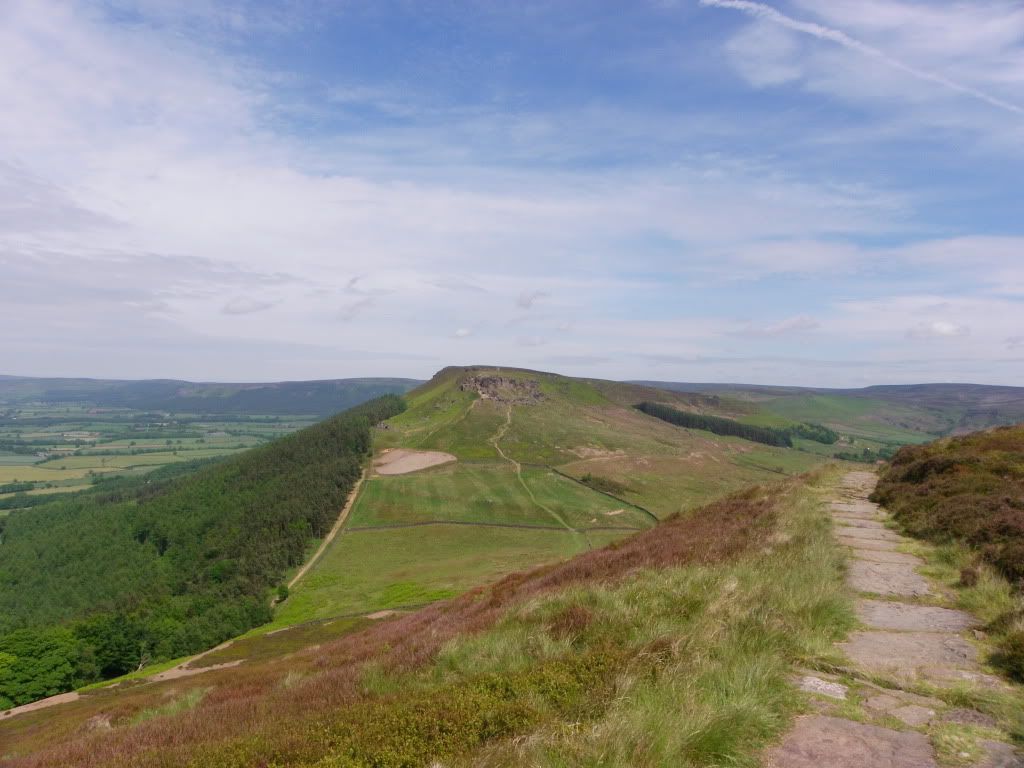 Cleveland Way path with the Wainstones in the distance
Up and down a few times more and then we had the fun of the Wain Stones, this is where Jenny was a bit scared, I went on ahead to tell them how easy it was, there was no way I was going to tell them what it was really like. Brenda B. told Jenny to just get on with it. As there were a few people abseiling around us, Jenny had the distinct impression that we were going to have to abseil down.

Coming up through the Wainstones
Up on Hasty Bank it was fairly flat and easy walking with a steep drop on one side. Down the steep descent, with others coming up wearing fashion shoes, sandals and miniskirts, (and that was just the men), we could see Brenda M. in the distance she had managed to walk up from the car park to the path just below us.

Jenny, Brenda and Brenda coming down to Clay Bank Top
All talking at once, giggling and gaggling we made it to the car park without getting run over when we crossed the road.
Down to Great Broughton to Newlands House B&B. Another lovely welcome with tea & biscuits and a cheery landlady awaiting our arrival. Our rooms were large and both en-suite. Showers all round and off we went to the Wainstones Hotel for an excellent meal as we were having our coffee, Vic and Judy came into the restaurant. They were staying there and will be staying at the White Lion on Blakey Ridge tomorrow, so we will meet up with them again.
We took a leisurely stroll back to Newlands House, sorted gear and maps for the morning and in bed by 9.30.