Day Ten
Thursday 17th June, 2010
Reeth to Richmond 12.5 miles
Breakfast was at 8am, we were up and ready in time for a very good meal. We packed our bags and then dragged them across the road to the car, sorted our lunch and were on our way.
Beautiful bright sunshine and a clear blue sky greeted us this morning, and the walk through yet more hay meadows was idyllic with sheep taking shade under a tree in the early morning sun.

They found the shade early in the day
Soon we were climbing up above the road to the priory again in lovely meadows. We dropped down to the farm and the priory just as a whole bunch of children and their teacher came out of the gate of the Education Centre there. They were on a walking and camping break and fortunately going in the other direction.
Soon we were climbing the nun's steps up to Marrick – what a lovely walk this is, with wild garlic growing alongside the path and dappled sunshine through the trees. This is one part of the walk that we really didn't want to end.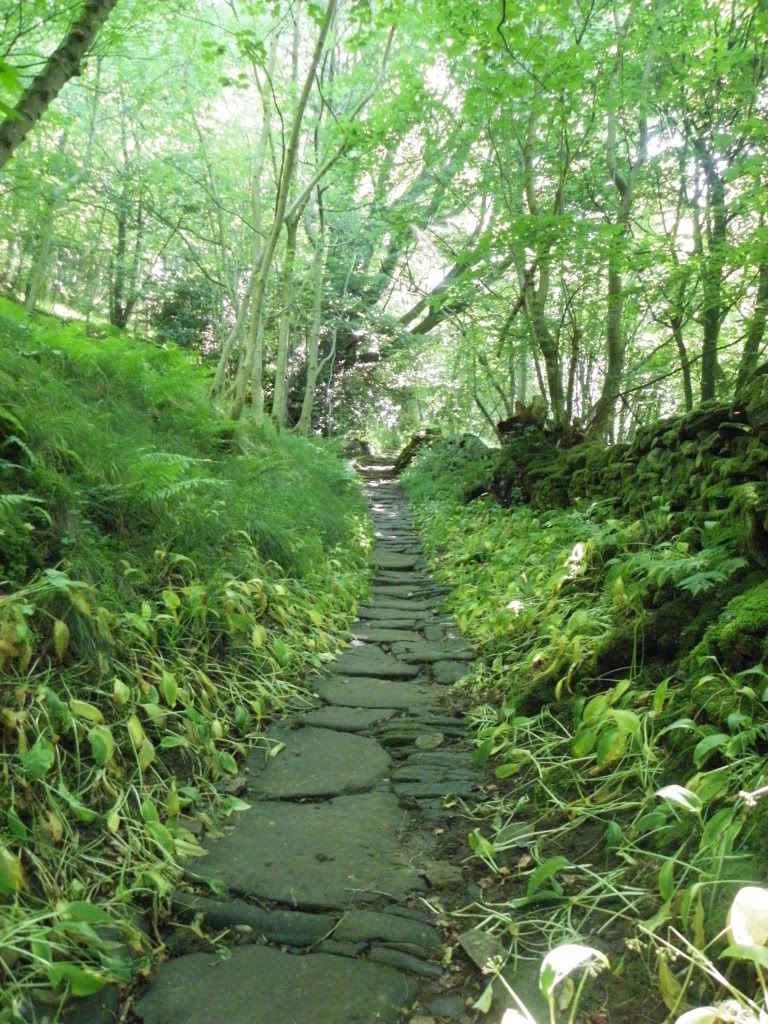 Nuns Steps
Through Marrick and back onto hay meadows again, where I was able to get a telephone signal, the first time in days, so I phoned home. We sat for ages enjoying the peace and quiet and the lovely views. A herd of sheep in a field in the distance were moving down the hillside like a broken string of pearls dropped on a green carpet.

More sheep
Eventually we had to get up and move so we dropped down the hill towards Elaine's Country Kitchen, which was closed for the day… blast!
After going through Ellers we were soon on the road again heading towards Marske. At the bottom of the hill on a bench we spied Paul and Moya, we asked them if they were about to leave, well they were packing up their rucksacks. We took up residence on the seat for yet another break… now I'm sure dear reader that you are thinking 'no wonder it took them so long to get from one coast to the other, they spent more time taking breaks than walking'. It was at this point that Jenny decided to unzip the legs on her trousers and bare all….
Ooh hec what a sight they were so white we had to put our sunglasses on.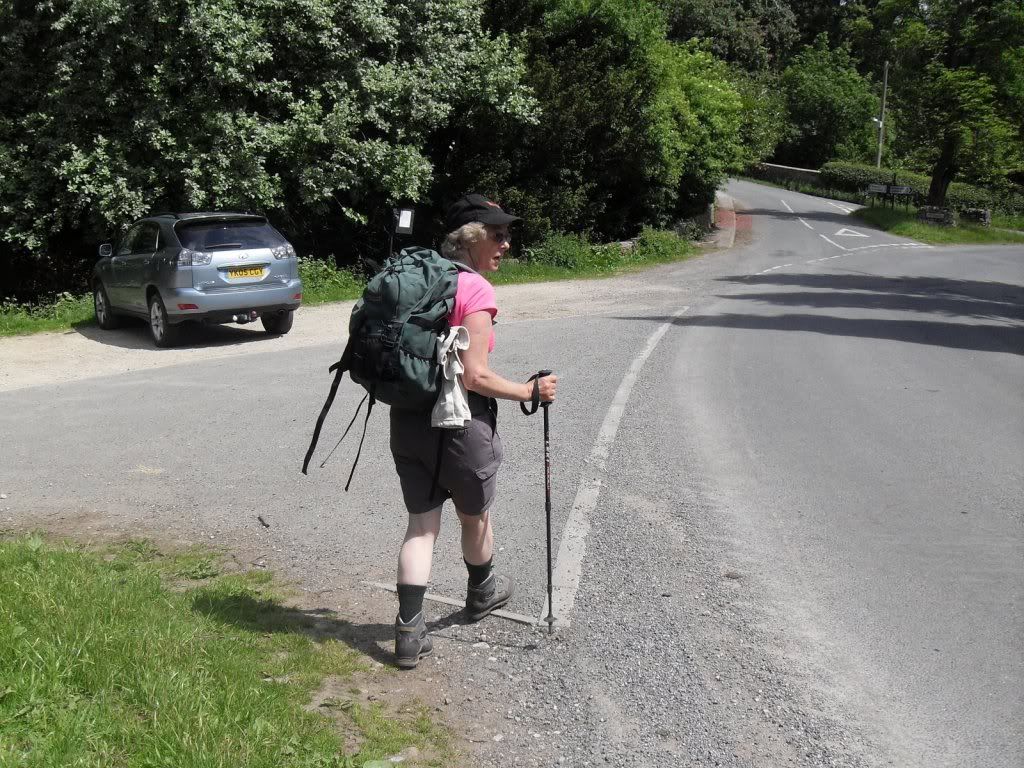 Cor Jen they are blooming white
Soon we were up and off again, although I did get stung by a stinging nettle when I took my boots and socks off.
Up through the village and we were once again in beautiful meadows, but there in the distance was the climb to Applegarth Scar threatening and beckoning us. Oh boy what a climb on a hot sunny afternoon.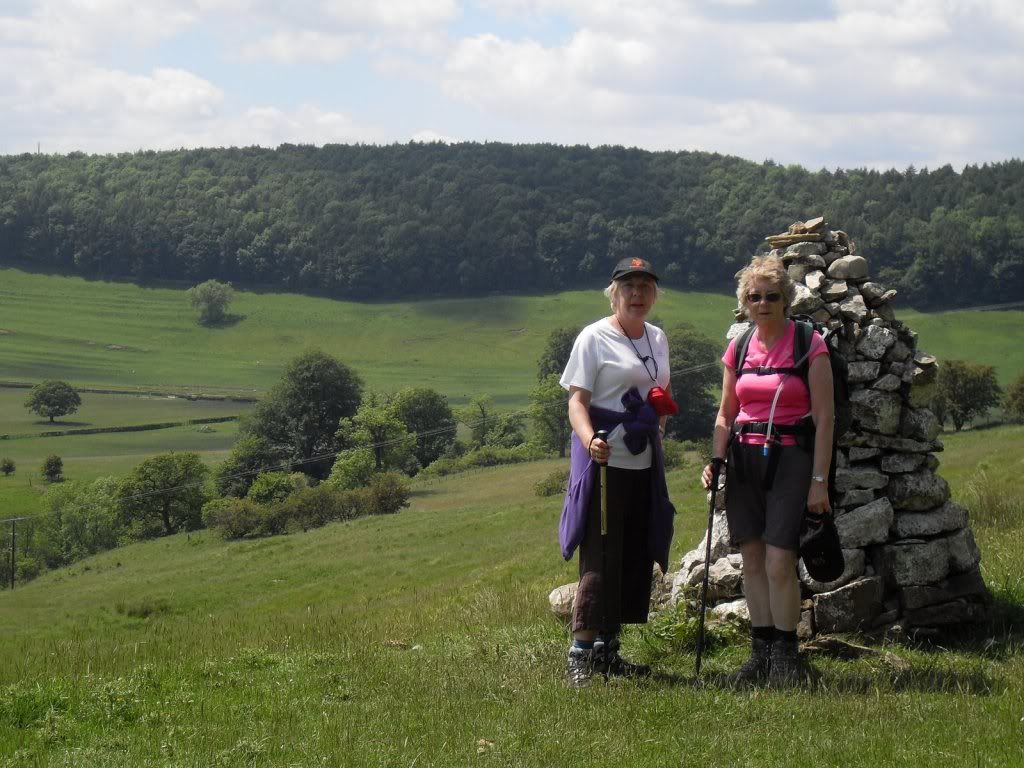 Cairn just below Applegarth Scar
The thought of Whitcliffe wood was on our minds, with the prospect of shade we strode on. As we entered the woods who did we find sitting on a log?… Paul and Moya, fortunately they were just about to move off… well they said they were. With the lovely shade and a place to sit and the knowledge that we didn't have far to go, we just had to take the opportunity for a break.
Walking again we soon came to the tarmac road to Richmond, suddenly we could hear a cacophony of sheep calling, and there on the road was a farmer with his truck who asked us to wait a while for the sheep to be driven down the road to the field beside us. It took quite a while for them to finally arrive, apparently there were about six hundred sheep and lambs, the sheep had been taken up to the farm for shearing and the lambs had got a bit mixed up so were making a racket trying to find their mothers. It was a sight to behold, where do you see such things in Norfolk, Suffolk, Essex or even Old London Town?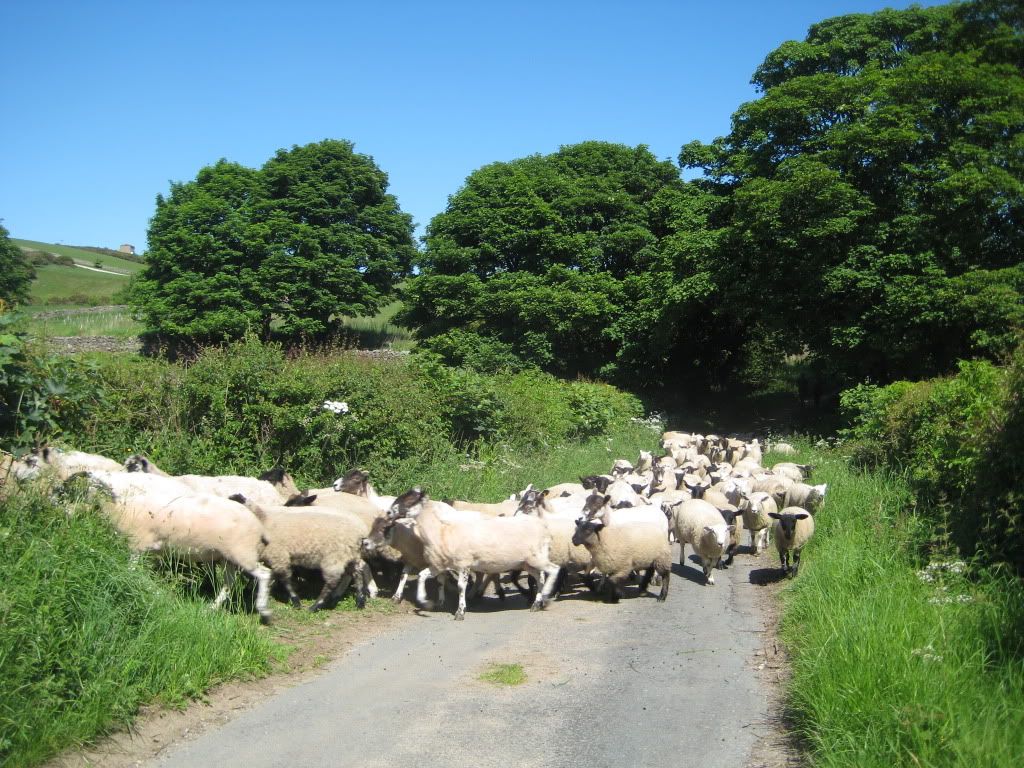 Shaun the sheep... or sheep that have been shorn
Sheep safely installed in a gated field we plodded off into Richmond and the Market Place a quick call to Brenda M. and an ice cream while we waited… only she arrived just as we sat down with our treats.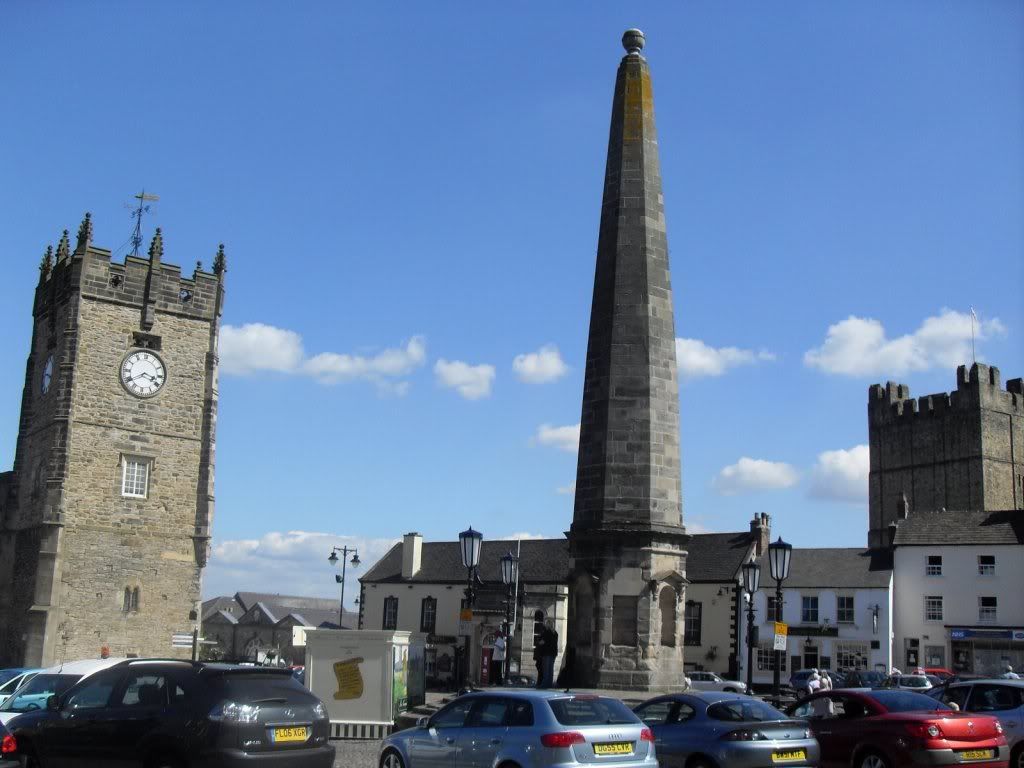 Richmond Market Place
We arrived at Bridgedown House hot and tired with aching feet.

Bridgedown House
Brenda M. and I had a twin room and Jenny and Brenda B. shared a double bed. Showers and tea all round and then off to the co-op for tomorrows sandwich stuff and then to a pub for food and a welcome drink at the Town Hall Hotel. Ok, so we did eat and drink a lot, but we were walking it off…. Well that was the theory.
Back at the B&B to write up journal, prepare maps for the morning and review the day's photos. We were all in bed by 10.15pm