Day One
Tuesday 8th June 2010
St. Bees to Ennerdale Bridge 14.5 miles
I woke up early as usual around 4am, I tried to sleep but snoring Annie over the other side of the bedroom was giving it full blast, so I got up and made tea.
The rest of the gang got up around 6 had their cuppa and then we were in full swing of packing and unpacking bags and rucksacks…. By the end of the walk we had mastered it!
Bags loaded into the car, we headed off for breakfast in the main house – full English for the two Brenda's, poached egg on toast each for Jenny and me. While getting my cereal, one of the guests (male), said "it will take the whole bowl of these prunes to unblock me" he suddenly realised I was not his wife, she was still sitting at their table.
As we left Stonehouse Farm it started to rain –the light fine stuff that gets you soaked through in minutes – it was the same the last time we did this walk in 2008.

Brenda M. drove us to the start of the walk; pebbles collected, boots dipped, raining like mad and we were off at 9.30.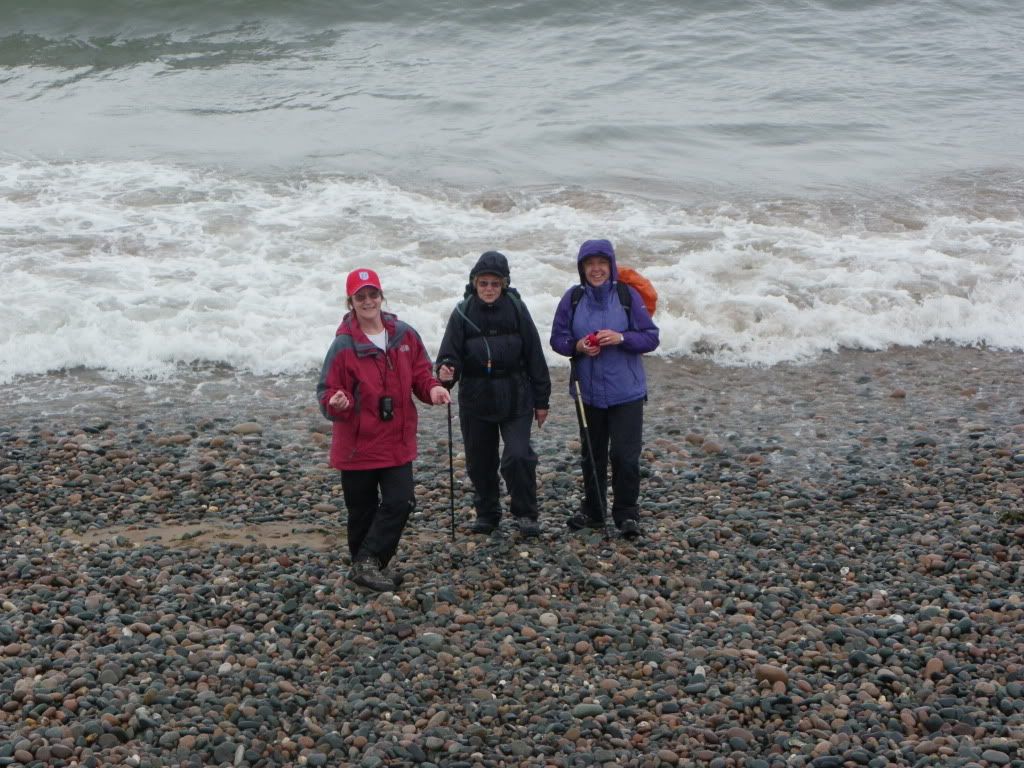 And they're off
There were a number of people starting this walk today, including the aforesaid guest and his large group.
It was a long hard climb up to and around the 'head' and Brenda M. decided not to join us for the start as the path is quite slippery. Just before Sandwith a quarry had been excavated and large rocks/stones had been exposed, it looked a bit like a raw sore on the landscape. We strolled into the village and ate some food while sitting on the bench on the village green; fortunately the rain held off while we enjoyed watching builder's bums!
Following the route in Stedmans book through Moor row and Cleator we arrived in the forest at the bottom of Dent Hill, where we took the opportunity of another break for about half an hour. While we sat there enjoying the rest a high number of walkers who we had seen earlier in the day, passed by. Refuelled we faced Dent Hill.
It started to rain just as we got into the forest, the usual light stuff to start with and then it chucked it down. A young guy caught us up (Chris), he had a Scottish accent assured us that he was English, but had lived up there since he was a young lad. Anyway he didn't have a coat on and it was obvious he was going to get a good soaking, so these three old ladies told him that 'he would catch his death', he put it on and as he was younger and fitter than us, he took off like a gazelle (of course it could have had something to do with the fact that he did not want to be seen in a forest with three old grannies).
We continued to struggle upwards, thick cloud came down and we couldn't see anything except the path (fortunately). As we neared the bottom of Dent the cloud disappeared and we could clearly see Raven Crag and the path.
Up and over the ladder style and a most enjoyable walk up the crag. Then… the descent of the crag, the one we had been dreading. Brenda B. led the way down and at one point a kind man helped us over a particularly slippery bit, this is where we ended up going down on our bottoms.

Looking down from Raven Crag to Nannycatch

Along Nanny Catch Beck was beautiful, with horse riders mingling with the walkers it was delightful. A little way along and there was Brenda M on the path coming towards us, she felt that this path is something that she could manage and it was a delight to see her. Then the rain started again… as it became heavy we thought that we really should get a move on, and then we thought again… nah sod it we are wet anyway and it's not a race, so we took our time and arrived at Low Cock Farm at 5pm.
The lady of the house kindly took our jackets to dry them, the rest of our gear we hung up on hangers around the wood burner in the lounge beside the bunkhouse. Tea, Coffee and homemade cakes awaited us. What a lovely welcome.

Low Cock How Farm
We each took it in turn to take a shower and as we had been a bit reckless in putting on our waterproofs for the best part of each rain shower, even our underwear had got wet, so there were bra's and tops hanging all over the place in the bunkhouse. We were aware that we were going to be sharing this room with two others, but as there are ten beds in there, we had plenty of room.
Suddenly two men who had been toasting themselves in front of the wood burner came into our room!! John and Steve… well I go to the foot of our stairs – men sharing our room, whatever next!!
The farmer advised us where to eat 'The Brook at Cleator' we had a great meal and then it was back to the B&B for an early night, 9.55.
That would have been ok, we were in bed first, both Brenda's and me in bottom bunks, John & Steve had already bagged a bottom bunk each, leaving Jenny to choose between five top bunks. At this point John and Steve came in, and enjoyed watching Jenny struggle to get onto the top bunk without a ladder, eventually Steve passed her a chair, but not before he had got a good look at her rear end.

Someone's watching you Jenny
John & Steve got into bed, left both doors open and the lights on… men! There were a number of campers who used our room as a shortcut to the loo – it was a bit like Victoria Station on a busy night. Eventually, after a long bloke type discussion, both men got up and shut one door each and turned off one light each.