Getting to St. Bees
Monday 7th June 2010
Keith took me over to Jenny's house at about 8am, where both Brenda's and Jenny were ready and waiting to load the car – "we will never get all that in the boot" – we did get it all in but the mini fridge had to share the back seat with Brenda B and me. We had food to eat on the journey north and food for pack ups for the first few days. A great big box of bread pudding, bran muffins, pecan cookies, crisps, chocolate bars, grapes, bananas, Bovril, peanut butter and tinned tuna.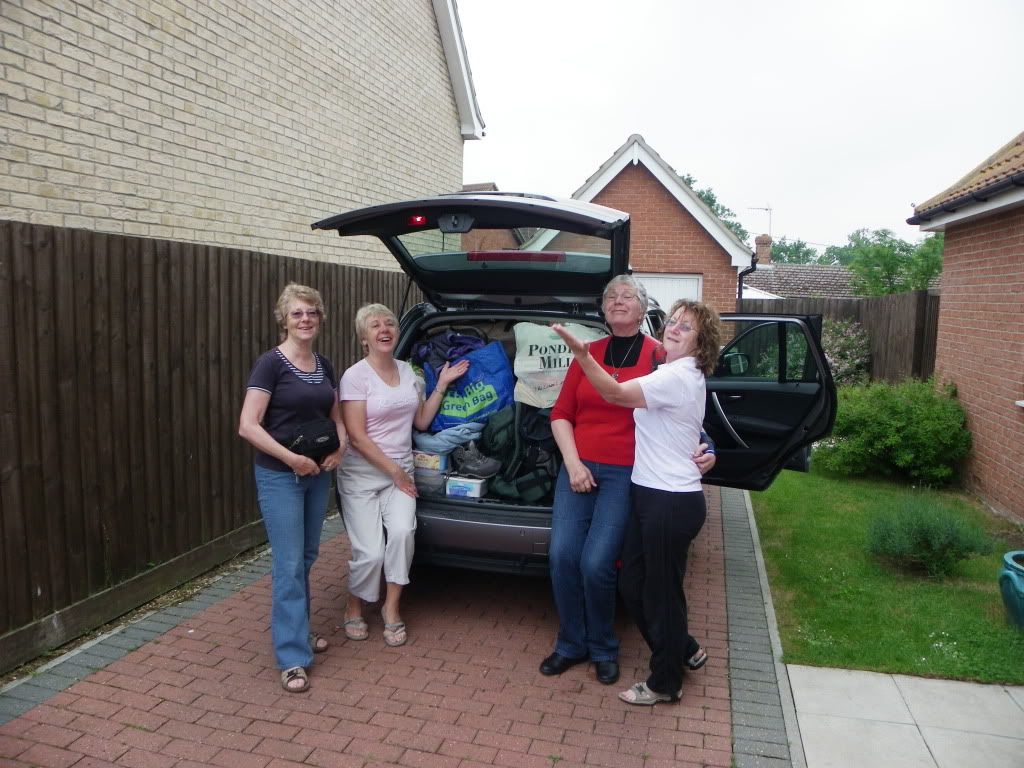 Car packed and four women ready for the off, Keith made a hasty exit and left us to it.
We were off in a cloud of giggles, and a row that was supposed to be singing! Jenny took the first shift of driving while the rest of us relaxed. After about 2 hours we stopped on the M6 for our 1st comfort break, it was a quick loo visit and coffee and back to the car, where Brenda M took over the driving. Still giggling and trying to sing, I even tried whistling, but Jenny being the best female whistler ever said that I couldn't whistle in tune, so that ended my whistling career.
We came upon a very bad rain storm and traffic slowed down to a crawl; on the south bound carriageway there had been and accident and this didn't help the traffic situation as most people seemed to want to stare at it!
We took our 2nd break just before we left the M6, sitting in the car eating and people watching – two of our favourite pastimes.
We arrived at Stonehouse Farm in St. Bees at 4.15, and were shown to the annex which is a small cottage attached to the main house. We had two bedrooms, bathroom, kitchen and lounge all to ourselves, we felt really lucky.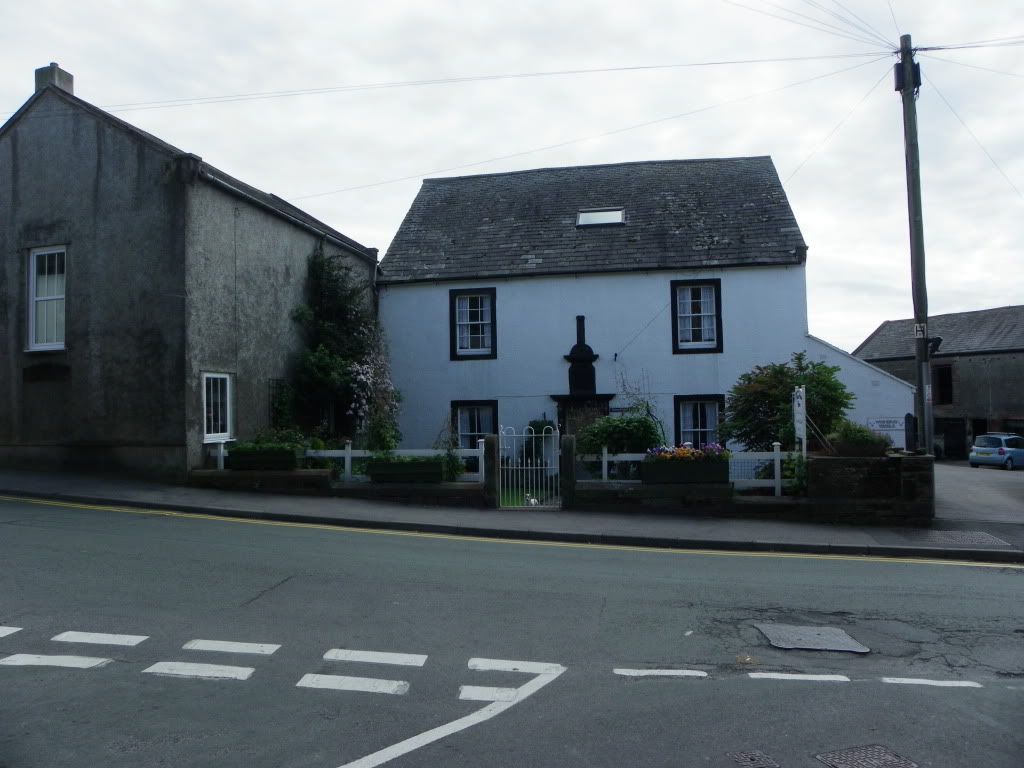 Stonehouse Farm, St. Bee's
After the unpacking had been completed we wandered out to find somewhere to eat, there are a number of places – The Queens, The Manor House, The Albert and Platform 9. Having satisfied ourselves that we would not starve tonight – food seems to be our main focus for some reason and none of us are hefty women.
We strolled along to the start of the C2C, enjoying talking to all the cats and dogs on the way – I'm a cat lover and the other three adore dogs, so it was a slow walk.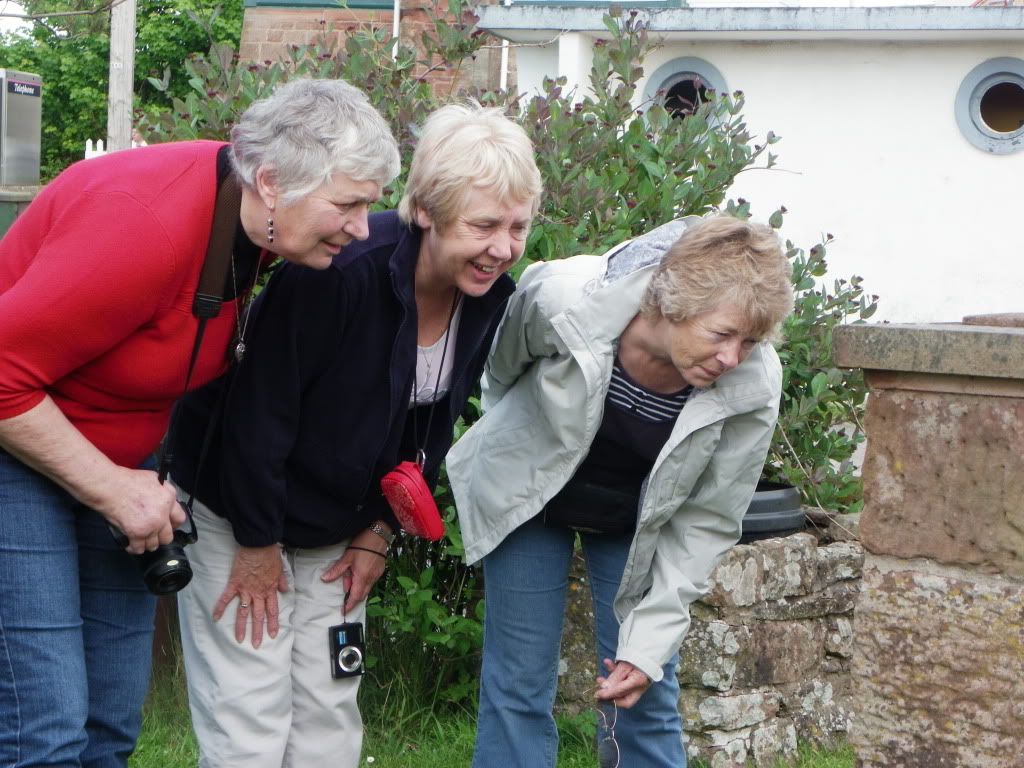 Three old gals without their glasses
There were lots to read but for some reason there were three bums in the way.

Three bums
Brenda B soon realised that it was not a flat stroll and had second thoughts when she saw the start of the walk!
Have we got to get right up there?
Eventually hunger pangs made us head back to The Queens where we enjoyed a lovely meal and a drink before we settled down in 'our' cottage. We made up our lunch for the next day, had a cuppa, prepared the maps etc., and were in bed by 10pm.
We had travelled 347 miles in the car. I'm keeping a tally on the daily mileage as the children in Wilby Primary School in Suffolk are adding up the mileage.